Hainan – China's Hidden Gem Tropical Island Destination
Hainan – China's Hidden Gem Tropical Island Destination
Where? Hainan, China with ThisIsHainanGov
Exactly? Hainan is the smallest province in China, it's made up of a small group of tropical islands in the South China Sea. From glamorous yachts and international luxury hotel complexes in the south, through to the lush, tropical rain forest, mountainous regions and indigenous villages in the north, it's a destination full of commercialism, modernity, nature, culture and tradition all in equal measure.
We stayed at? Raffles Hainan (pictured below) and The St Regis Hainan, two of islands most prestigious hotels.
Top image Bonnie wears yellow floaty dress by Lazul at Nanshan Temple.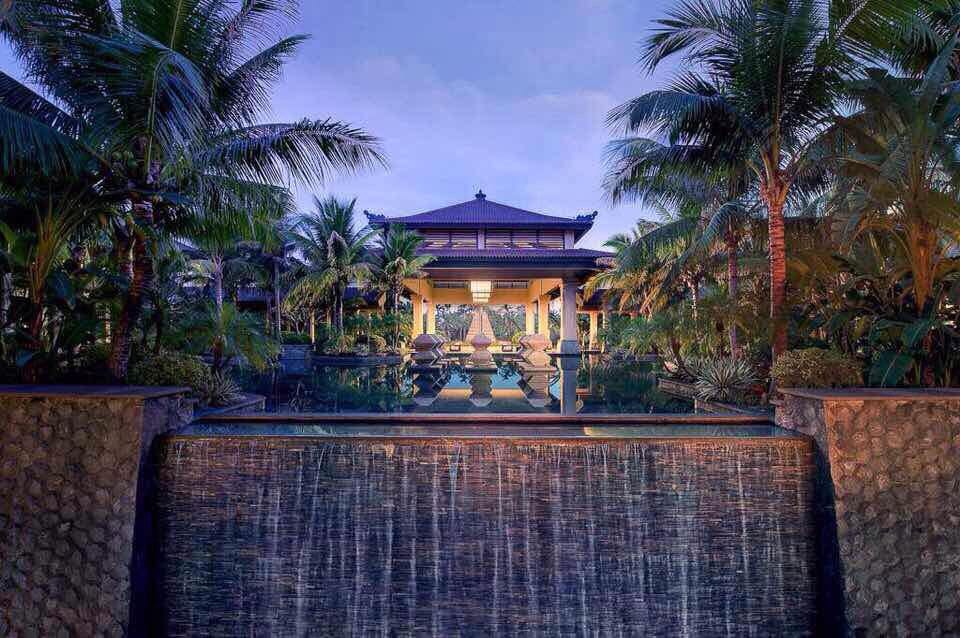 Best time to go? The subtropical climate of the island makes it a great beach holiday destination all year round.
Special thanks to? ThisIsHainanGov for inviting me on such an amazing trip. I love being invited on adventures where I get to discover amazing, new destinations that I've never heard of before and this trip was a real voyage of discovery.
Here's the Style Traveller guide to Hainan – China's Hidden Gem Tropical Island Destination…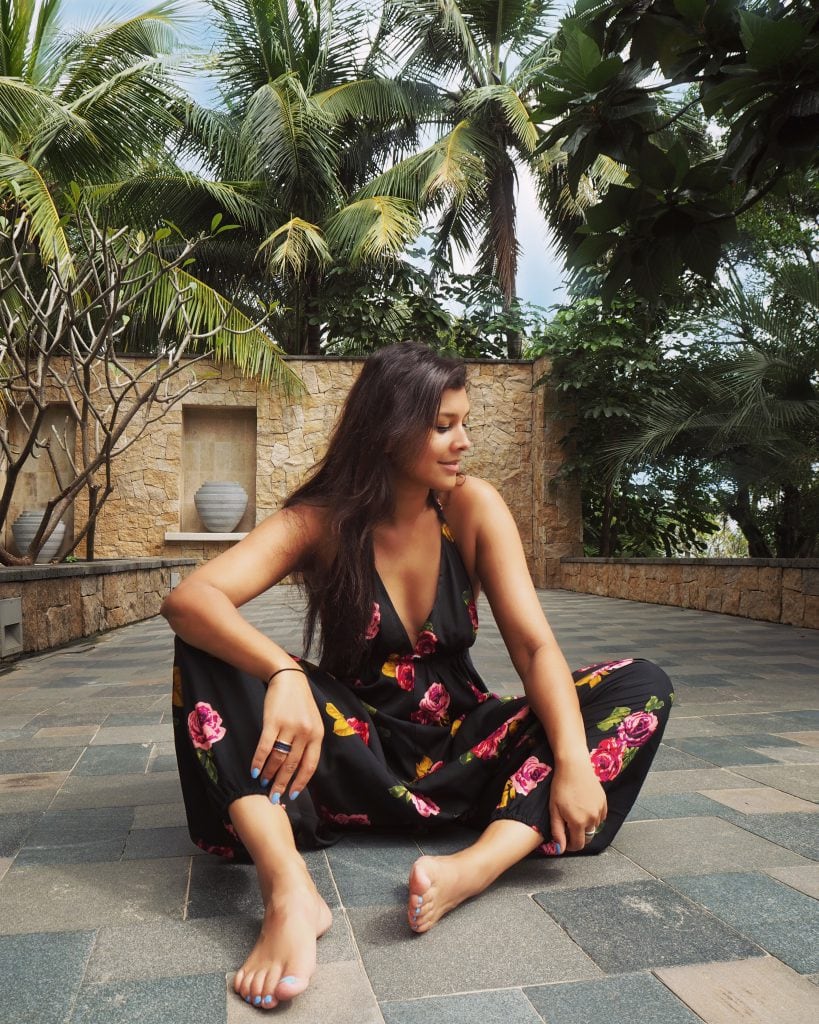 Where to stay? – Raffles Hainan
We spent an amazing four nights at the spectacular Raffles Hotel in Hainan. The grounds are vast landscaped areas, with perfectly manicured lawns, tropical palm trees and tranquil water features. I loved wandering though the immaculately kept gardens, turquoise lagoon swimming pools and peaceful marble verandahs, designed in a traditional Balinese style.
Raffles Hainan lives and breathes luxury, elegance and relaxation. It's a beautiful oasis of calm.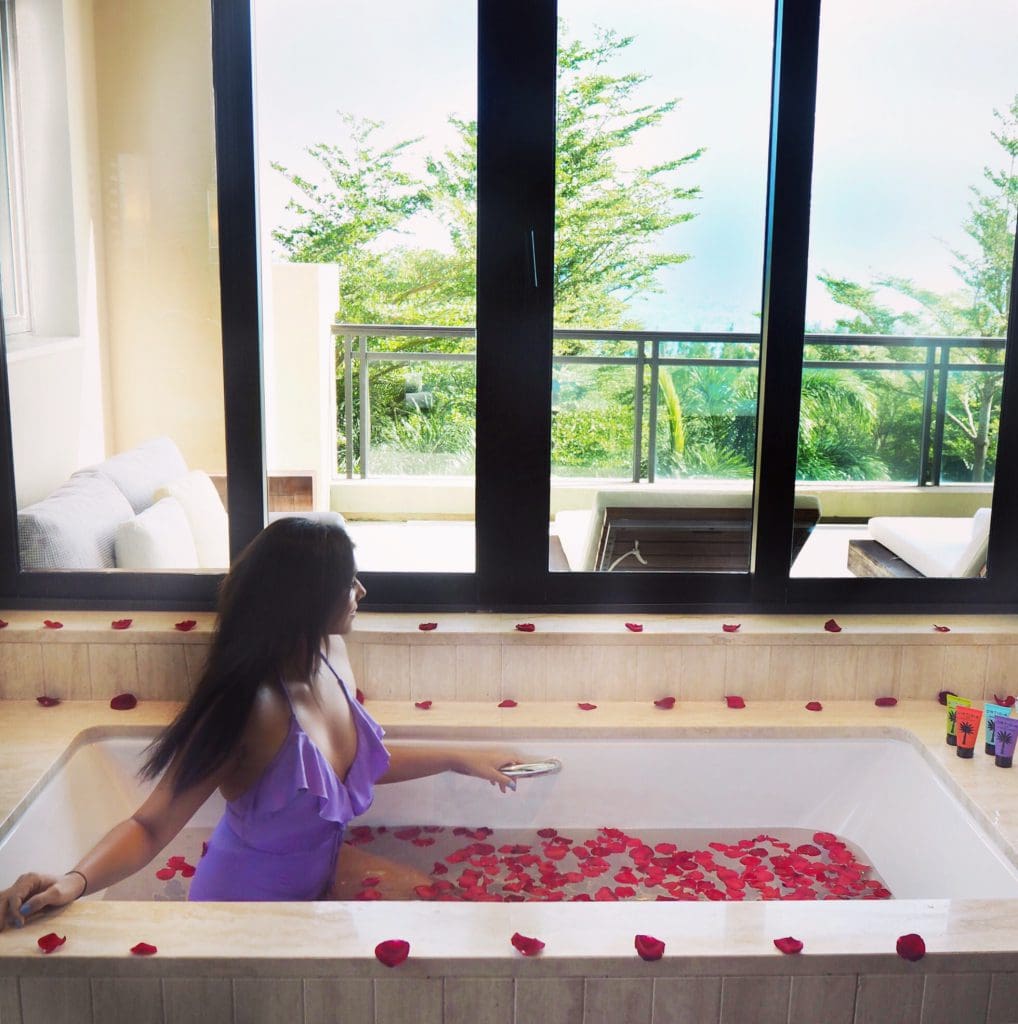 Me indulging in a pampering rose petal bath in my own hotel suite. The lovely therapists from the spa come up to your room and create a rose experience for you to enjoy in the privacy of your own room. Divine!
Top image Bonnie wears rose print jumpsuit by Silk Fred and above Bonnie wears lilac swimsuit by Lazul.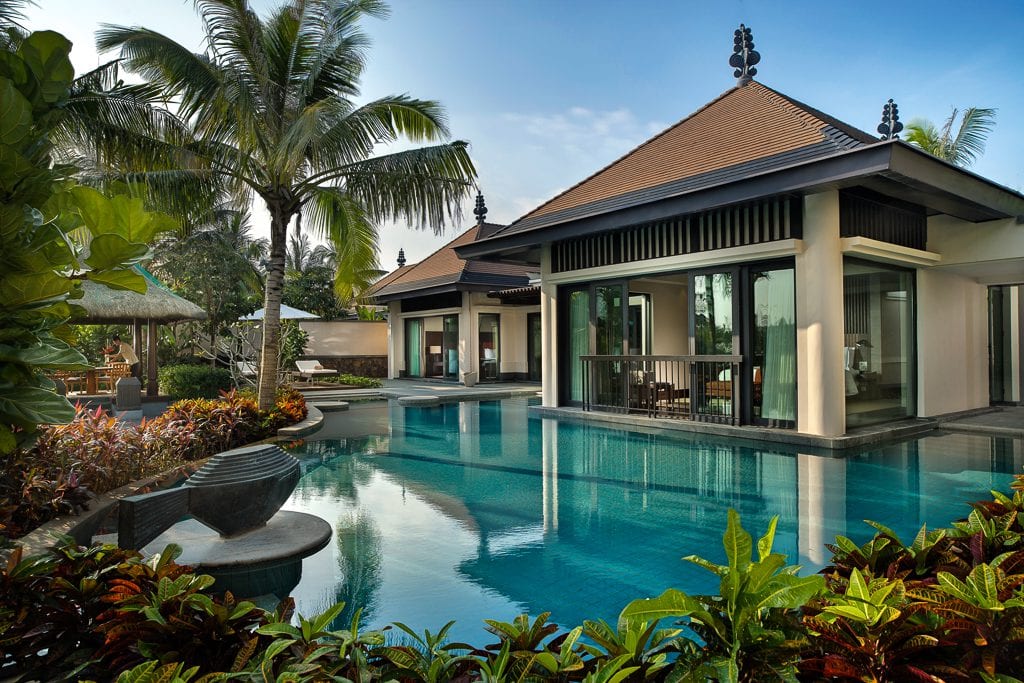 There are 300 rooms and suites in the hotels exquisitely designed grounds, but even at full occupancy the complex is so big it never feels too busy. Thirty two of these are villas with their own private pools, which are ideal for a secluded luxury getaway. (pictured above).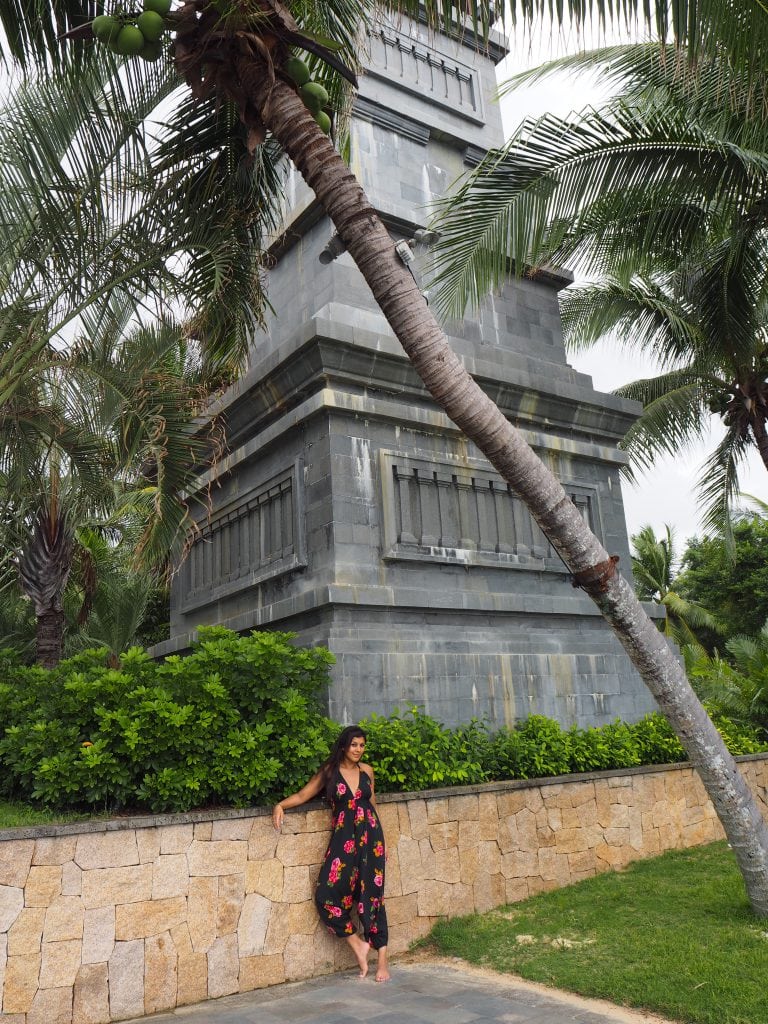 Above Bonnie wandering around the magnificent hotel grounds filled with giant traditional sculptures and statues, wearing a rose print jumpsuit by Silk Fred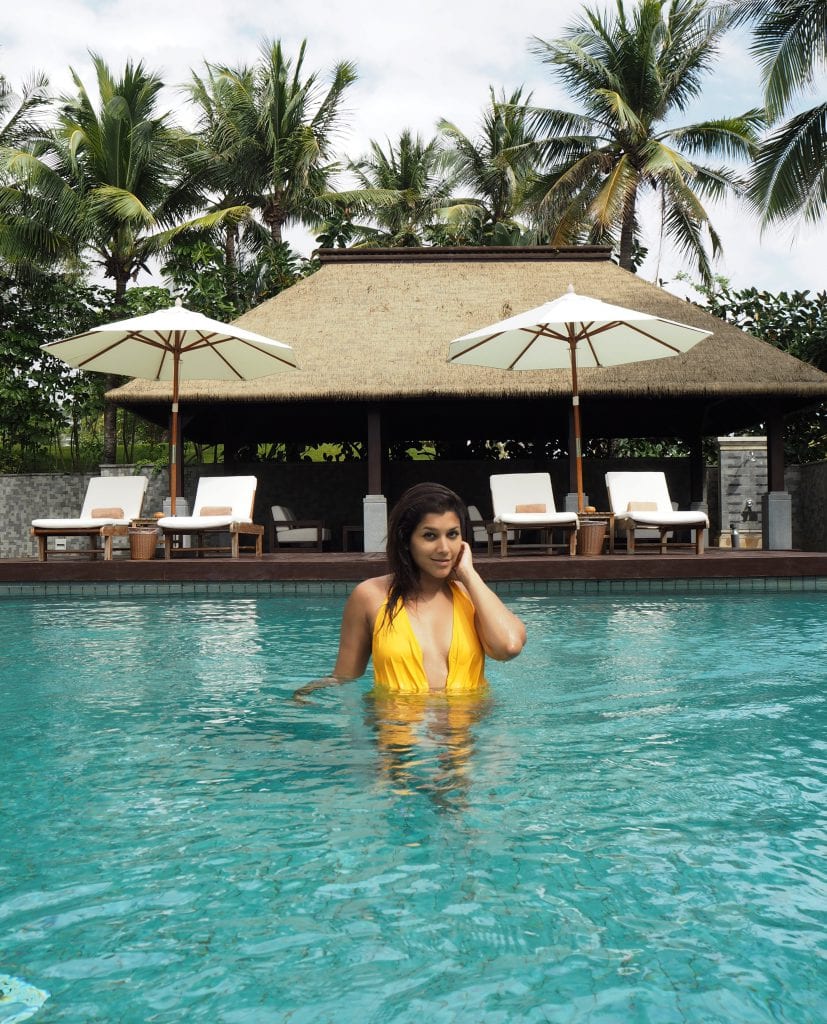 Above and Below Bonnie by the pool at Raffles wearing yellow swimsuit by Lazul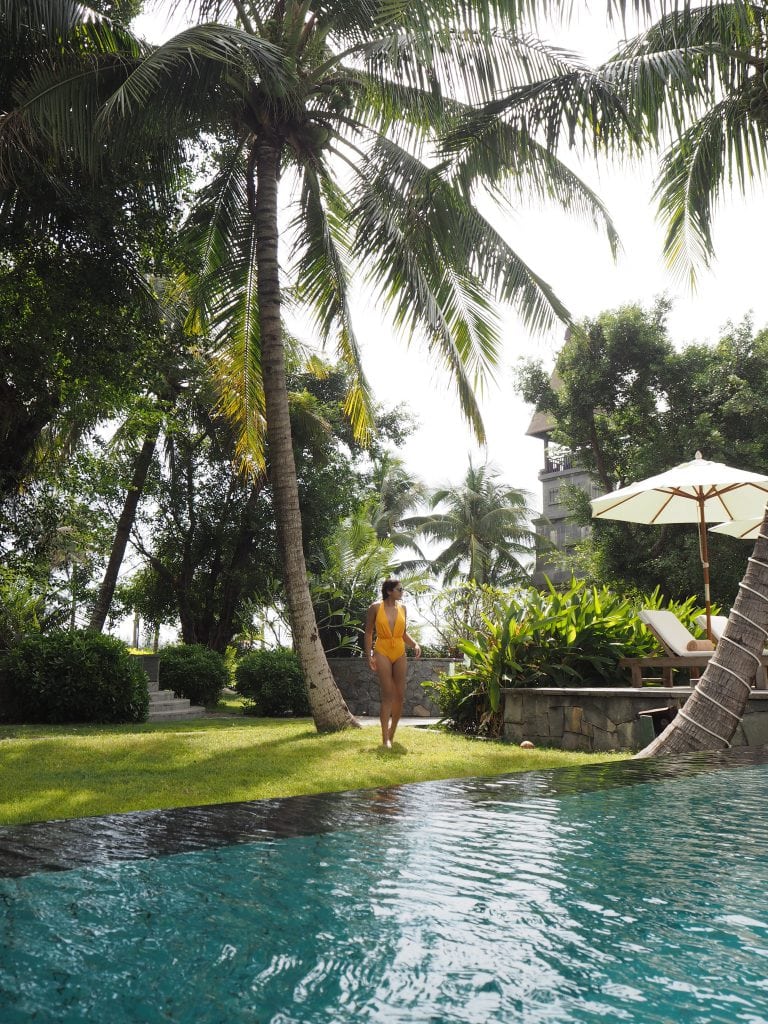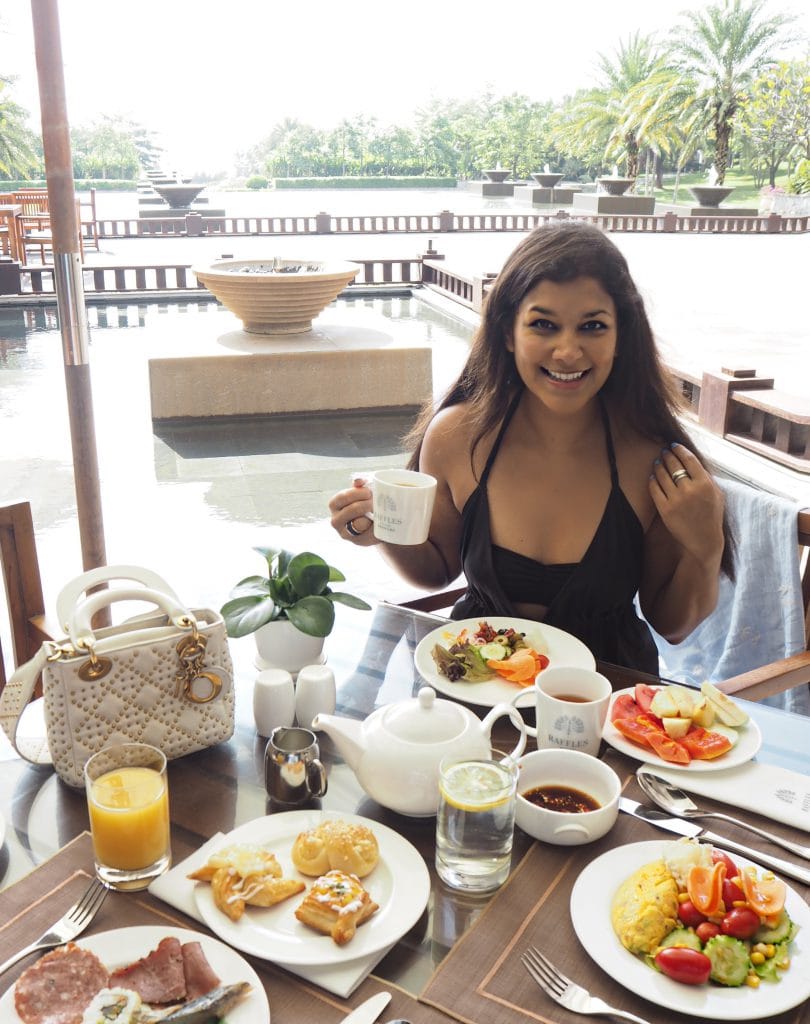 Breakfast at Raffles is an event in its own right. The buffet is expansive with an exceptional range of culinary treats, from Asian breakfast favourites like dim sum, sushi and ramen, to a full English, omelette stations, salad, fruit and juice bars galore and of course an amazing patisserie section. They really know how to put on a breakfast here. The staff at the restaurant were amazing too, they pandered to all of my weird eating whims! Thank you so much!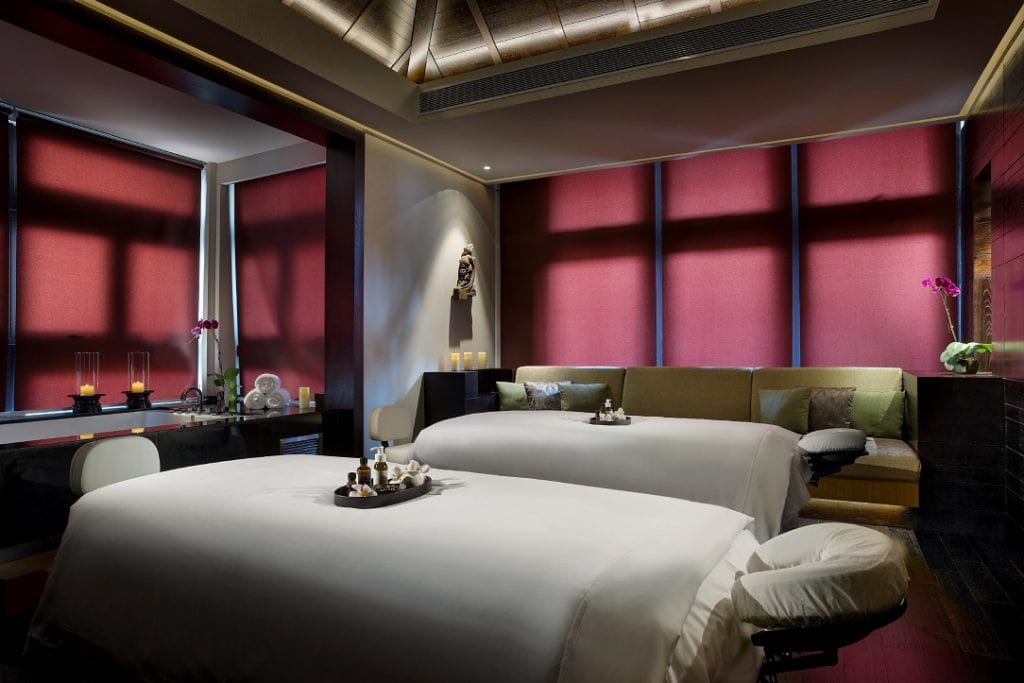 And possibly my favourite experience of all at the hotel was the signature massage at the Raffles Spa. Everything about this wonderful massage was utterly heavenly.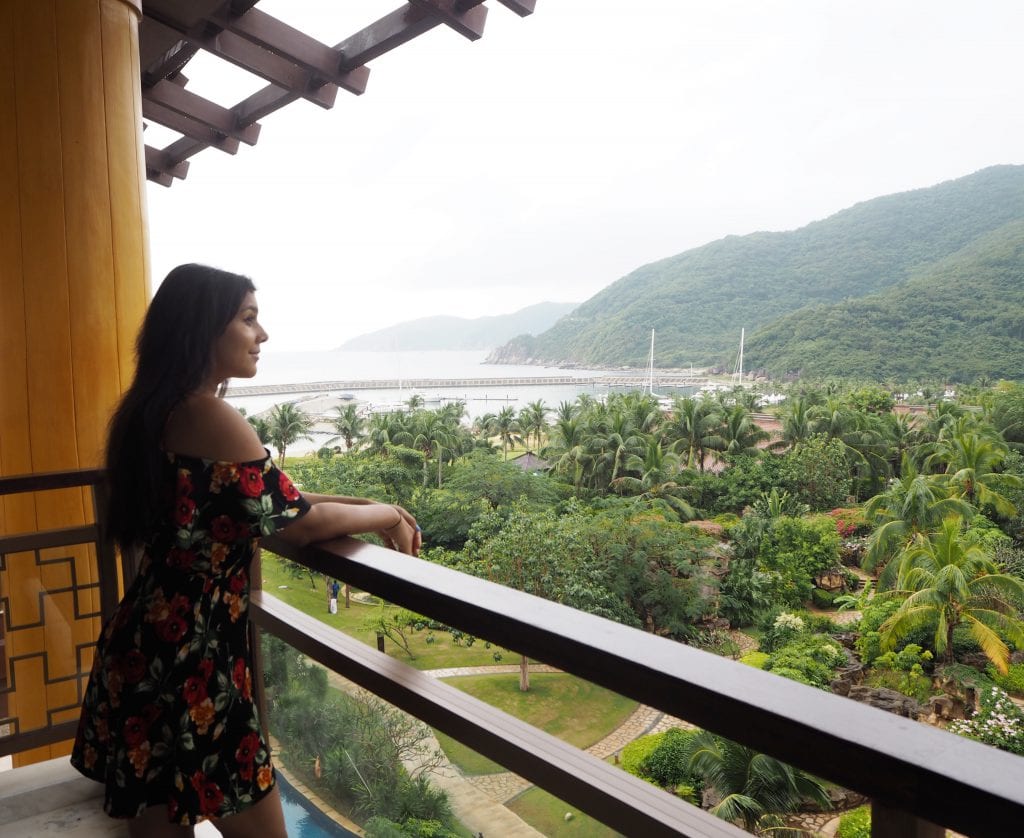 We also spent one lovely night at the St Regis, which was a stunning hotel but we didn't spend enough time there which is a shame. It was literally a fleeting overnight stay. From what I did see though the hotel is beautiful with each spacious room providing amazing views of the bay.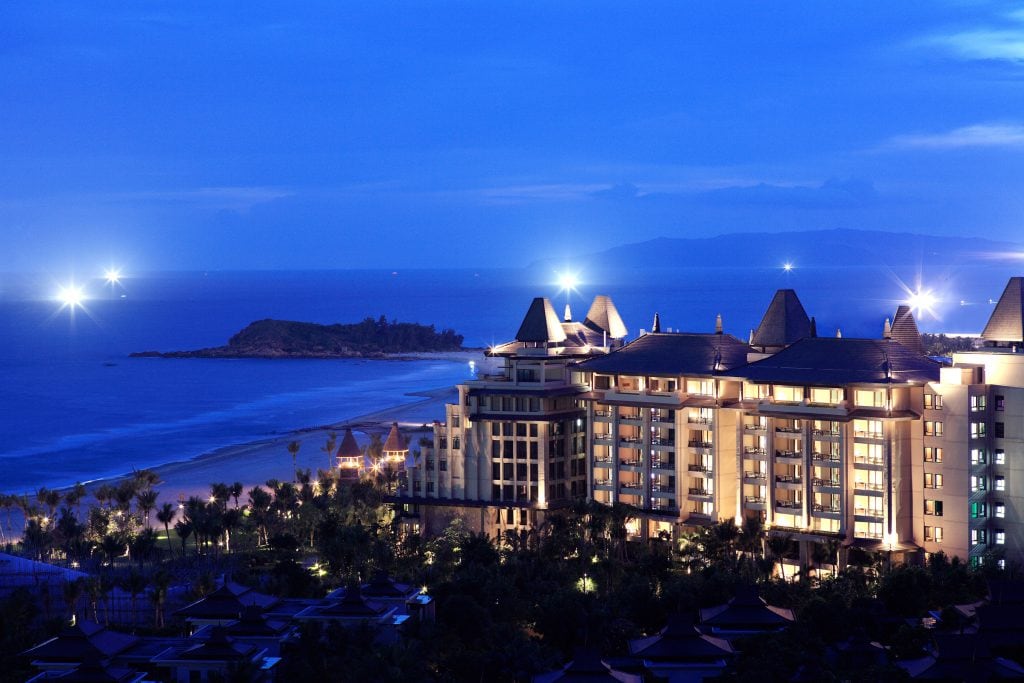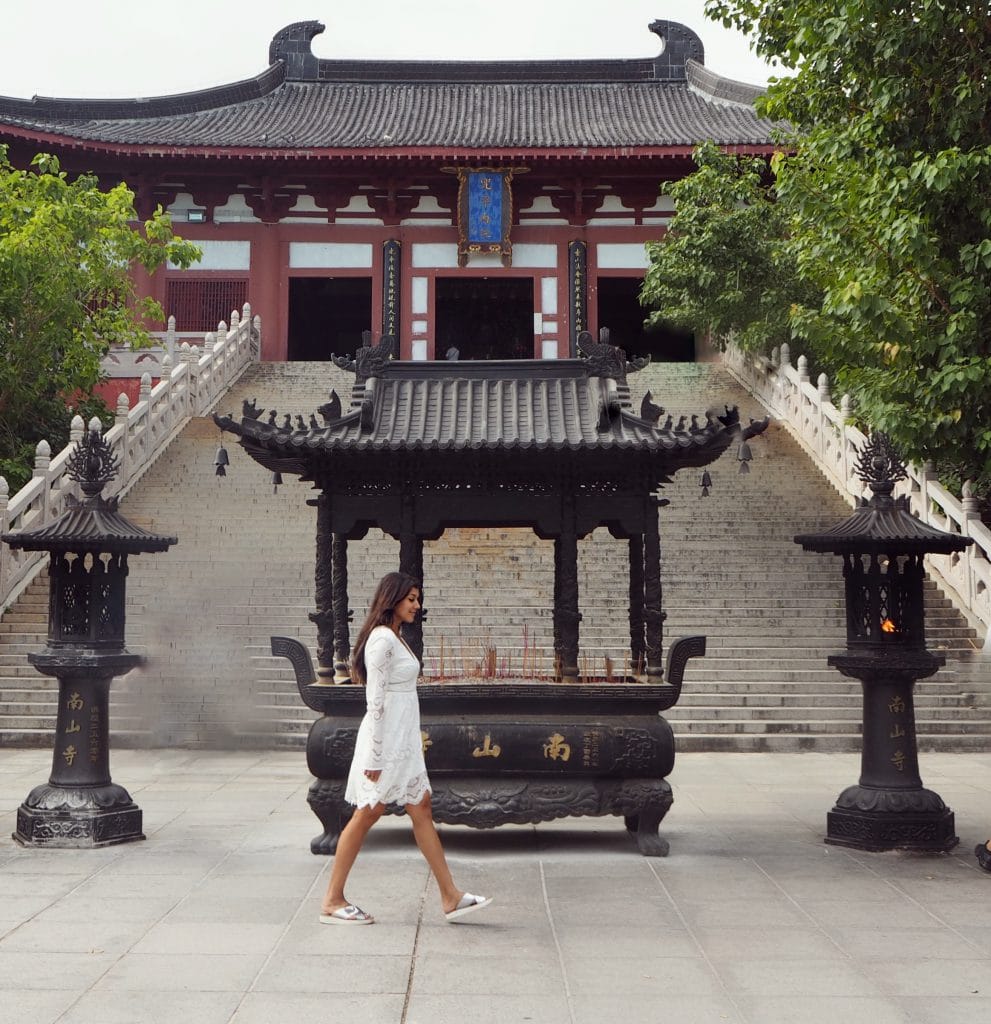 Fun Things To Do In Hainan
Nanshan Temple and the statue of Nanshan Guanyin, the Eastern goddess of mercy, is perhaps the most famous tourist and holy site in Hainan. Towering 135m above the sea you can visit the top of the statues halo and look down on the view below. The iconic statue and the traditional temples around it are a very spiritual place for the hundreds of Buddhists who make the pilgrimage to see her every year.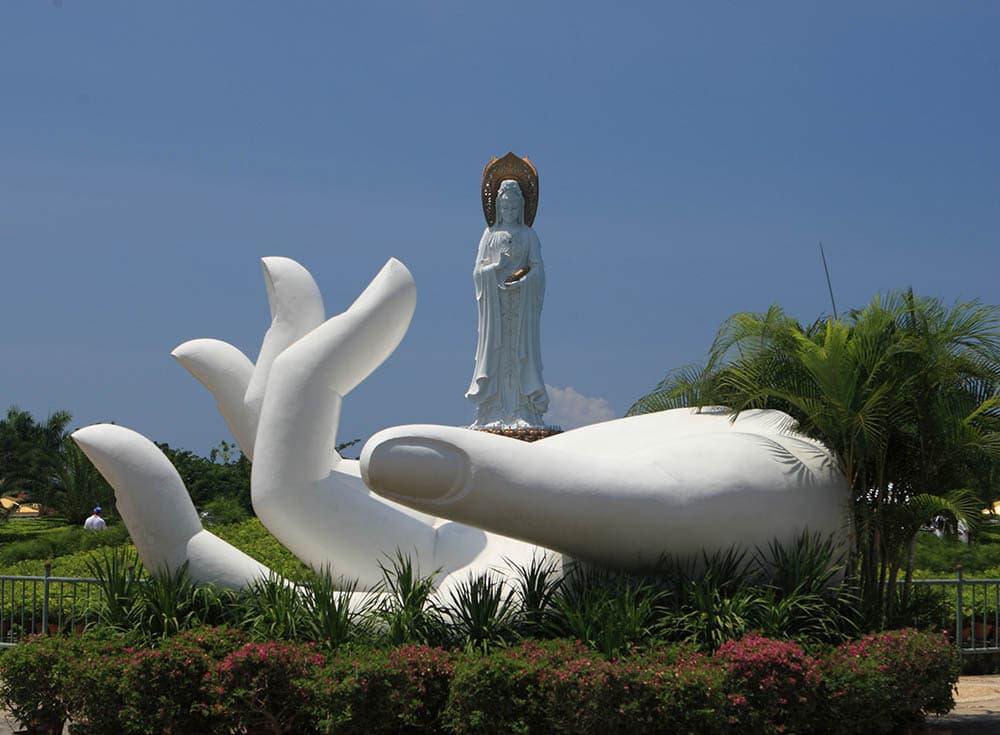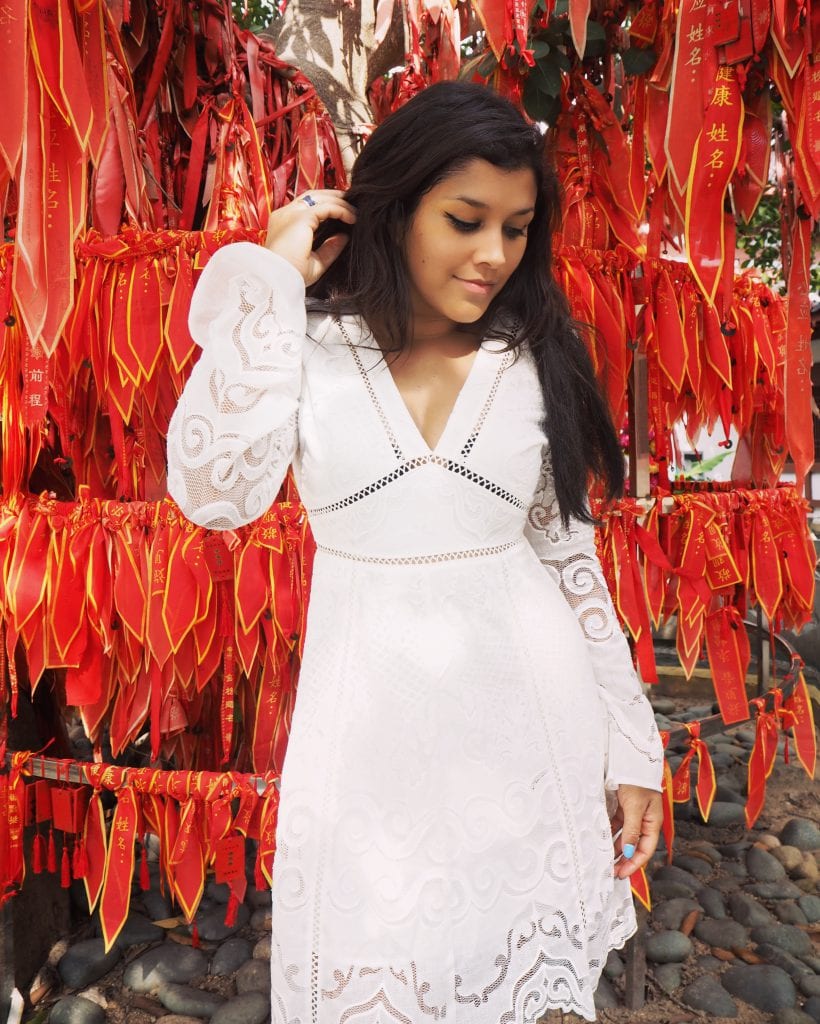 Above Bonnie at the Nanashan Temple Gardens wearing chinoiserie lace dress by Silk Fred and below yellow silk dress by Lazul.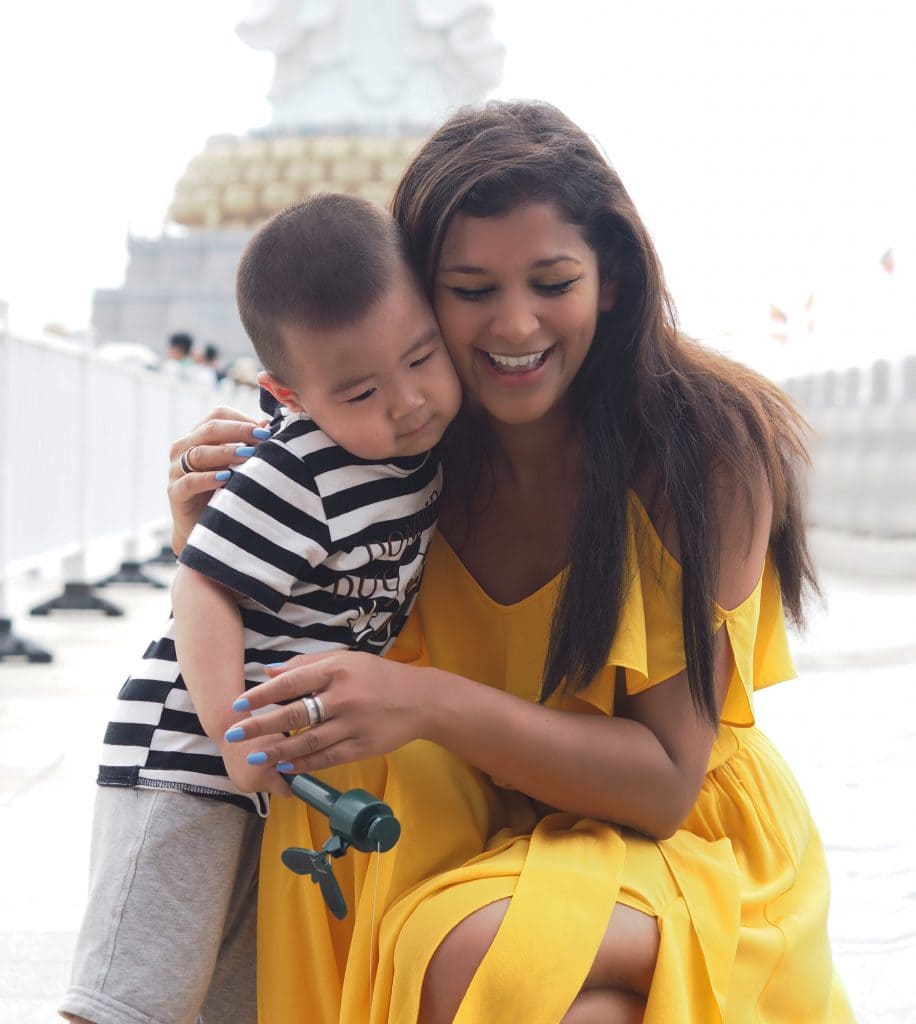 And I made a new little friend midst photo shoot on my trip to Nanshan.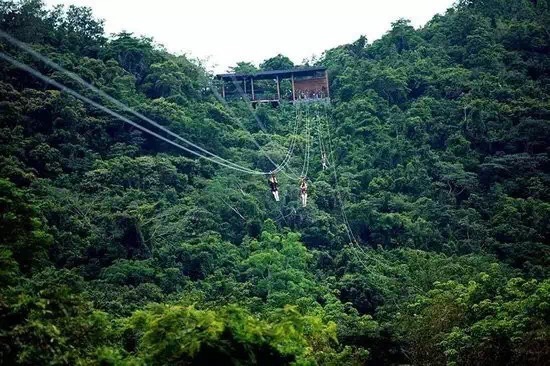 Yanoda Rainforest
Consisting of 18 square miles of lush tropical terrain between two valleys, the Yanoda Rainforest is a wonderful natural spectacle. Trek through the forest by foot or take the zip line over the tree tops if you dare!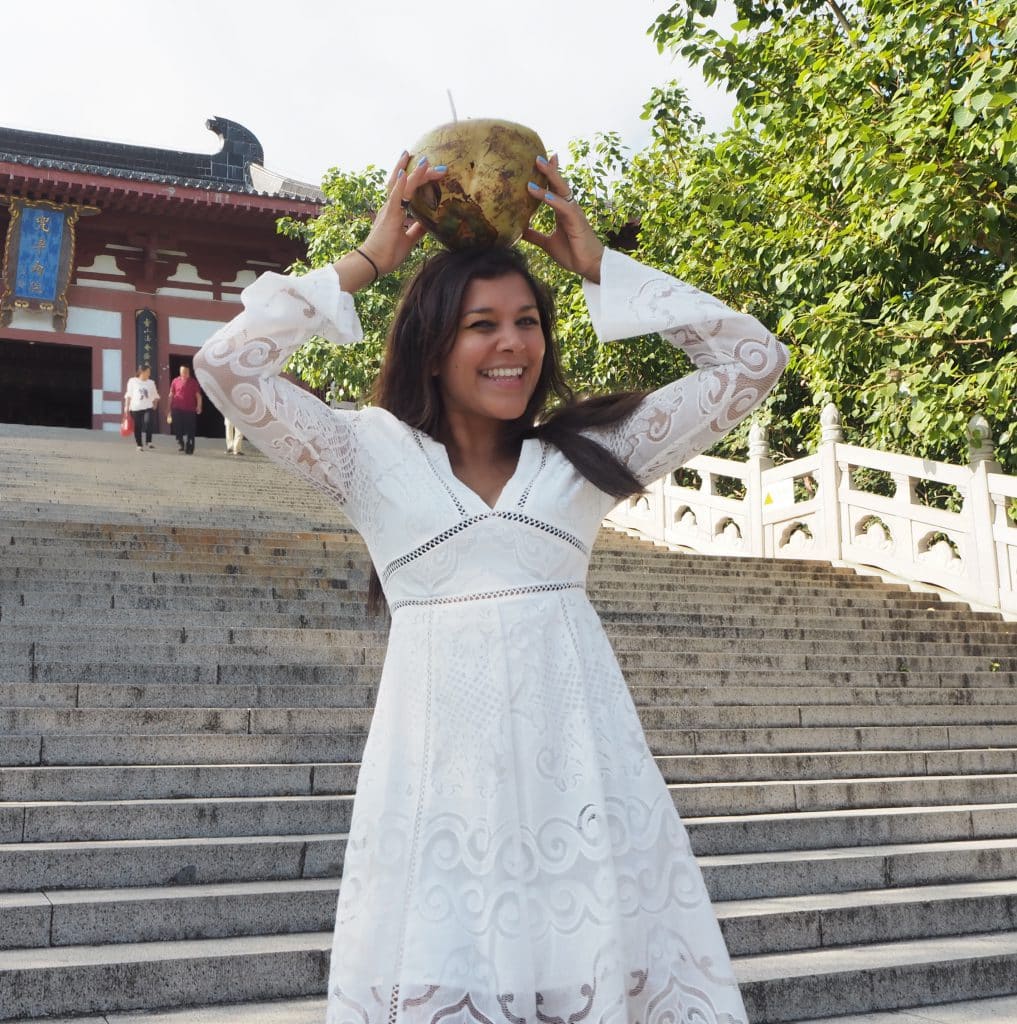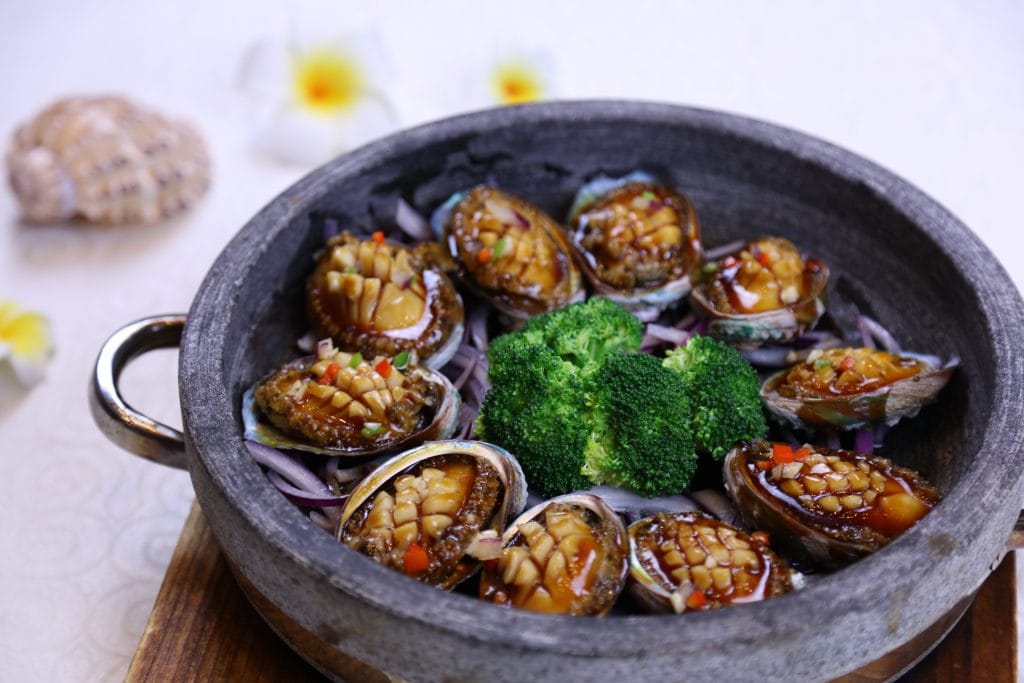 Indulge in the local cuisine. There are many delicious local signature dishes, pick and choose your dinner from the fish tanks and have it cooked in front of you at the Chun Yun Seafood Square, visit a local fish market or enjoy a night at the floating restaurant on Monkey Island.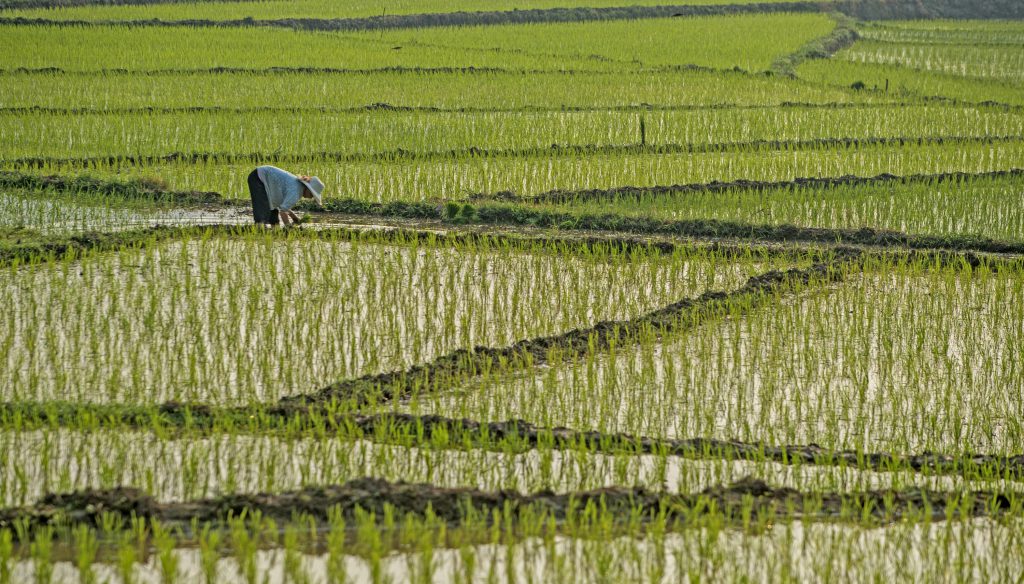 Explore the picturesque rice paddy fields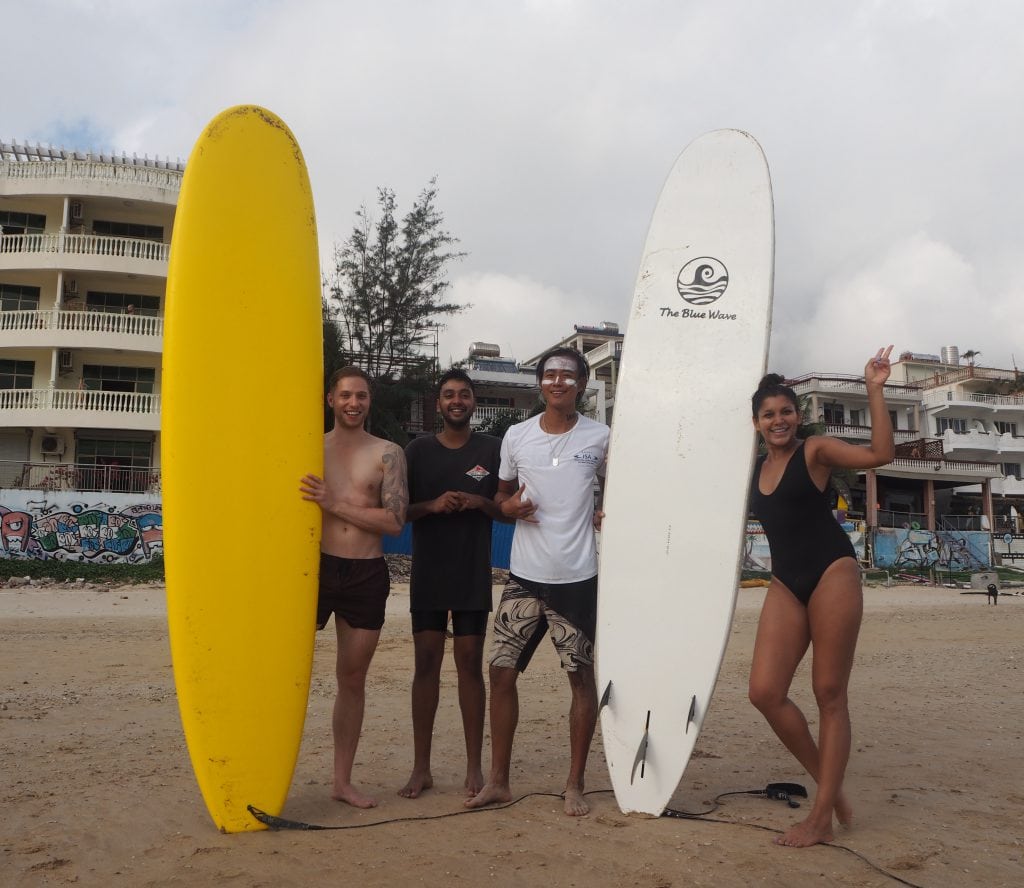 Hit The Surf at Riyue Bay
Several surf schools run year round along the bay. Ask your hotel to find a local school in the area and also find out where the swell is good that day. Riyue Bay is a great, chilled out bay for surf beginners and comes with a beautiful mountain backdrop too. Above me and boys take our boards out for an afternoon on the waves.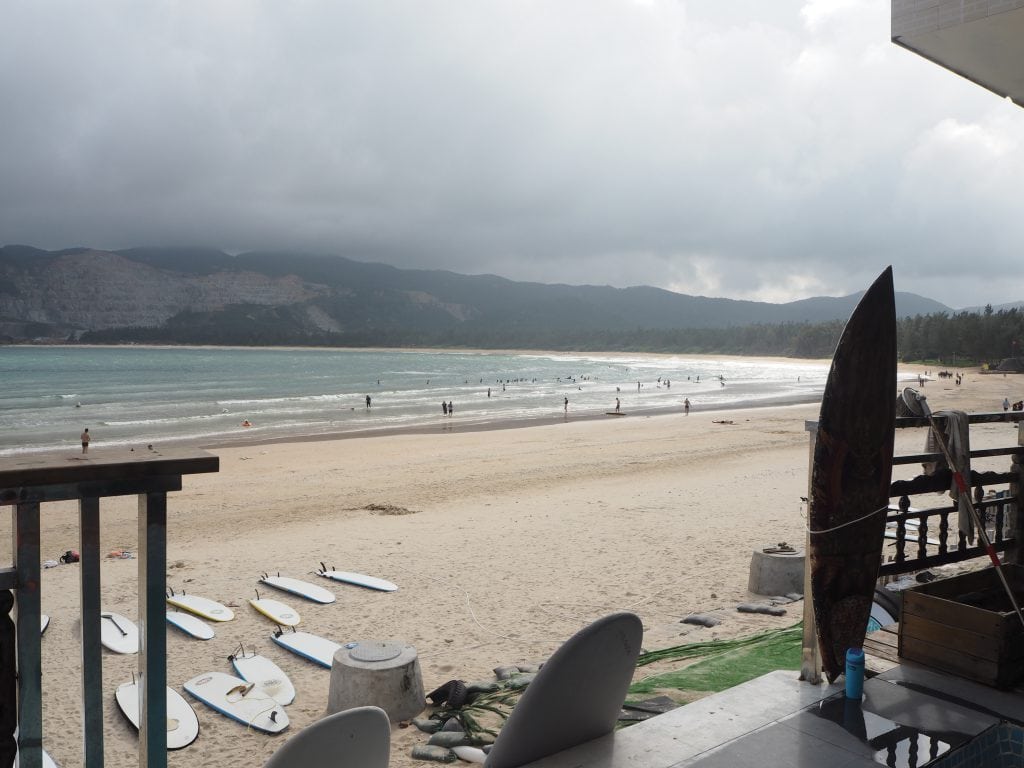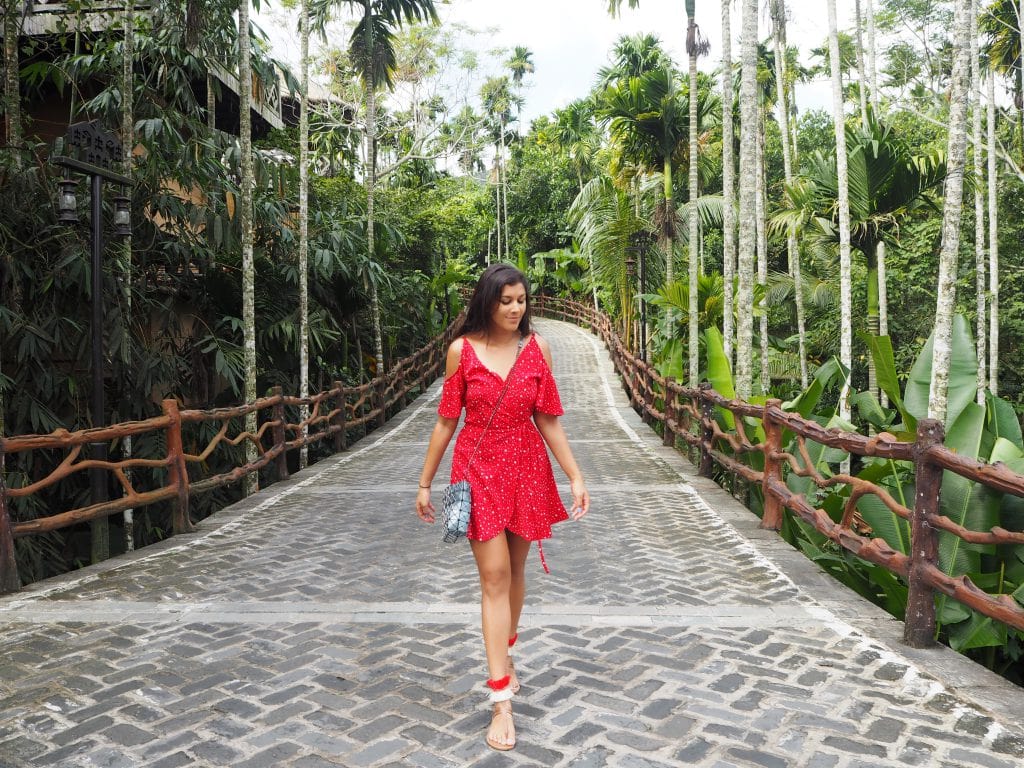 Li and Miao Cultural Village
Be transported back in time to rural, ancient China and spend the day with the hill tribes from Li and Miao. Today it's more of a theme park with explosive stage shows, buggies to get you around the acres of land and interactive culinary activities, where you taste home brews and sake infused with spiders (if it takes your fancy!). Or meet the great elder ladies of the tribe, who considered full body tattooing to be an honour and an ancient right of passage. Fascinating stuff.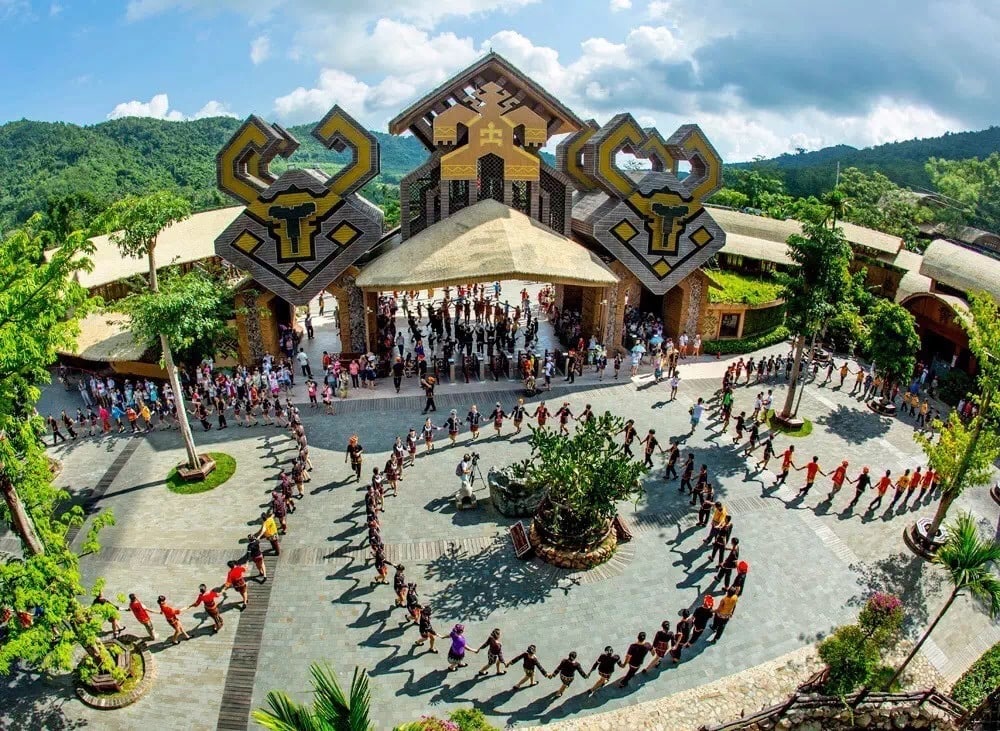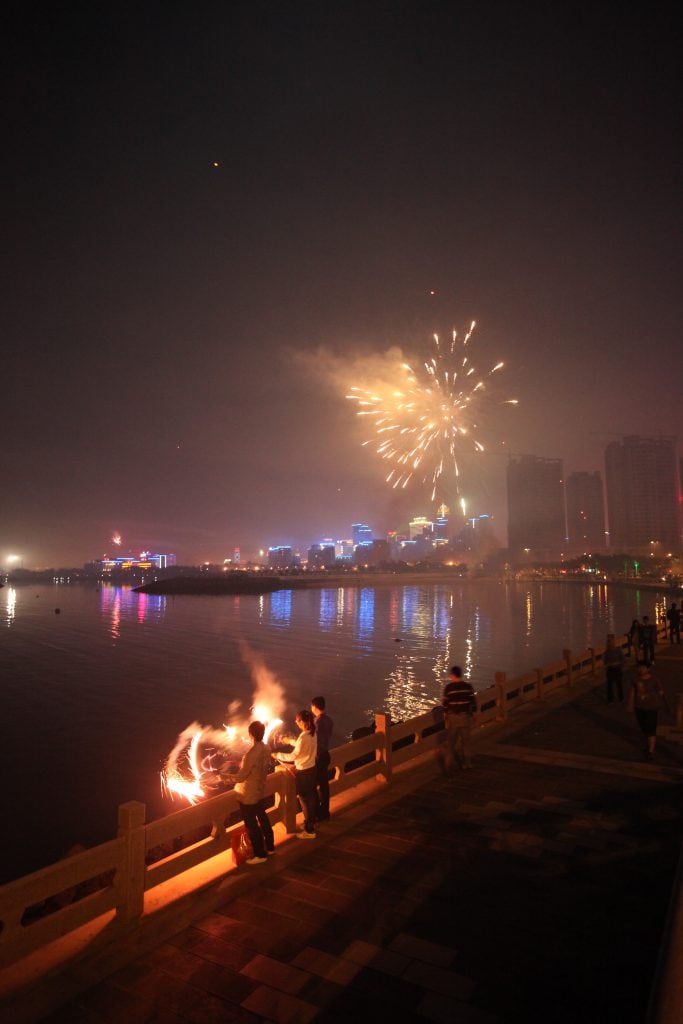 By night Hainan nightlife is buzzing with bars and of course karaoke!! If you're in the mood to get on the mic, you have hundreds of bars and karaoke joints to choose from.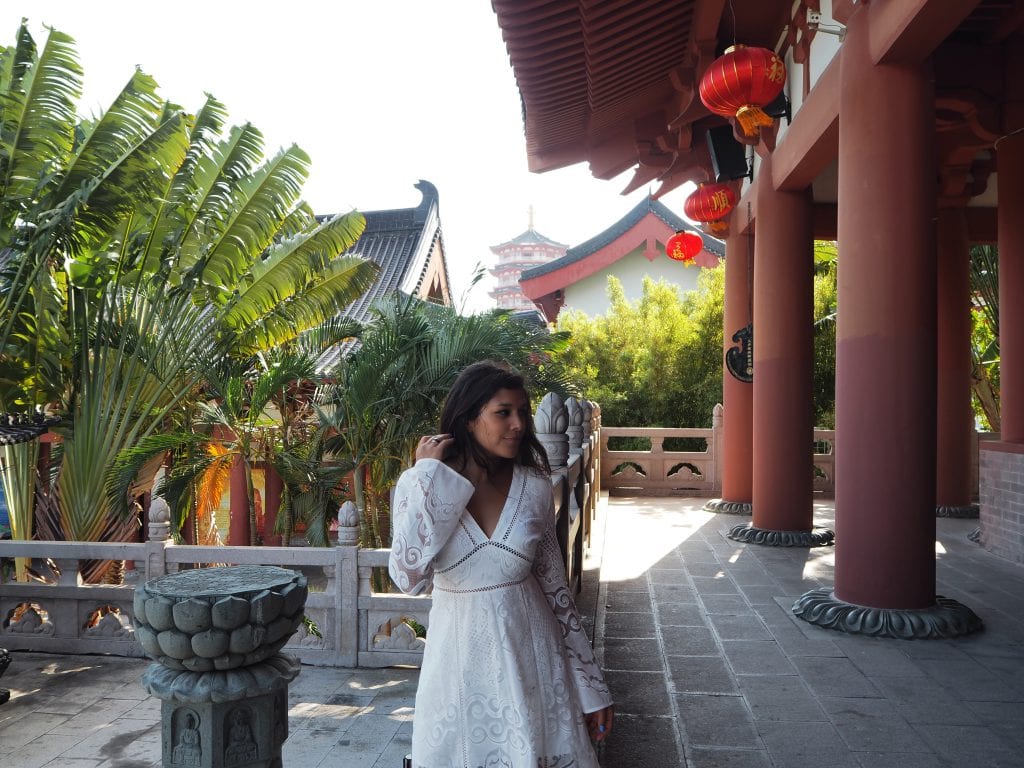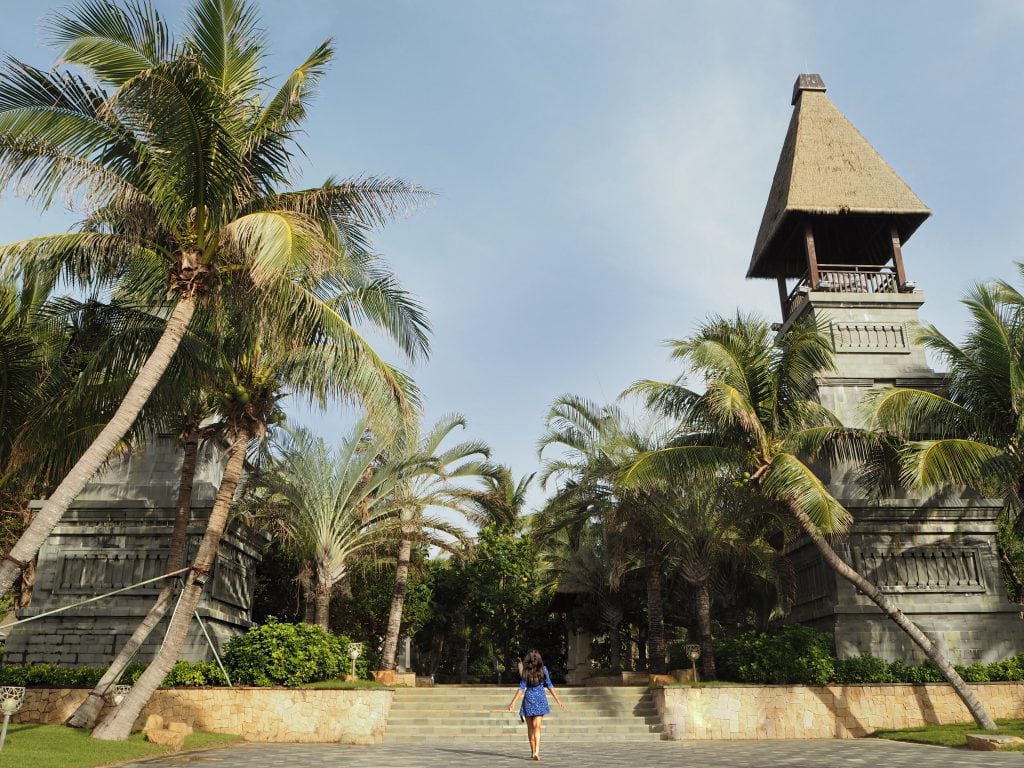 For more information on Hainan you can follow ThisIs HainanGov social media channels on Instagram, Twitter and Facebook.
Bye bye China, next stop London.
Bon Voyage xx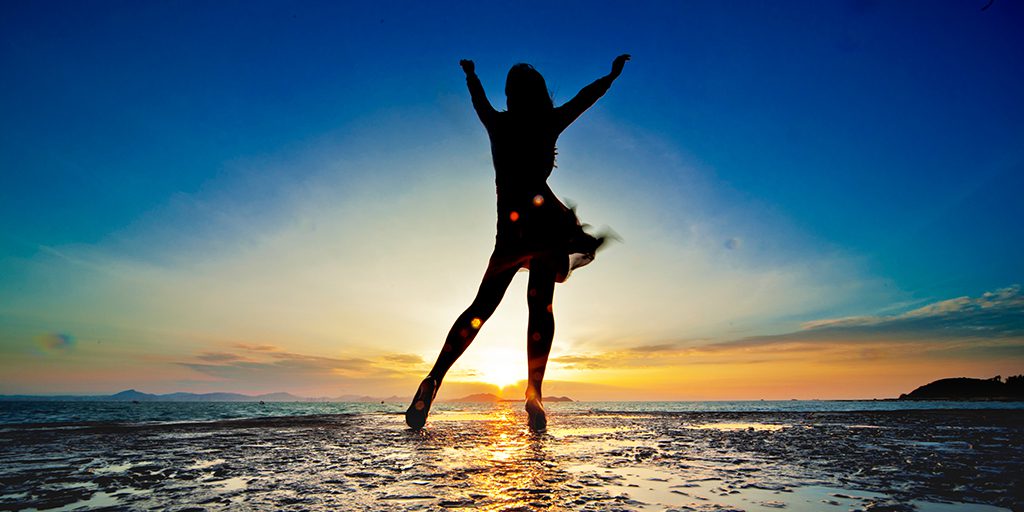 Share the love on Pinterest. Pin to remember..