How To Do Wimbledon Like A VIP!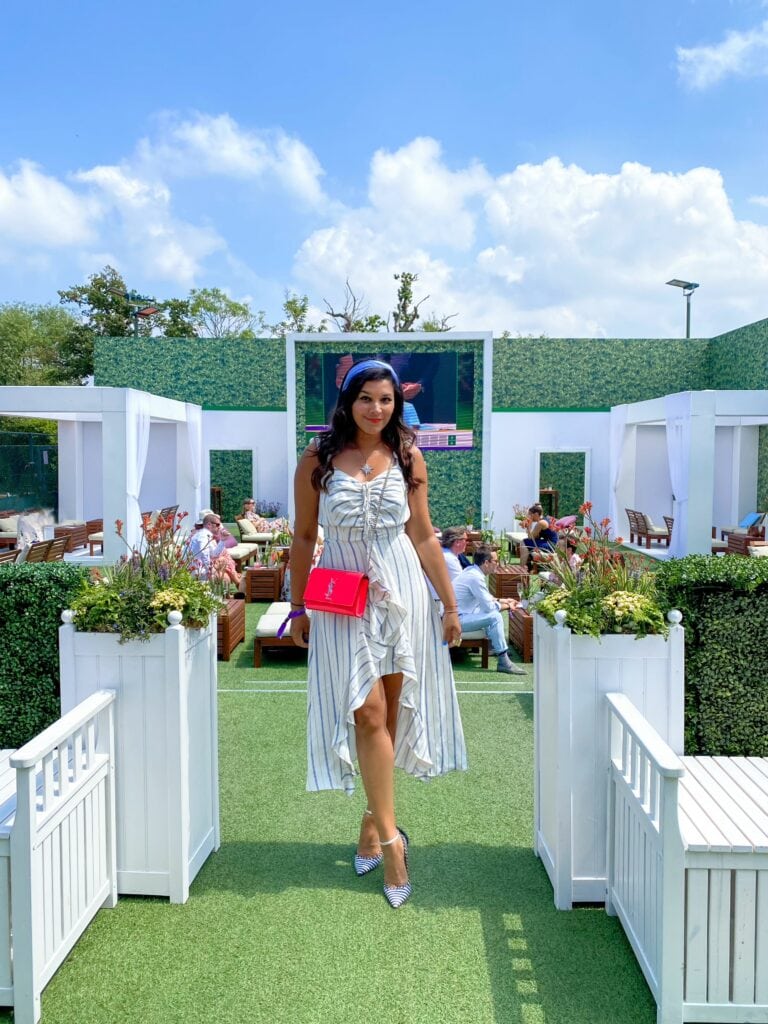 Where? The Championships, Wimbledon, UK
When? July 2021
Why? I was very fortunate to be invited into The Lawn, Keith Prowse hospitality suites at Wimbledon for a full VIP day experience.
This is a sponsored post. I was a guest of Keith Prowse to this experience but all of my views are my own.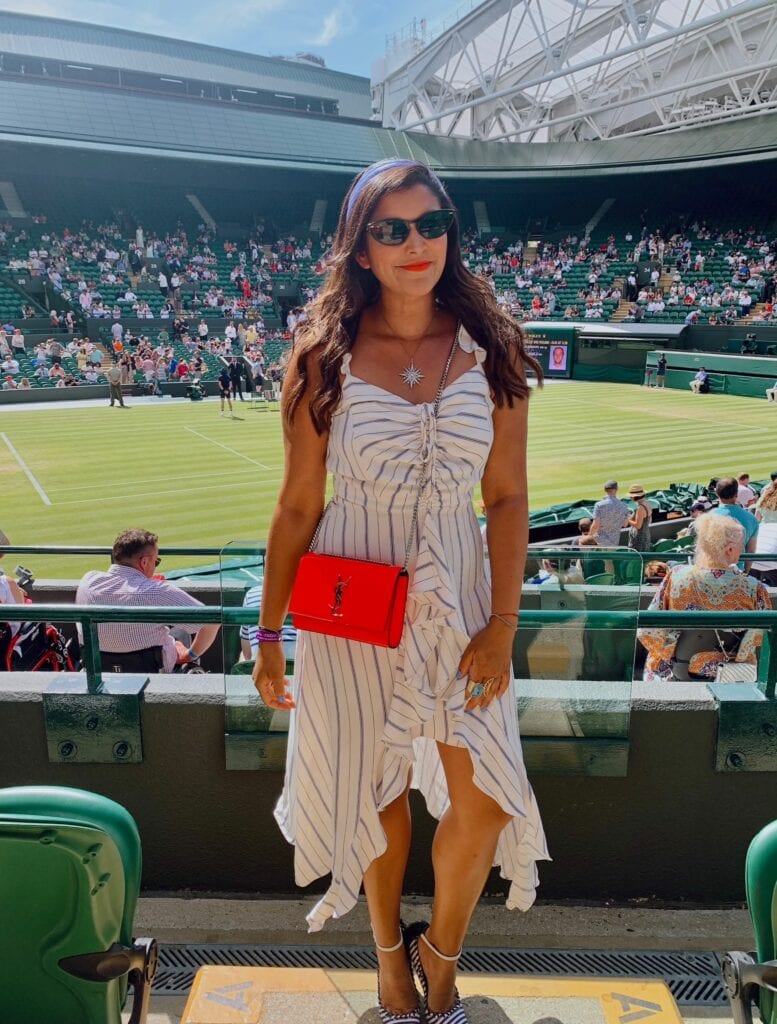 The Championships, Wimbledon
Wimbledon is the oldest tennis tournament in the world. It is widely thought of as the most prestigious of all titles.
Founded in 1877, The Championships take place at the All England Lawn Tennis and Croquet Club (AELTC), on grass courts. It's located close to the quintessentially English village of Wimbledon, around half an hour from central London.
Wimbledon is a world renowned event which is broadcast to over a billion people in over 200 nations. Managing to get tickets to the event, especially post covid, is almost impossible.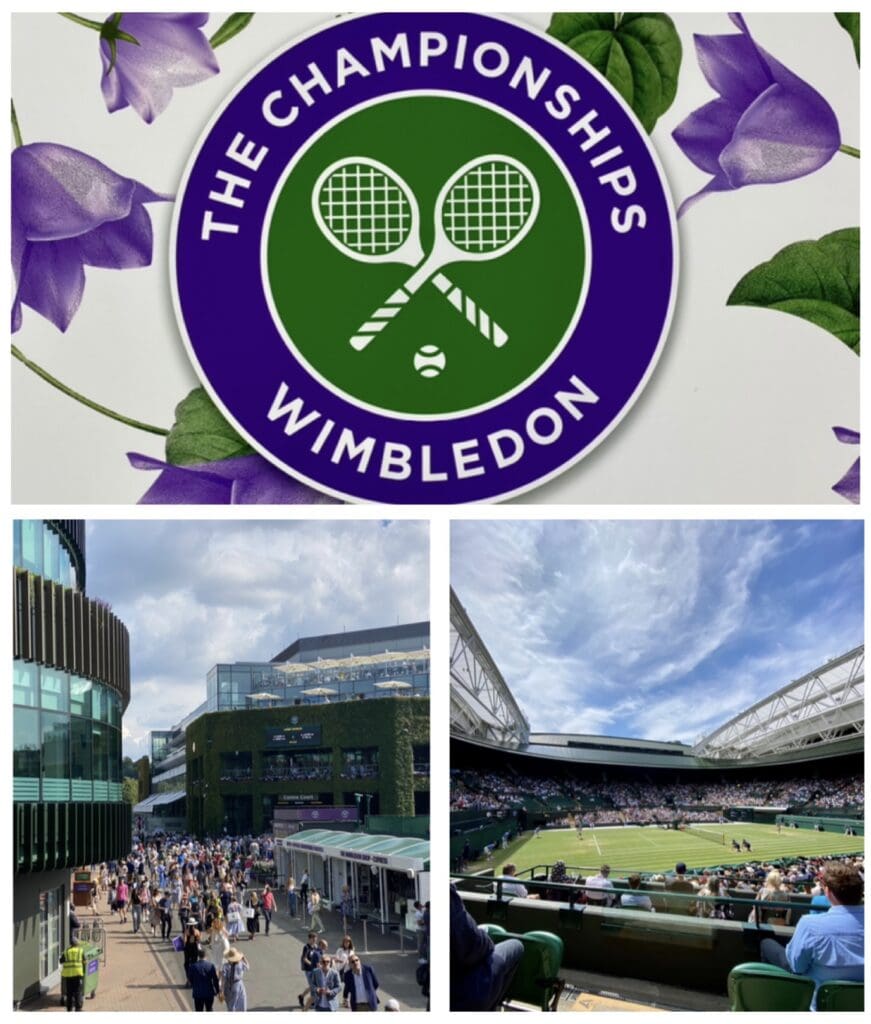 Keith Prowse Hospitality
I've been to Wimbledon many times before. It's part of the social events calendar or 'The Season' here in England. In past years I was commenting on Wimbledon fashion for the BBC, so this year to go purely as a VIP guest was a real treat.
Keith Prowse is the only official hospitality provider for the event. So I was extremely excited to be their guest. And in a year where tickets for Wimbledon are like gold dust, it was even more of an added bonus.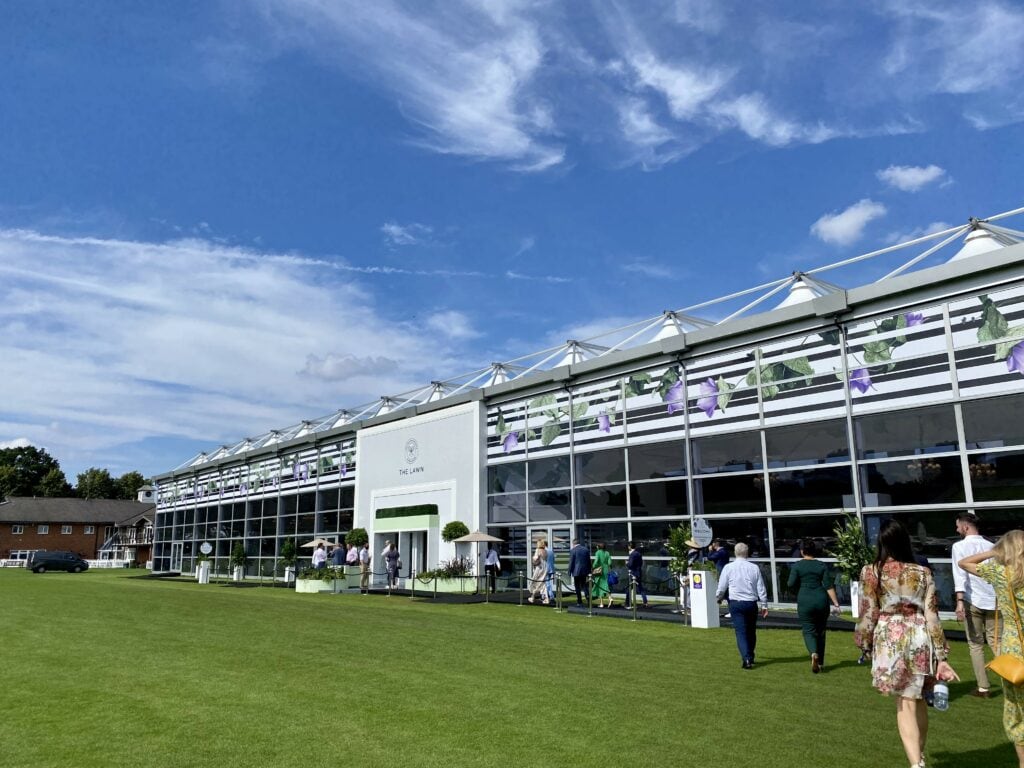 There are different suites and areas in which you can be hosted. I was very lucky to spend my day at Wimbledon at the beautiful & relaxed, The Lawn.
The order of the day is welcome cocktails and lunch prepared by celebrity TV chef Michel Roux Jnr and his team in the elegant dining rooms.
The rest of the day is free to watch tennis matches on Centre Court and No.1 Court (depending on which package you've opted for). Then back to The Lawn for afternoon tea, live jazz and cocktails in the terrace gardens.
Keep scrolling to see what my sister Tuhina and I got up to on our wonderful VIP day at Wimbledon.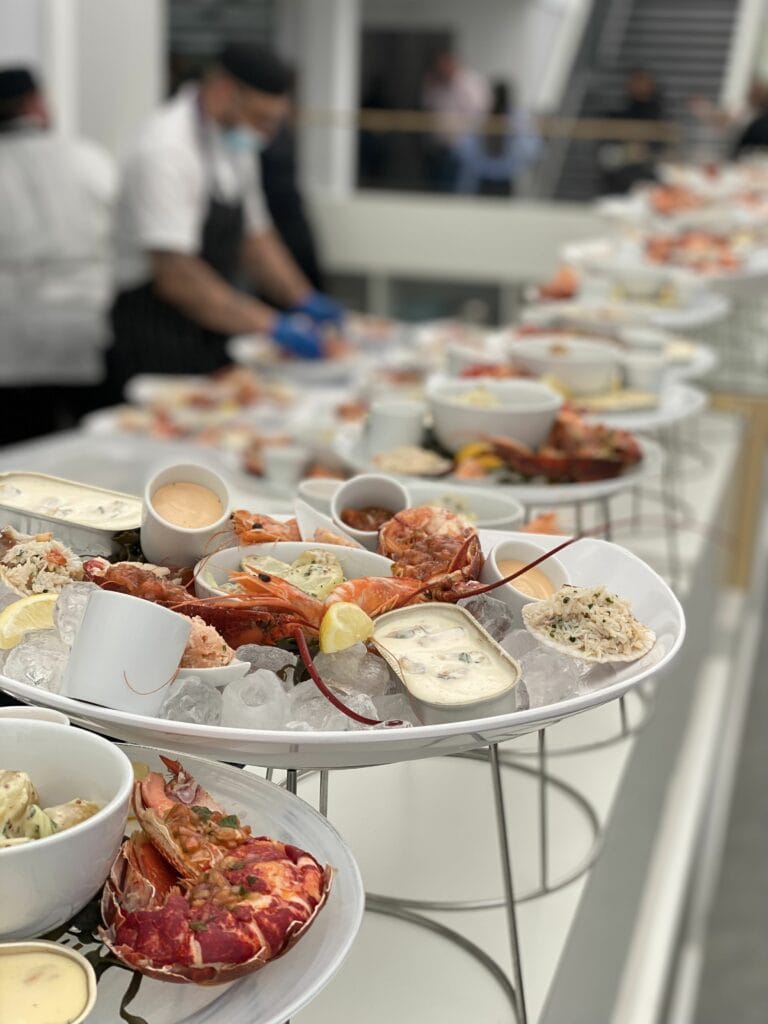 Lunch with Michel Roux Jnr
The food at The Lawn is exceptional. I would expect nothing less when celeb chef Michel Roux Jnr is in charge.
We had a choice of starters, mains and desserts. I opted for the epic seafood platter pictured above.
And perhaps more excitingly Michel Roux actually came out of the kitchen to greet each and every table. He even said yes to a quick photo op with me and my sister. What a lovely gentleman!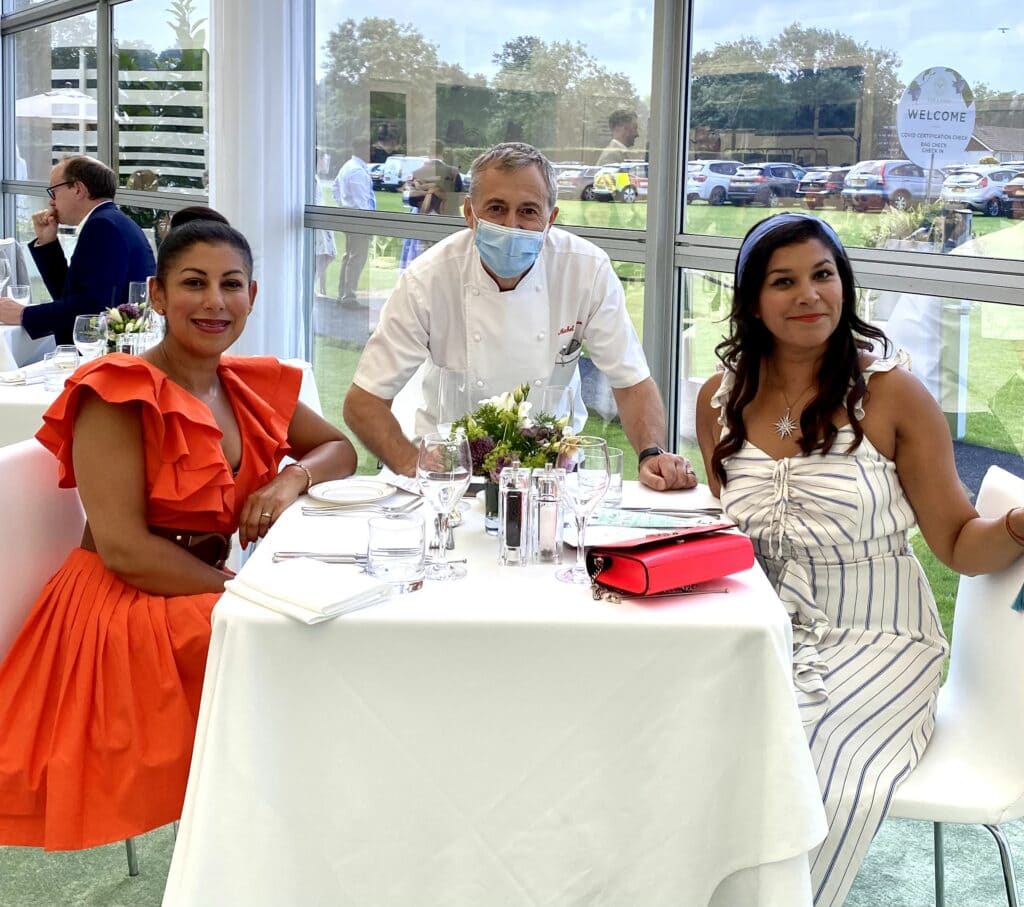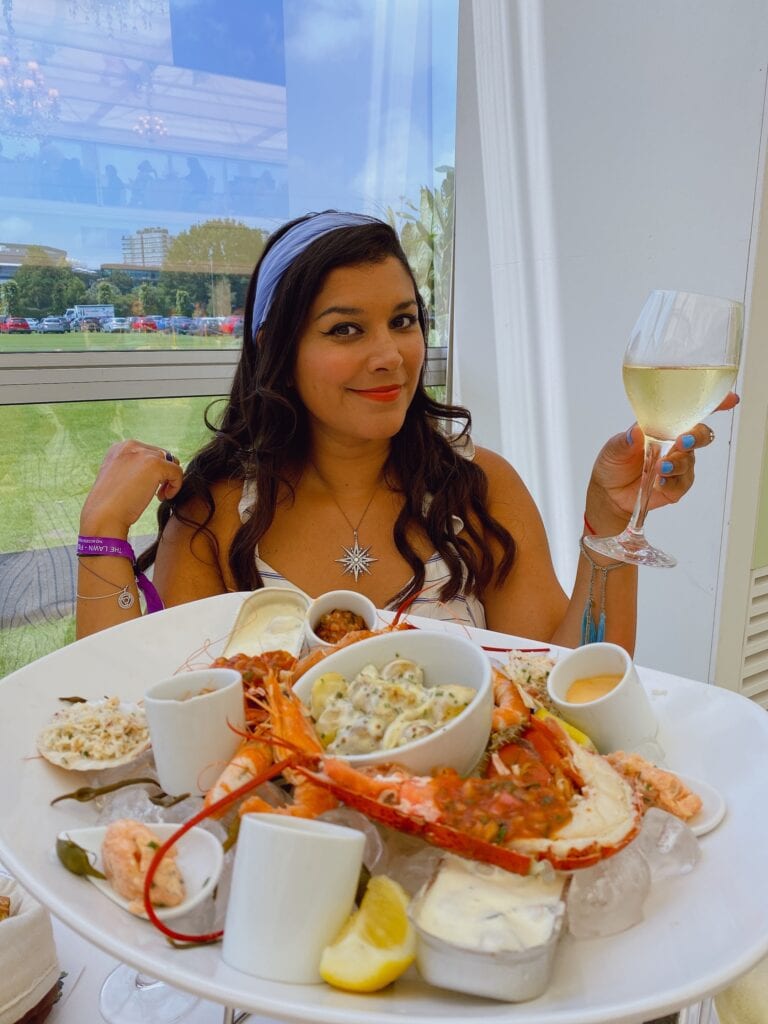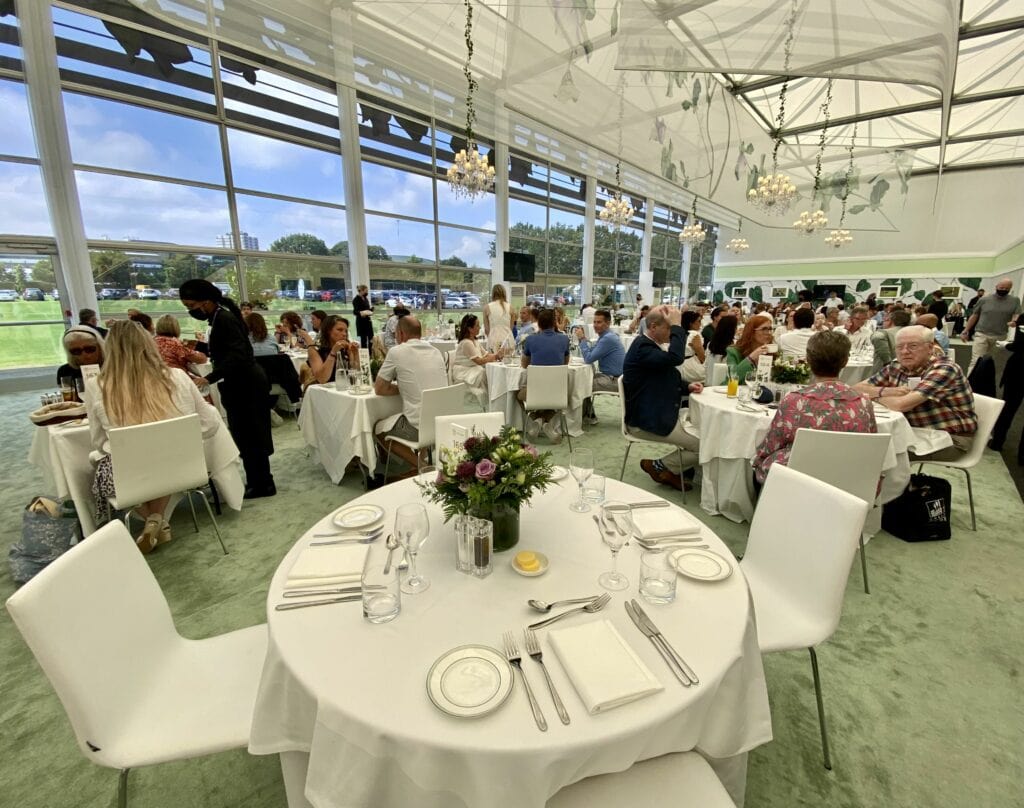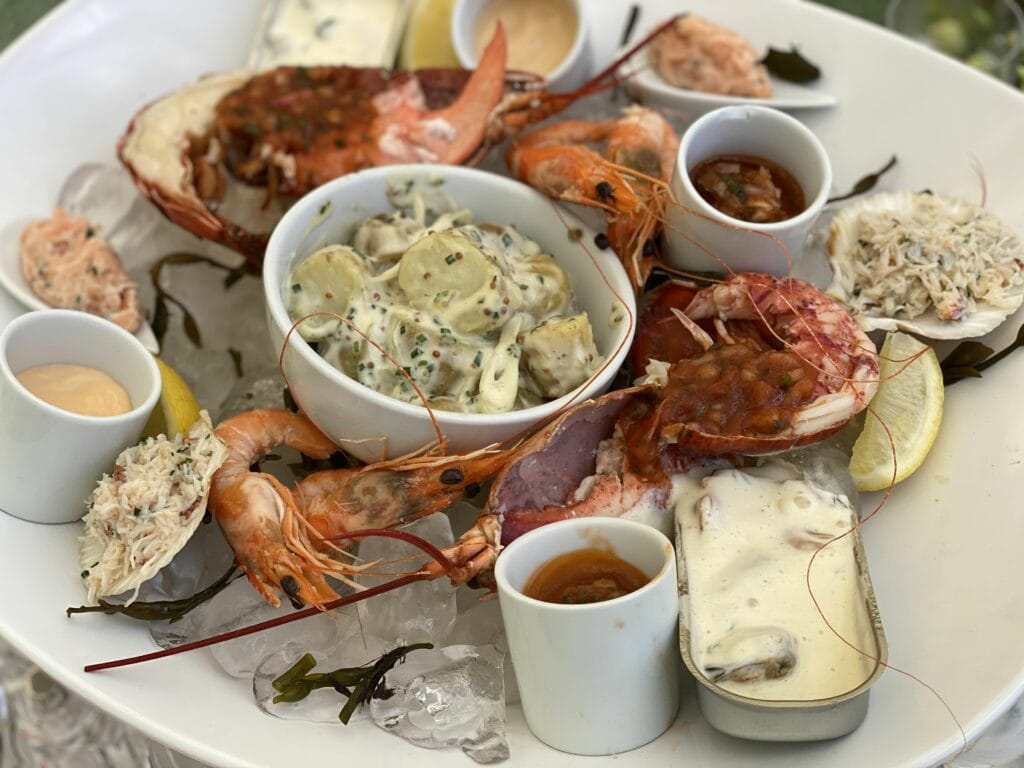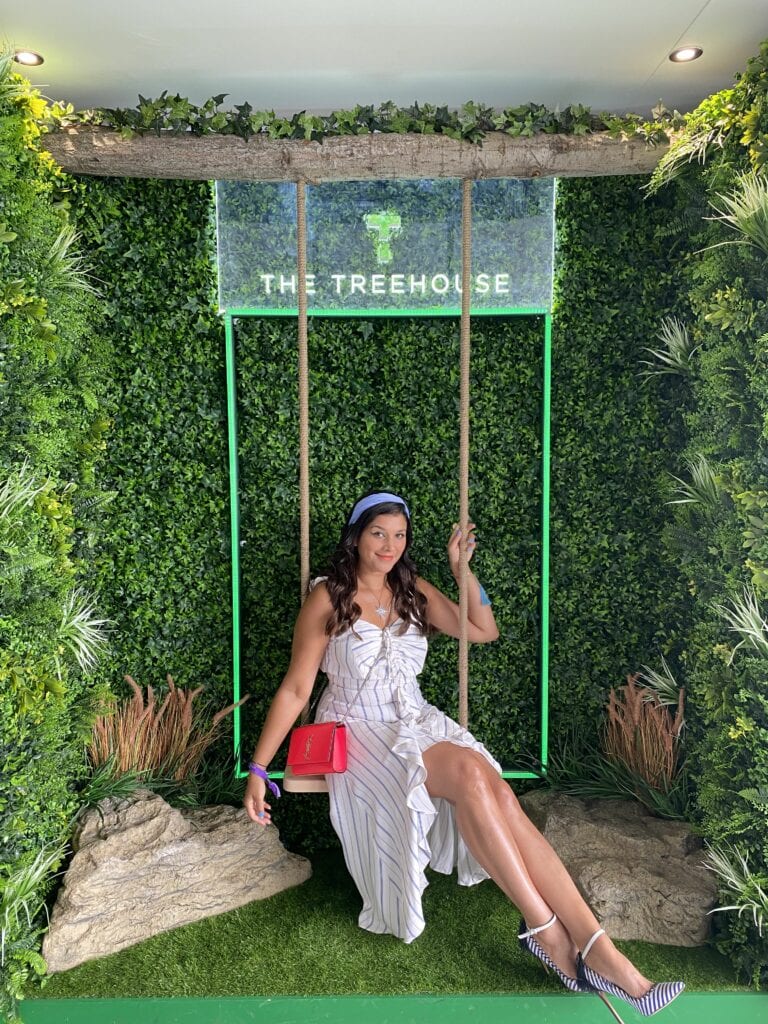 One of the loveliest things about being in hospitality that it offers a much needed respite from the busy hoards within the Wimbledon stadium areas. There's plenty of lovely activities to keep you occupied, from live classical music to fun photo areas like the tree house swing pictured above.
It feels very chilled, the atmosphere is relaxed, there are no queues at the bar or for the toilets. It's a much more elegant and calm way to spend the day. And the tennis is literally a short walk (or speedy buggy ride) away.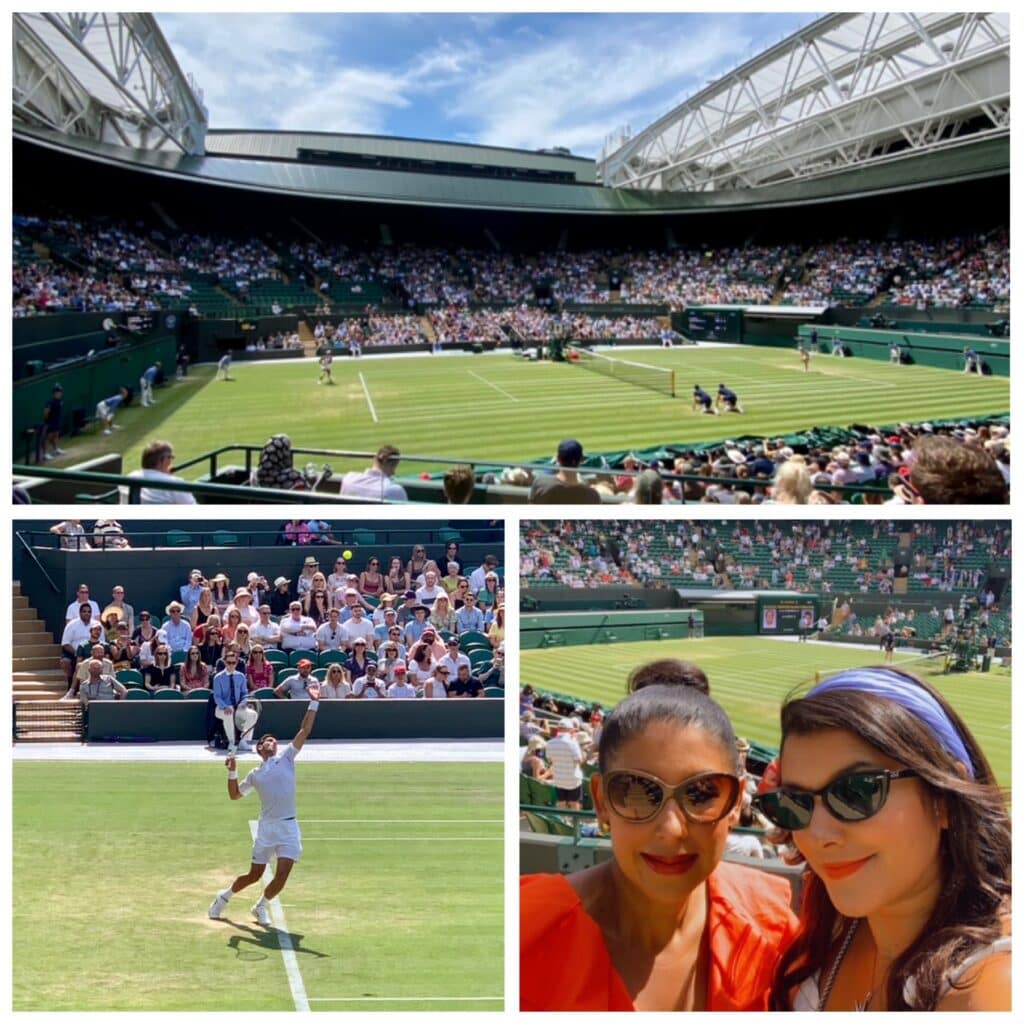 The Tennis
After our delicious and decadent lunch we strolled over to the Grounds to watch a few matches. We started with a fantastic women's singles match followed by the main event.
I was so excited to get to watch Novak Djokovic (the world's best player) in a match against USA newcomer Dennis Kudla. It was a super exciting game where we thought newbie Dennis might actually win at one point. But true to form Djokovic came through and was triumphant.
The best bit was the fantastic court side seats which our hospitality tickets had included. I was literally a few metres from Djokovic which was epic!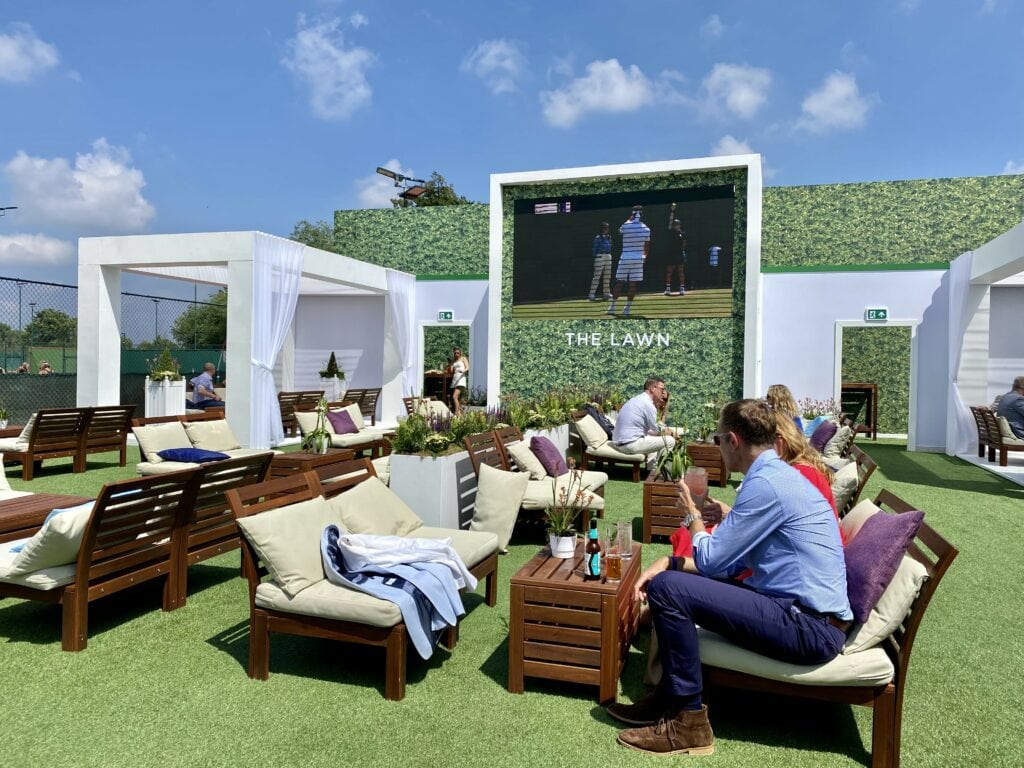 Afternoon Tea
Post match we had a delectably British afternoon tea waiting for us in hospitality. It was the full works, with tiered cake stand, finger sandwiches, a selection of teas and champagne. Perfection!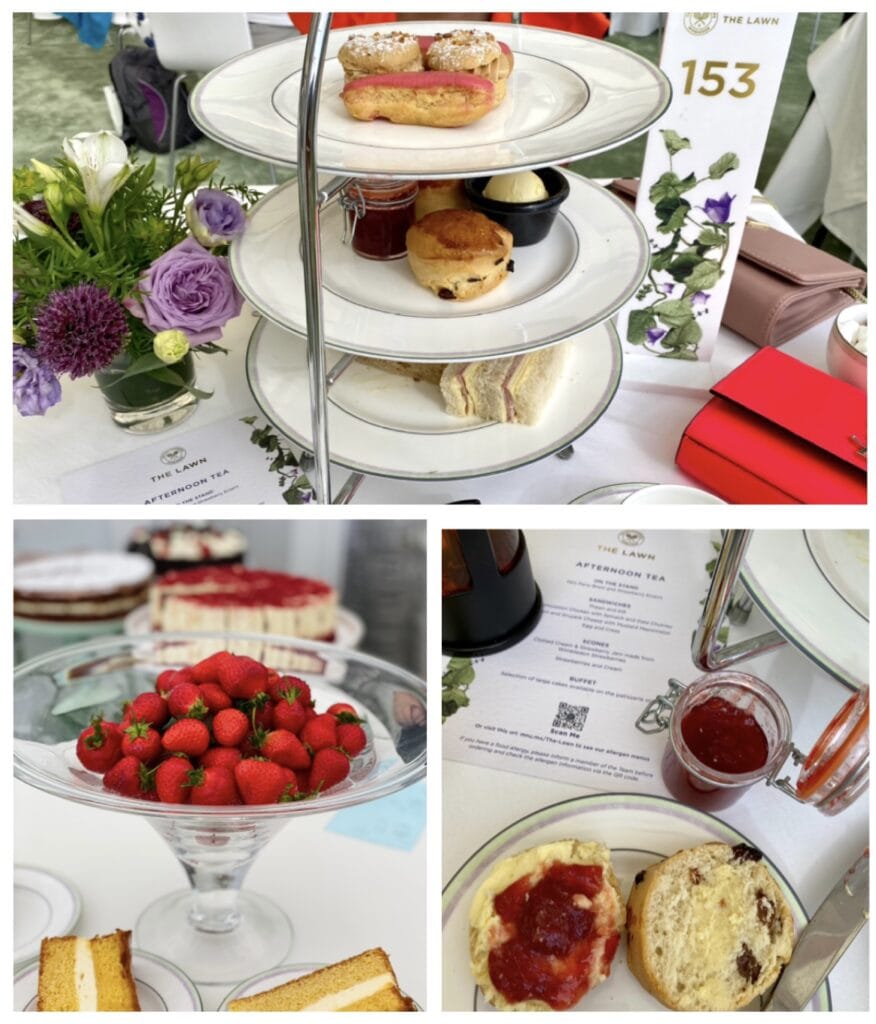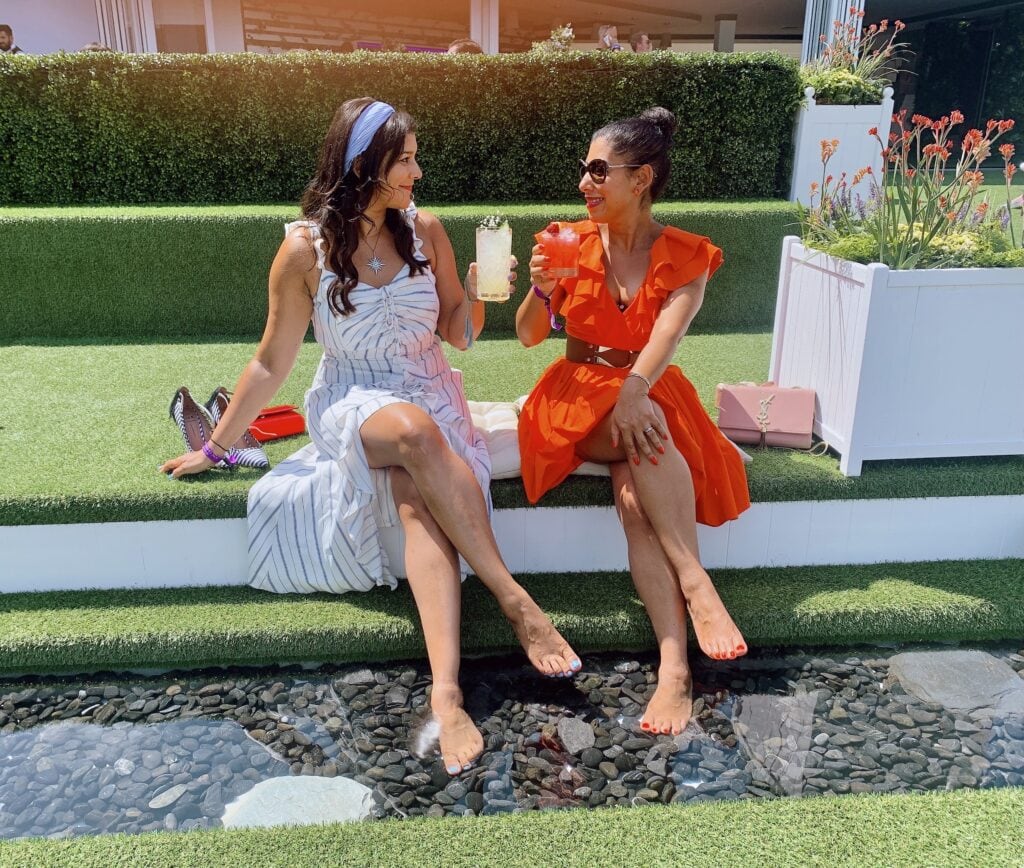 Cocktail O'clock
After a wonderful day of tennis (and a lot of eating) we made our way back to The Lawn garden for some signature cocktails and a little splash around in the foot soaking stream.
It's such a fun and indulgent way to end the day and rest our weary feet!
I had the elderflower fizz and and my sister had the watermelon bomb to match our dresses haha! Delicious!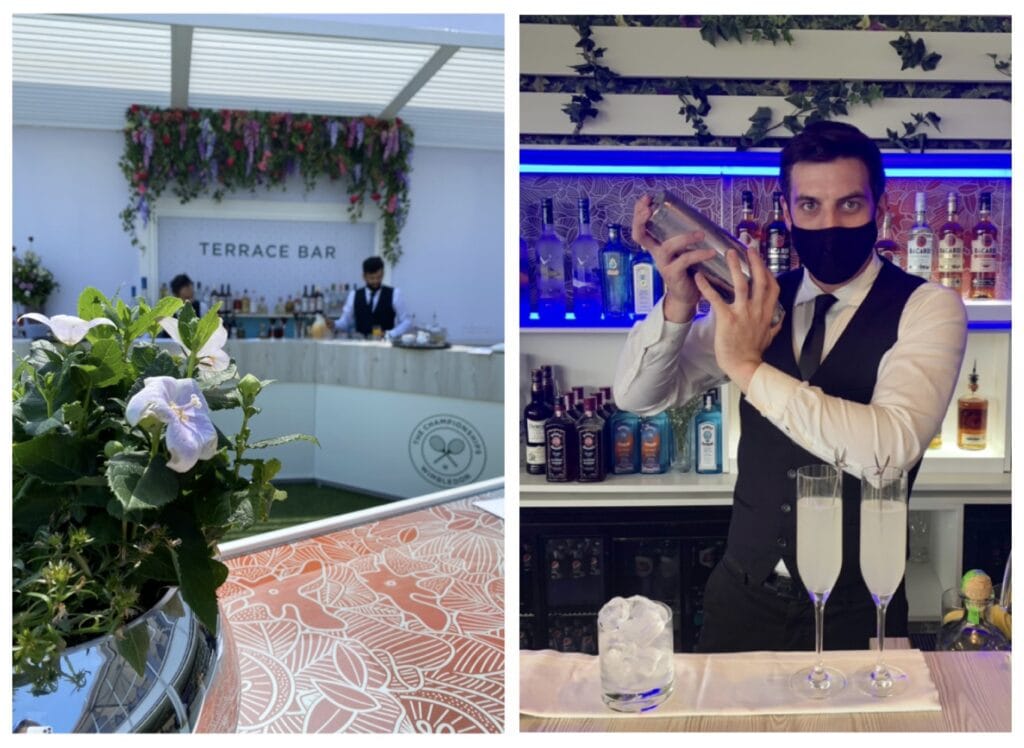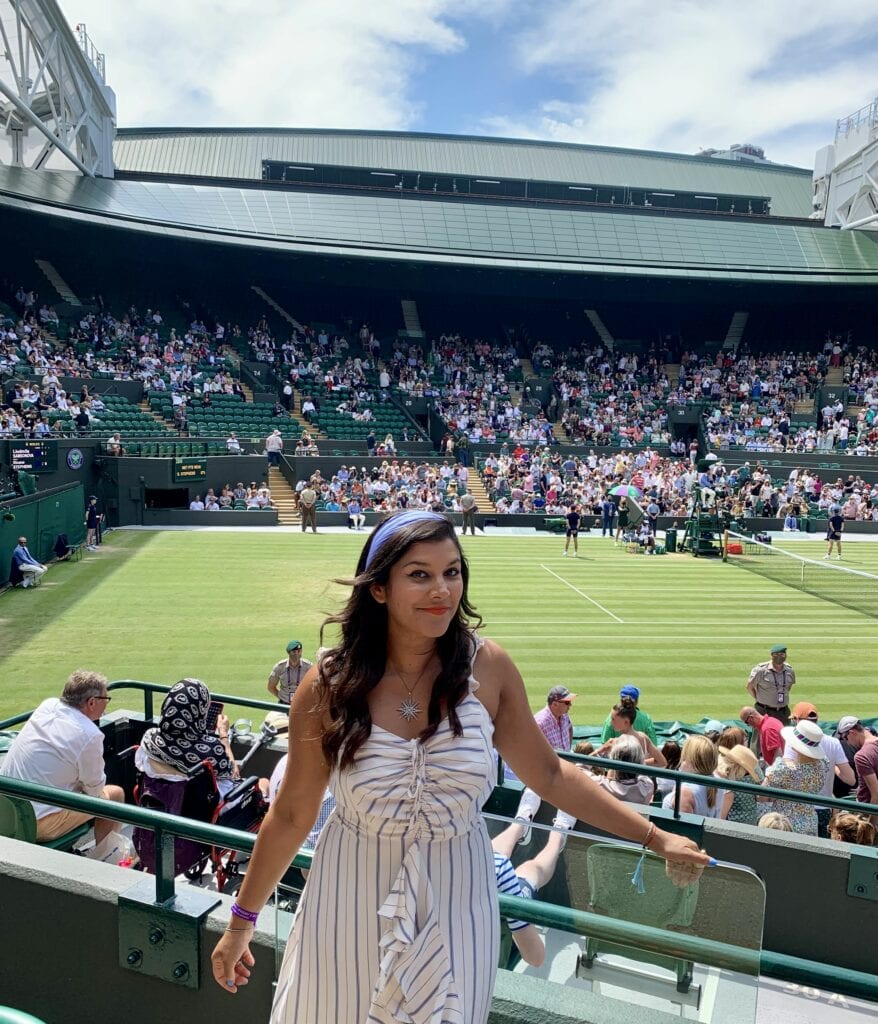 That's all from Wimbledon. I had such a fantastic day with Keith Prowse in The Lawn hospitality area, I can't recommend it enough.
To find out how you can experience an epic day like this at Wimbledon and for more information on the hospitality packages check out the Keith Prowse website.
I hope to see you there next year! Follow more of Bonnie's travels in London here.
Love all! (tennis joke). Bon voyage xx