Mayfair's Hidden Shopping Destination – Mount Street
Mayfair's Hidden Shopping Destination – Mount Street
Where? Mount Street in London's exclusive Mayfair area
When? May 2017
Why? I've lived in London for over 15 years now and it never ceases to amaze me how many chic little secret areas there are, with cool boutique shops, great restaurants and quirky cafes. Everyone in the world knows Bond Street and Sloane Street are the two most exclusive shopping addresses in the British fashion capital, but how many of you have heard of Mount Street and Duke Street?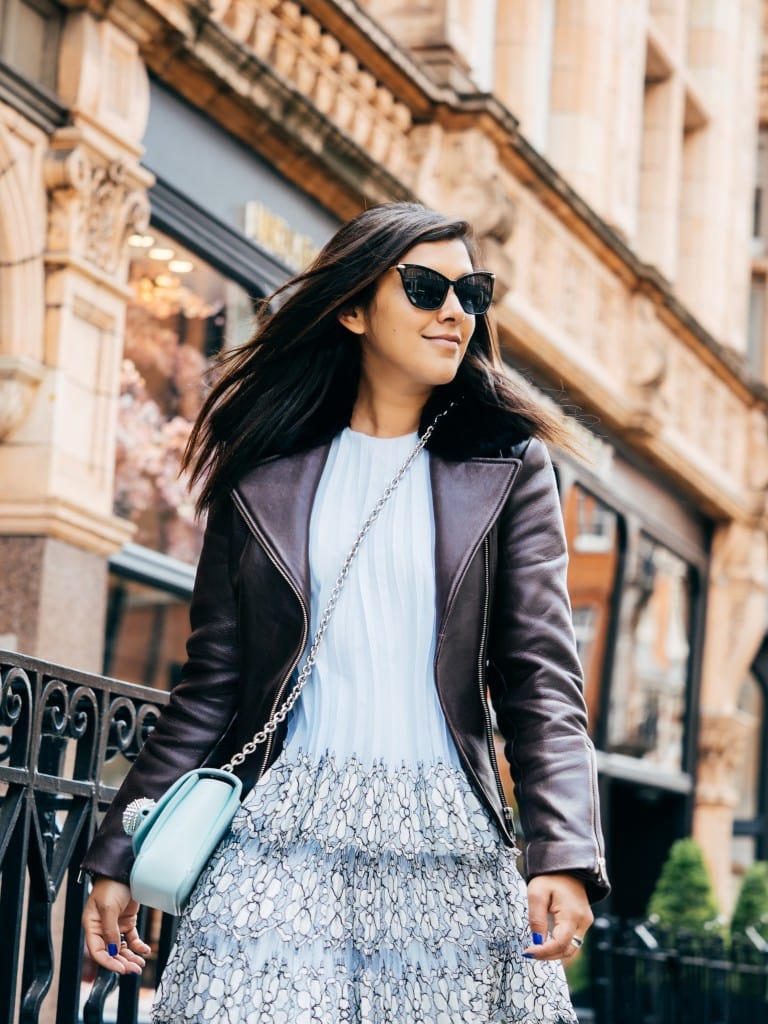 Well I'm here to let you know that I recently discovered this fantastic off the beaten track shopping area, filled with high end designer labels like Celine, Christopher Kane, Balenciaga and shoe boutiques from Nicholas Kirkwood, Christian Louboutin and more. It's a one stop shopping destination for the discerning fashionista who knows about style.
Keep scrolling to see the photo diary of my 24 hour trip to Mayfair's hidden shopping destination – Mount Street… Special thanks to photographer Jay McLaughlin.
This is a sponsored post.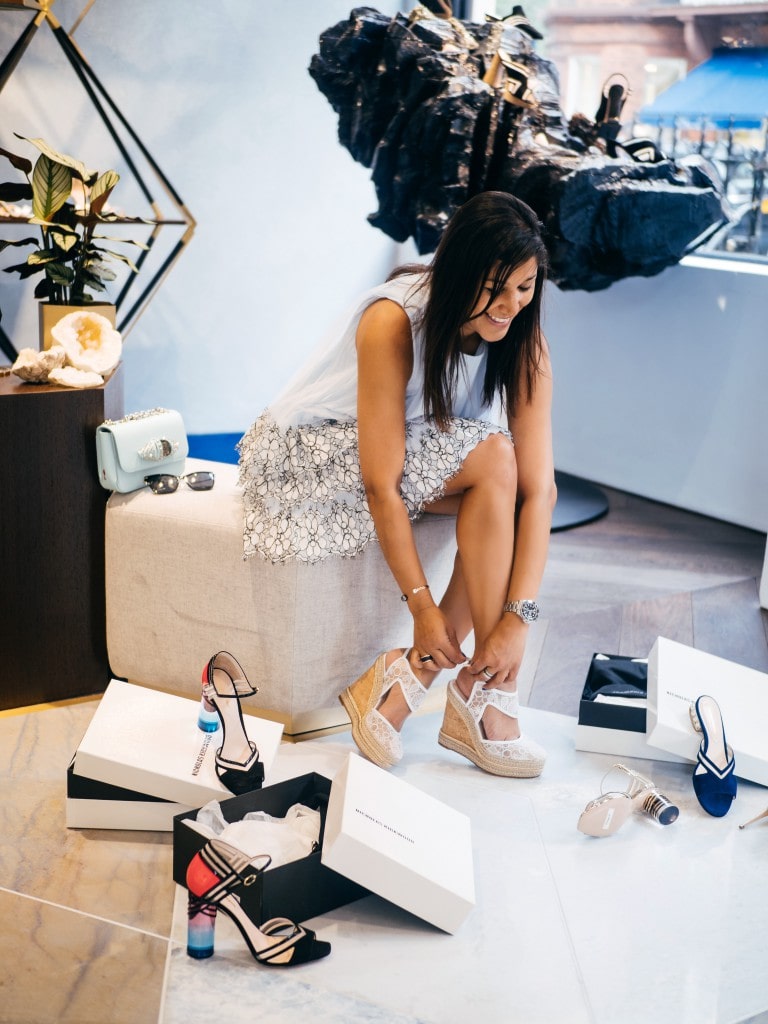 Bonnie wears pale blue lace dress by Christopher Kane, baby blue sweet charity bag by Christian Louboutin, sunglasses and trainers by Jigsaw at The Duke Street Emporium. Leather jacket Bonnie's own.

First stop – I popped in to London shoe designer Nicholas Kirkwood's gorgeous newly refurbished store to try on some of his new spring summer collection.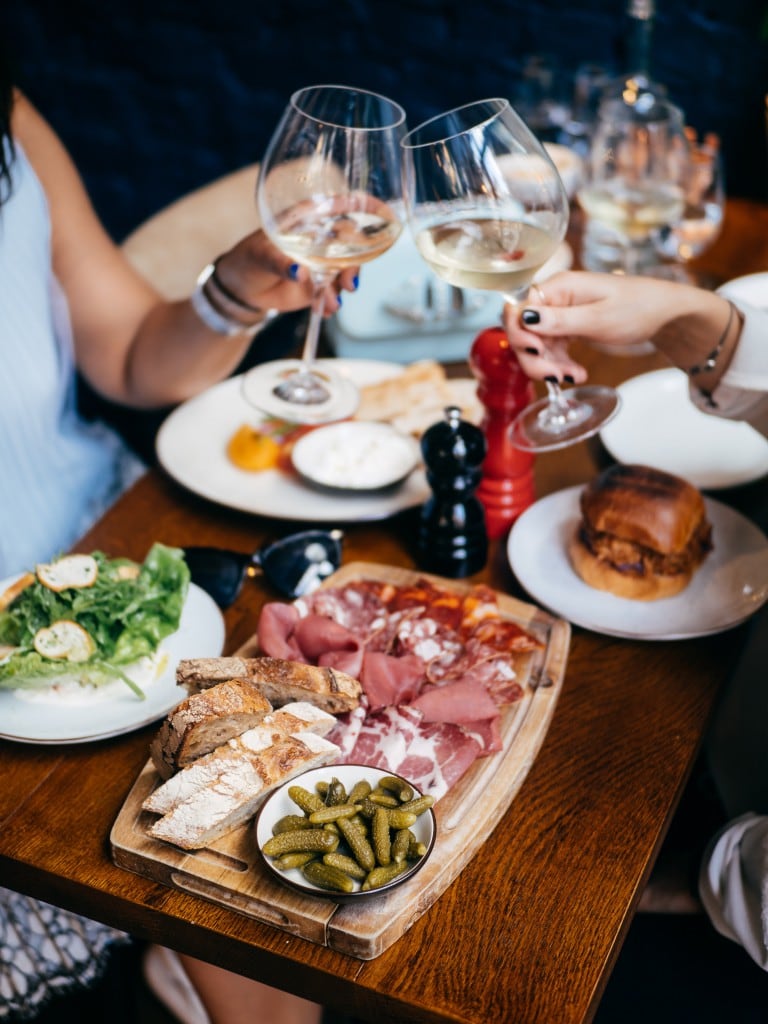 After a morning of pottering around the area and accessory shopping I met up with my friend Sophie for a spot of lunch at chic French restaurant Comptoir.
Tucked away down a quaint side streets, this delicious lunch spot is perfect for a mid-shopping pit stop and a girly catch up. I recommend the charcuterie board to share with a glass of the sommelier's choice wine.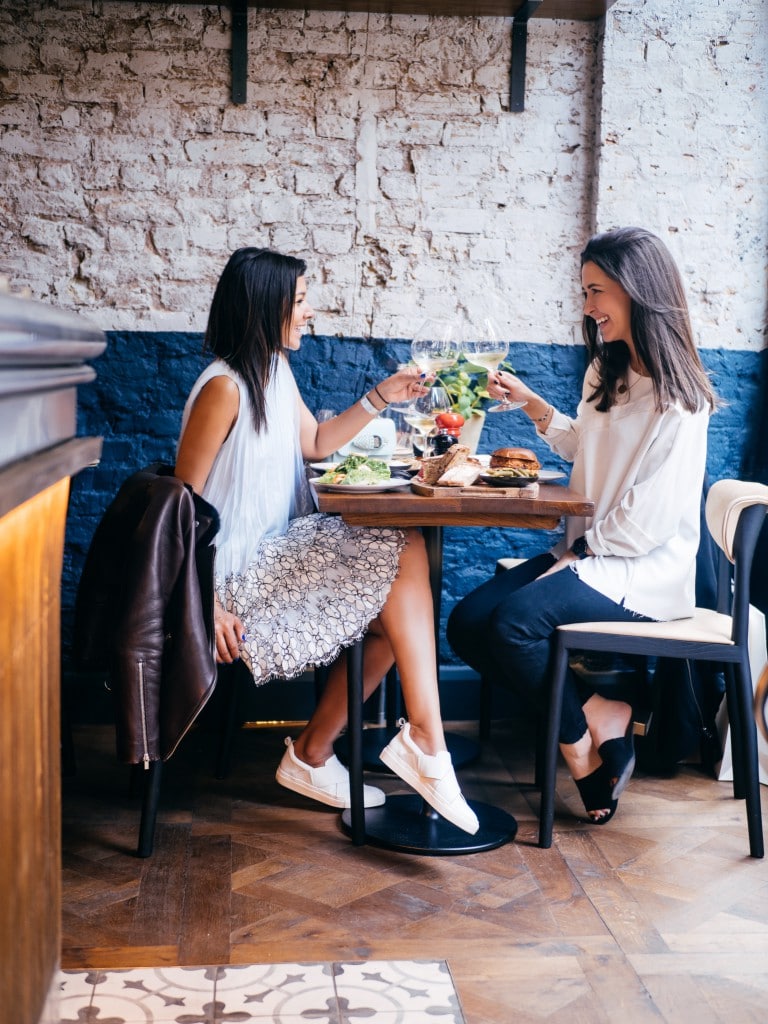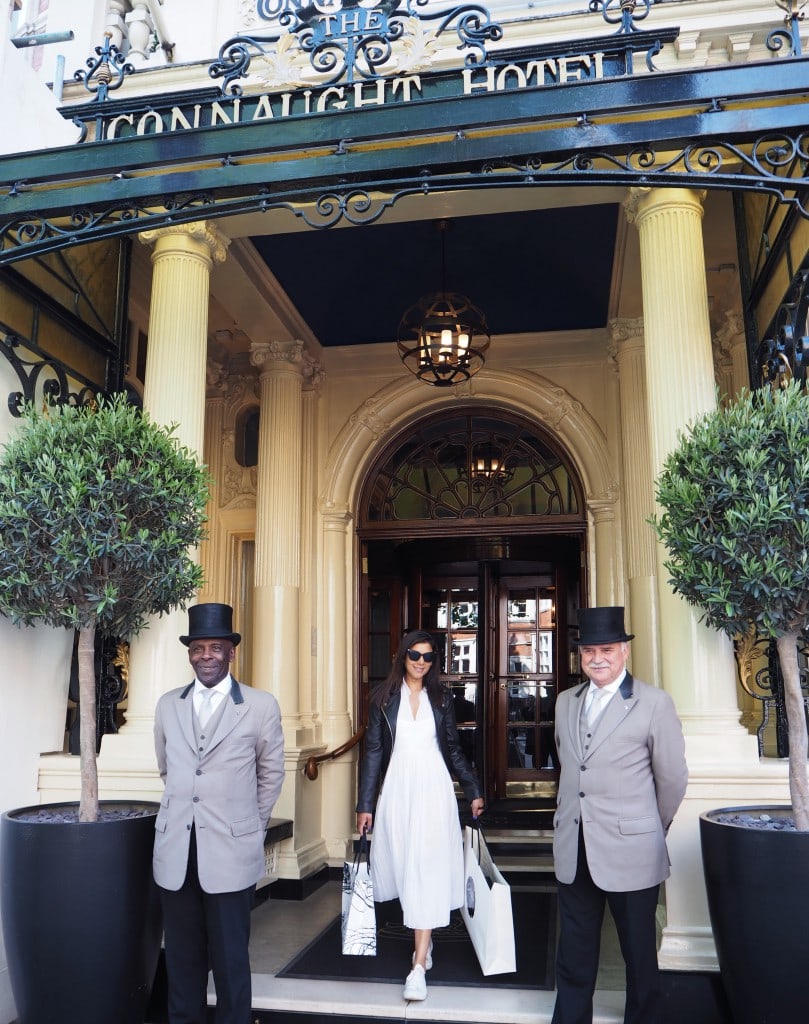 Post lunch and there was just enough time to nip back to the Connaught Hotel for a quick bag drop and outfit change.
Bonnie wears dress by No.21, leather jacket, white trainers and sunglasses by Jigsaw, all available at The Duke Street Emporium.
The street houses great international designer and mid market labels.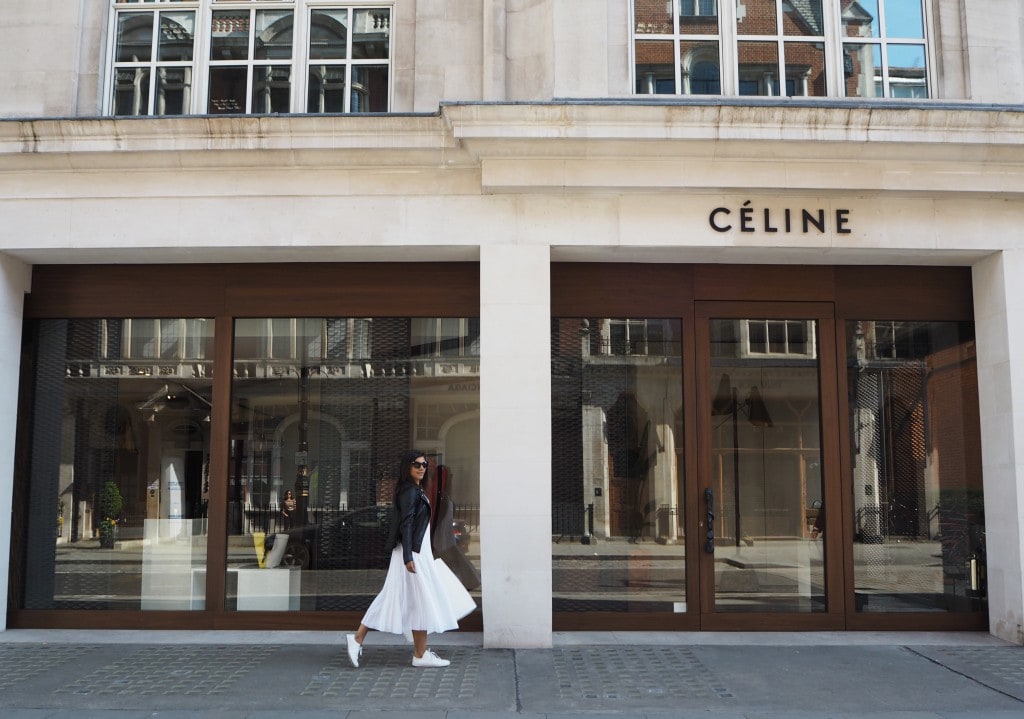 Quick stop off at Celine for a bit more shopping.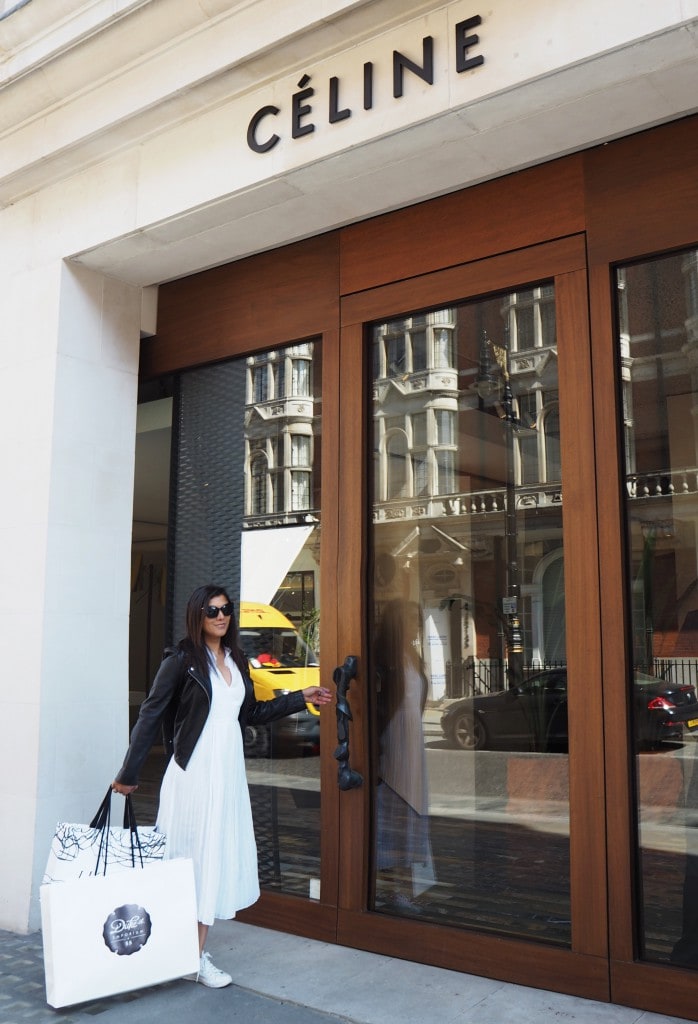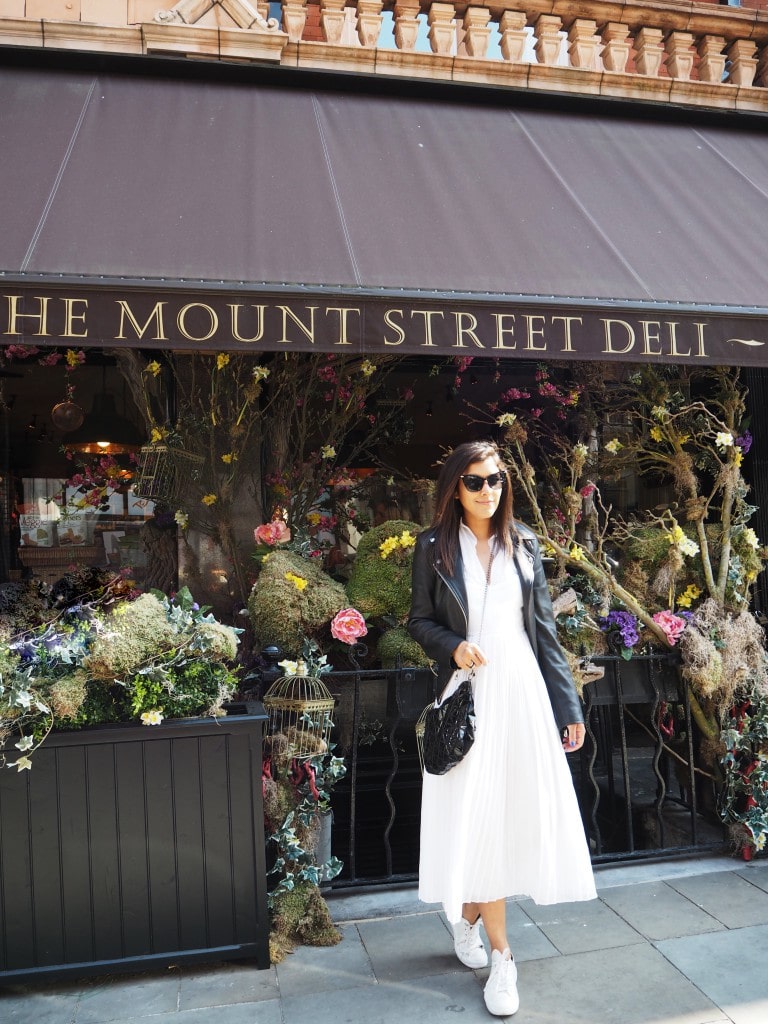 All this shopping can get tiring, even in trainers! So I stopped off for a little chai tea latte break at the very floral Mount Street Deli.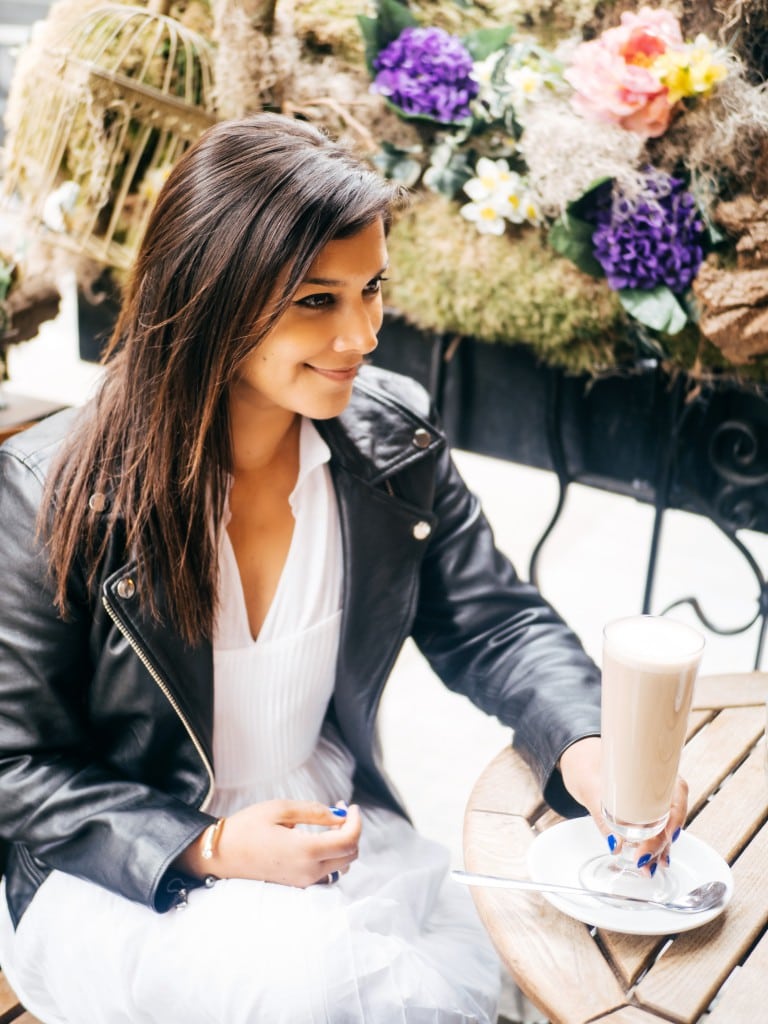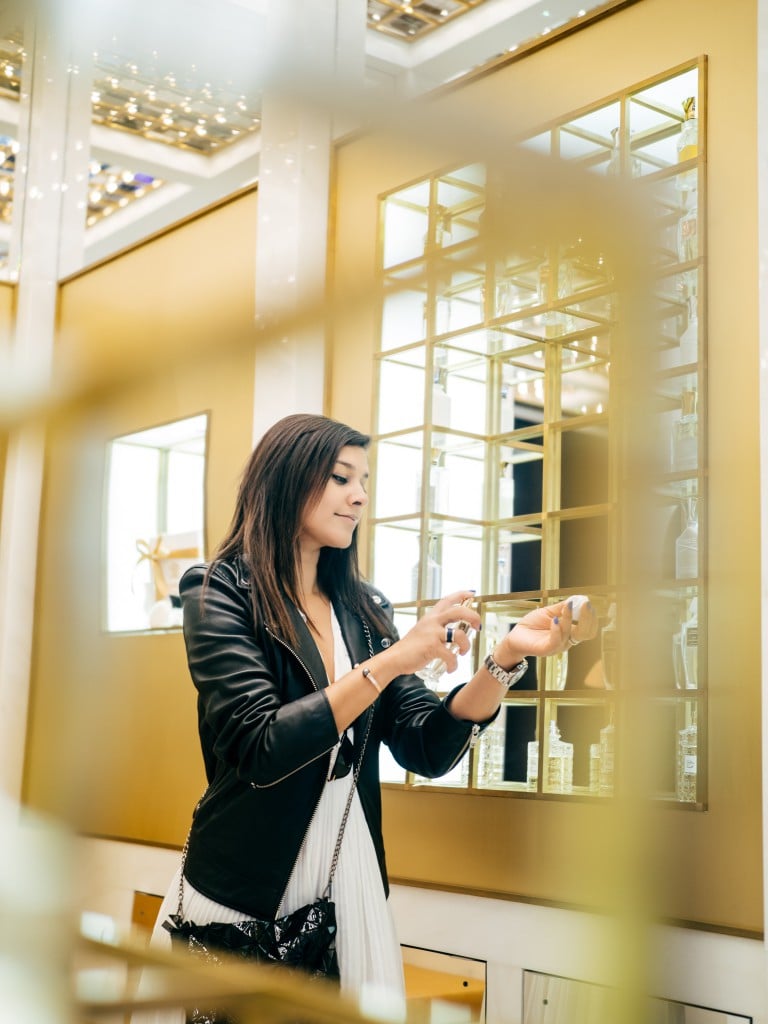 And I couldn't resist trying on a few fragrances at the exclusive, French perfumery Creed, next door.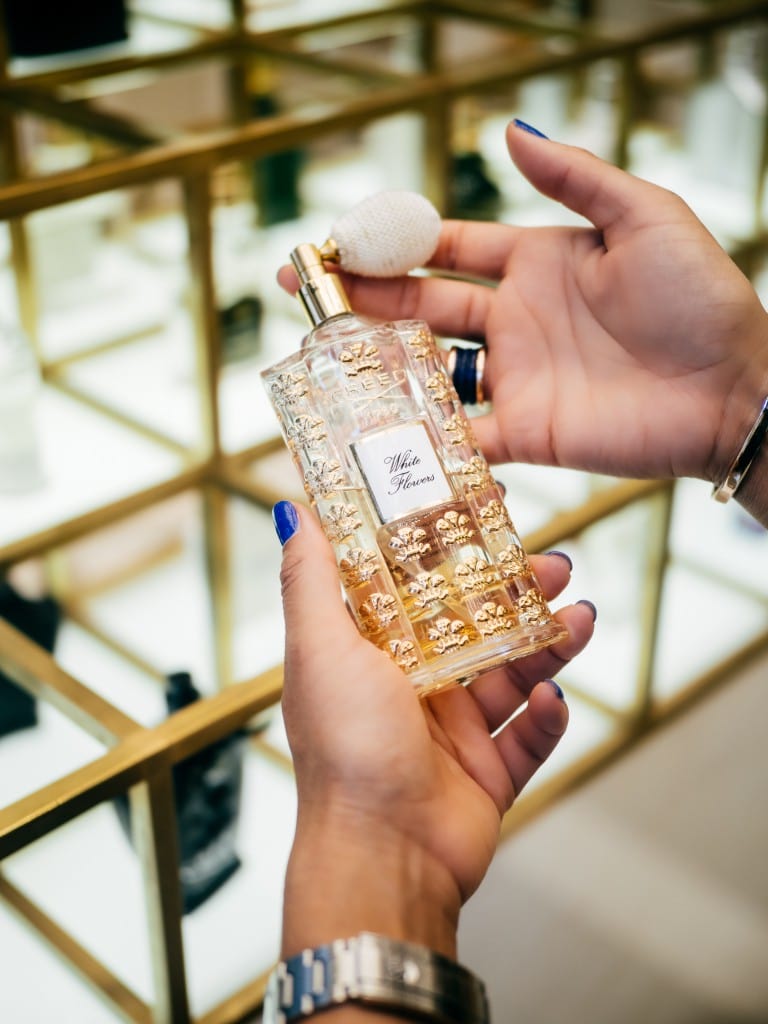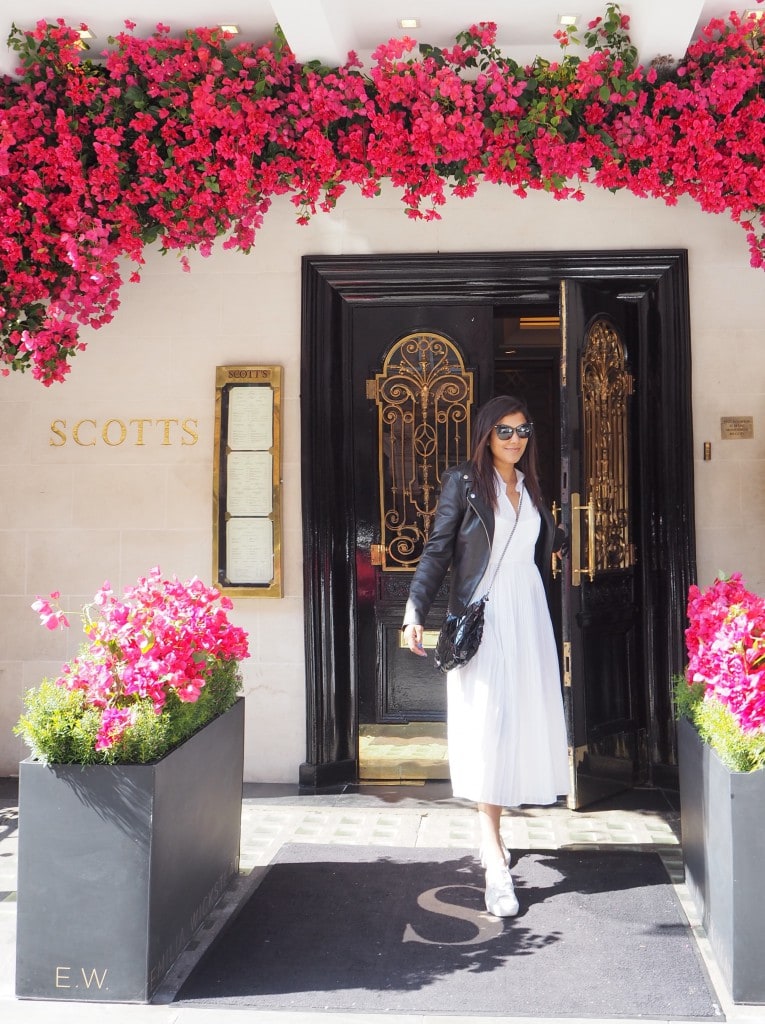 After a full day of shopping I met up with Charlie after work for a quick drink at Scott's, another outfit change later and on to dinner at 34 Mayfair.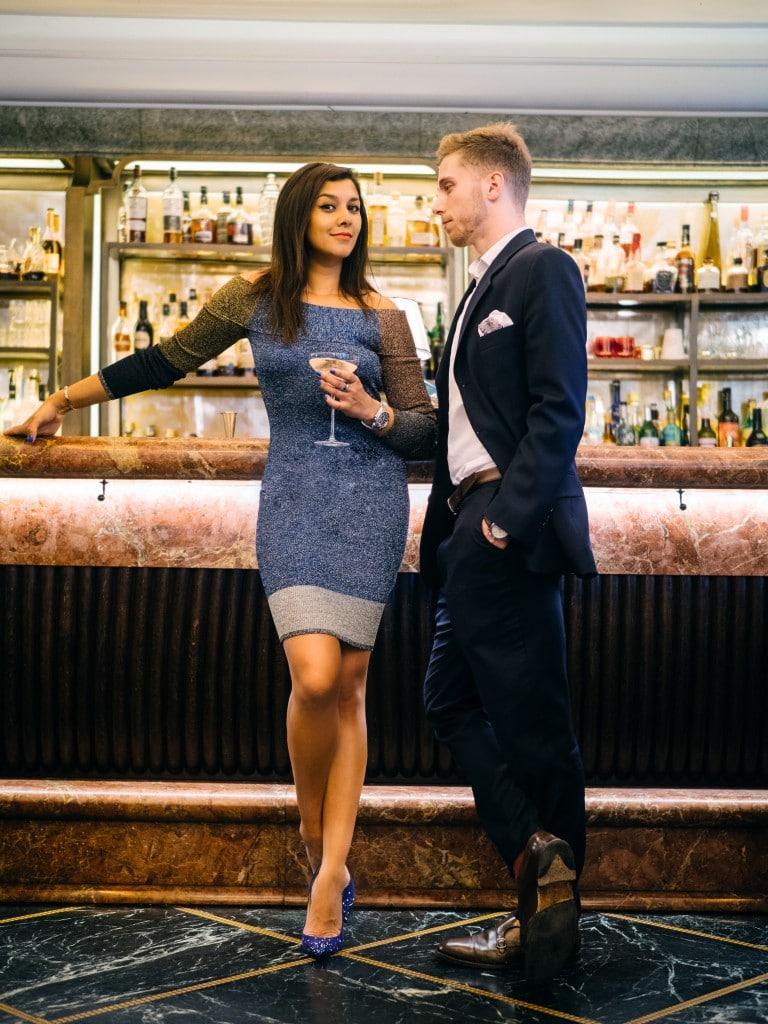 Bonnie wears lurex dress by Christopher Kane, sweet charity bag and sparkly shoes by Christian Louboutin, watch by Rolex.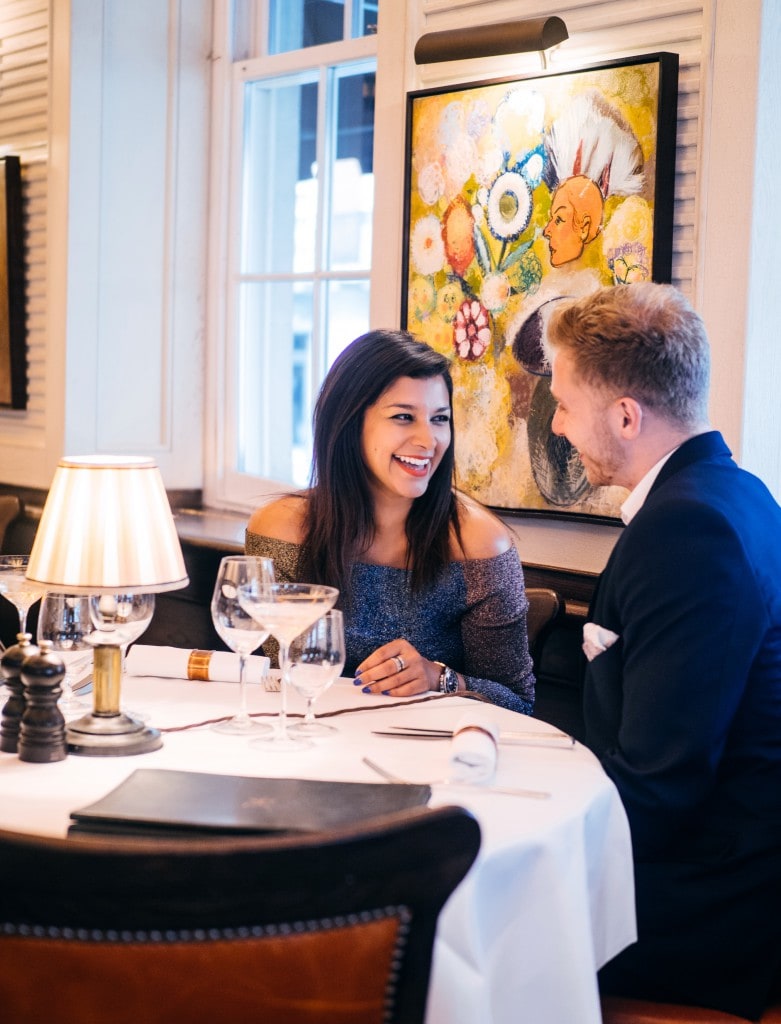 For dessert at 34 Mayfair I highly recommend the cheesecake for two, accessorised below with the sweetest Christian Louboutin bag!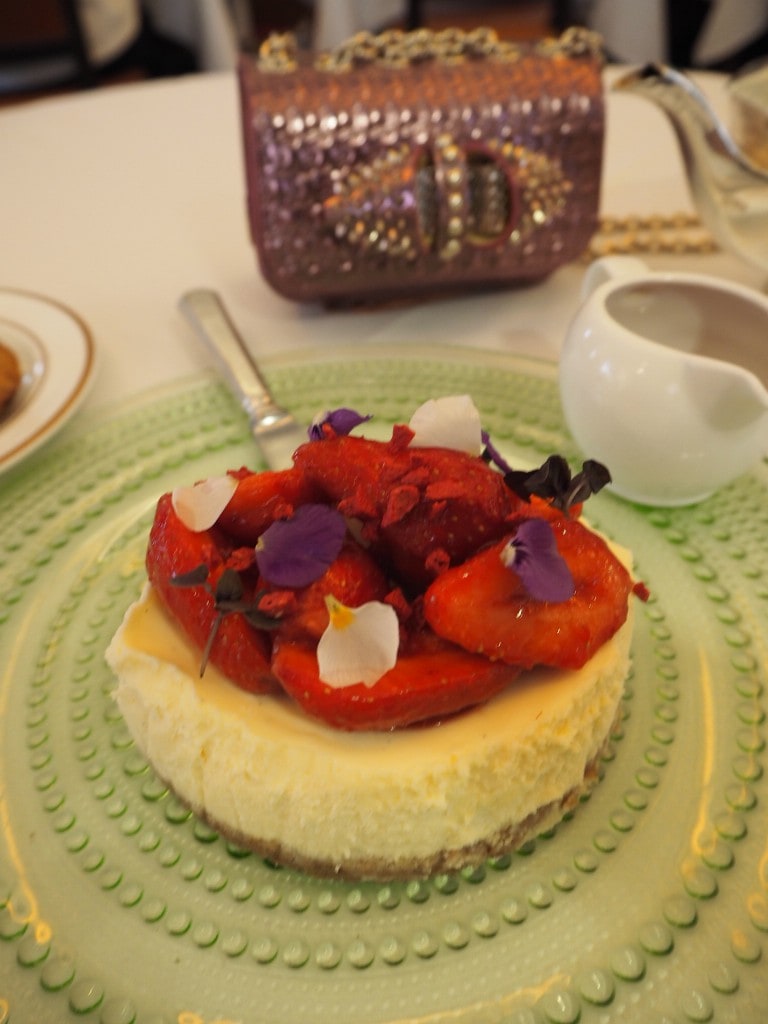 Post dinner it was back to the hotel for the night.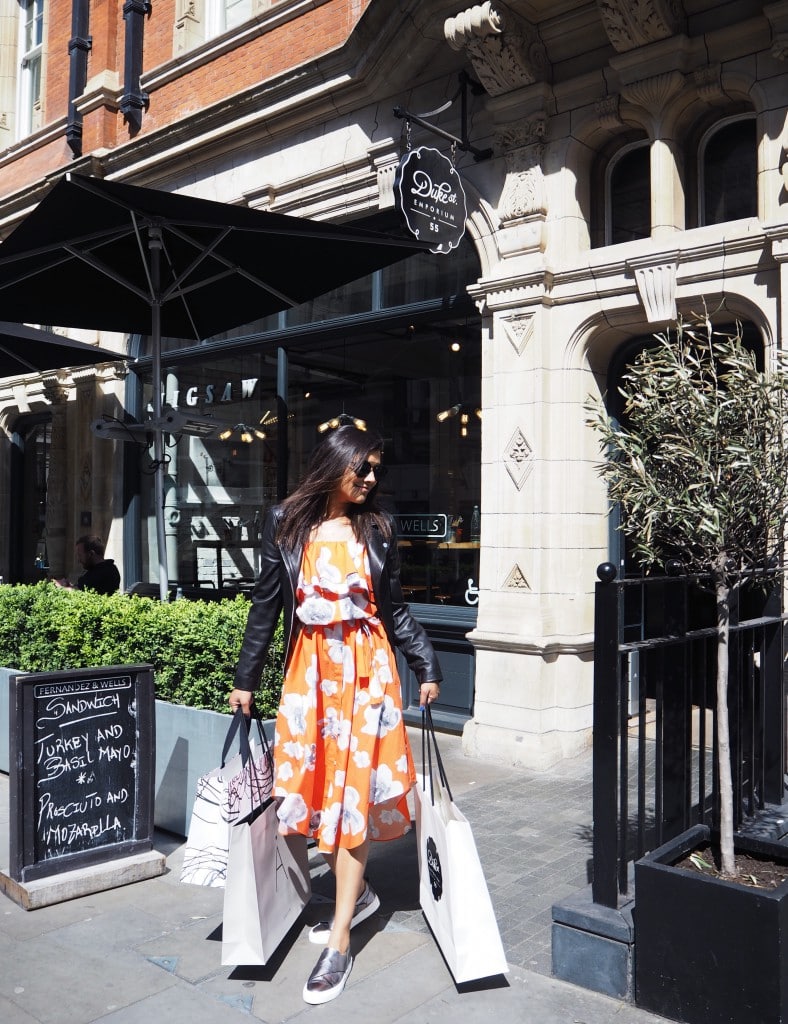 Woke up this morning and the sun is out and there's still a little time for one last shopping trip. So this time I headed over to Duke Street to check out the Duke Street Emporium and Penelope Chilvers.
Bonnie wears orange floral dress by MSGM, trainers and leather jacket by Jigsaw, all available at The Duke Street Emporium.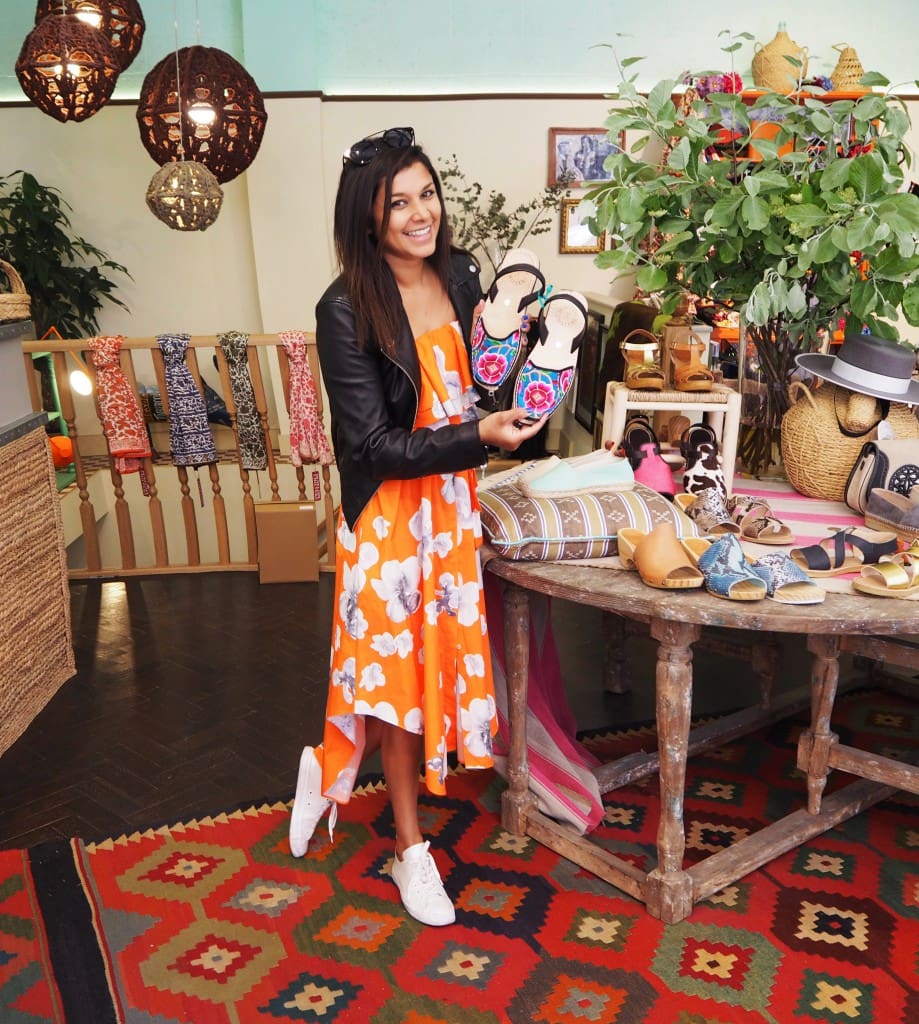 Then time to head home…
Thank you so much to Grosvenor London Estate and the beautiful Mount Street area for making my 24 hours in Mayfair such a lovely experience. I'll definitely be back.
Happy shopping.
Bon voyage x