The Perfect UK Spa Break to Penny Hill Park, Ascot
The Perfect UK Spa Break to Penny Hill Park, Ascot
Where? Penny Hill Park Spa and Hotel
Exactly? Ascot, only one hour from London
Why? I was very lucky to be invited on a luxury weekend break to the newly refurbished Penny Hill Park Spa and Hotel. Known for its celebrity clientele and being the training grounds for the England Rugby squad, all that plus a day of pampering and dinner at The Latymer Restaurant and my bags were packed already!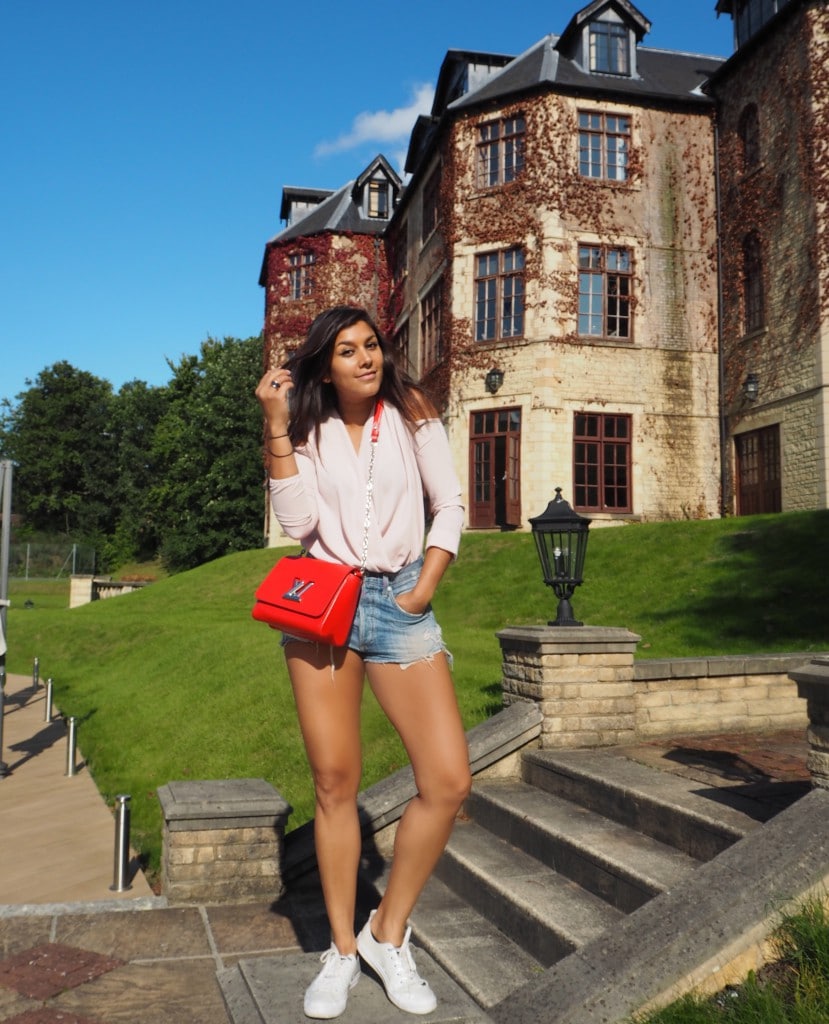 The Hotel
Dating back to 1849, this spectacular 17 bedroom county house hotel has a had a rich and regal history. From being the residence of Queen Victoria's favourite son, Prince Arthur, to its present day use as a luxury hotel and spa, 9 hole golf course and England Rugby training facility, this hotel's hallowed doors have seen some of the countries most eminent aristocrats to sporting royalty come through it.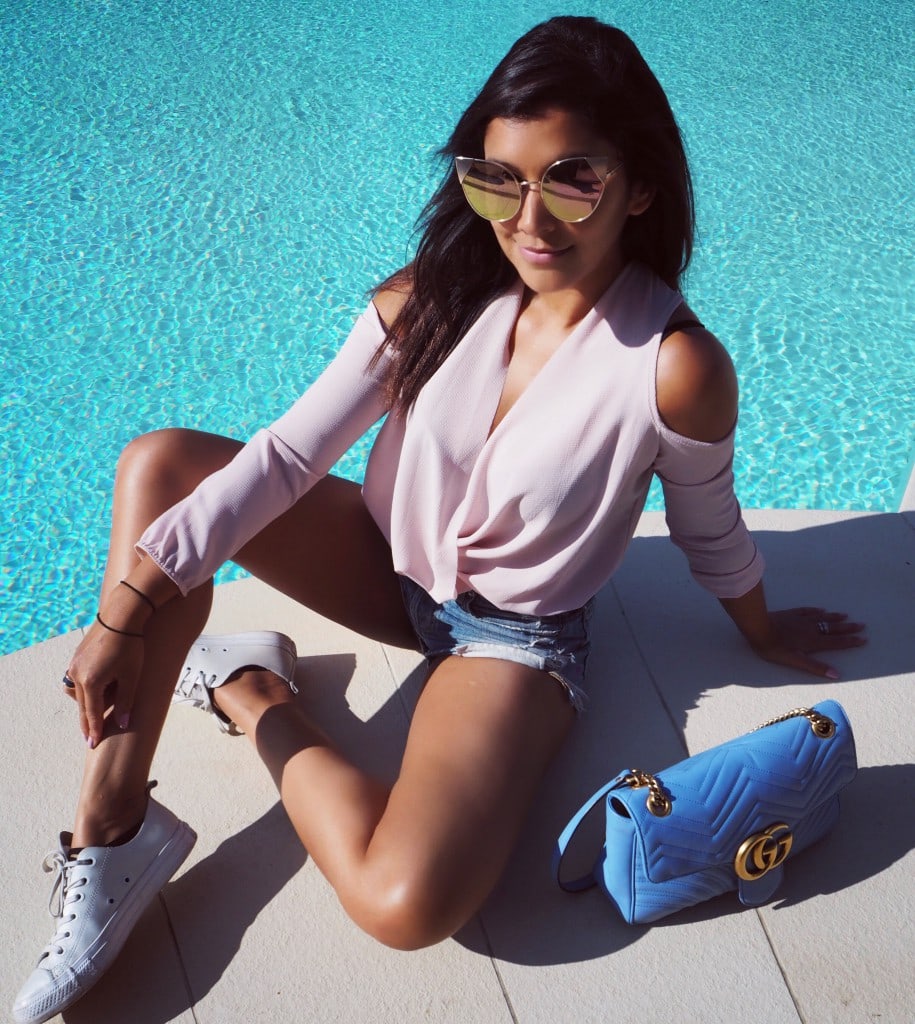 Bonnie basking in the UK sun by the outdoor heated pool wearing pink top by Silk Fred and blue bag by Gucci.
Below: The indoor pool and jacuzzi with atmospheric lights.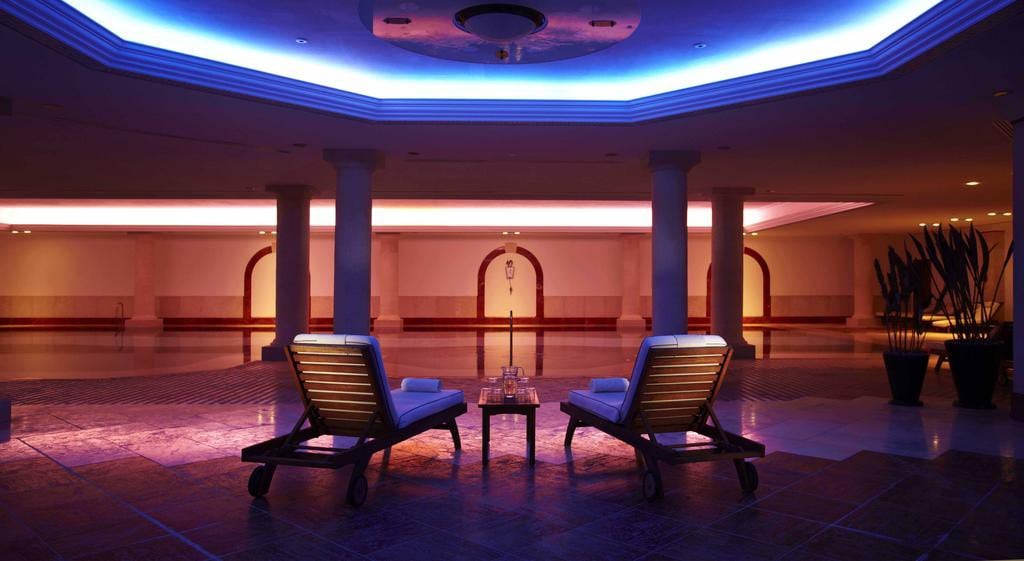 The Spa and Facilities
Boasting a 45,000 sq ft spa this is one of the largest  luxury spas in the UK. It features an indoor pool, outdoor pool, several hot tubs and jacuzzis, full spa circuit with steam rooms and saunas, a flood lit tennis court, 2 award winning restaurants, a 9 hole golf course and a rugby pitch. Perfect for the players to nip into the treatment rooms post training and get some sports massages. And no I didn't bump into any of them on this trip!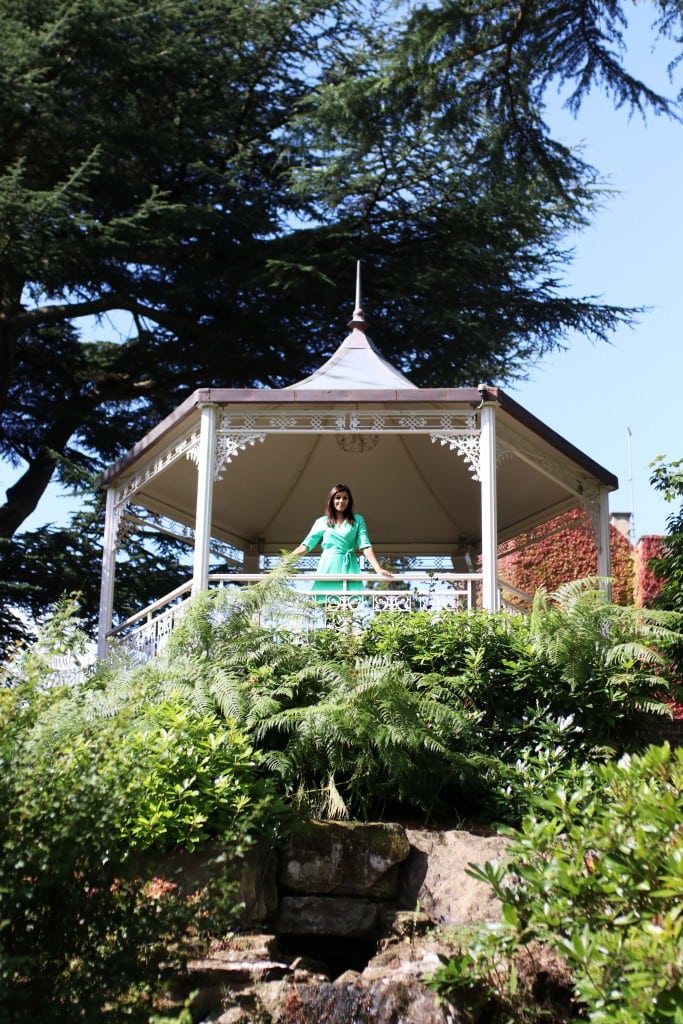 Bonnie leaning out of the hotels signature pagoda which looks out over the extensive grounds.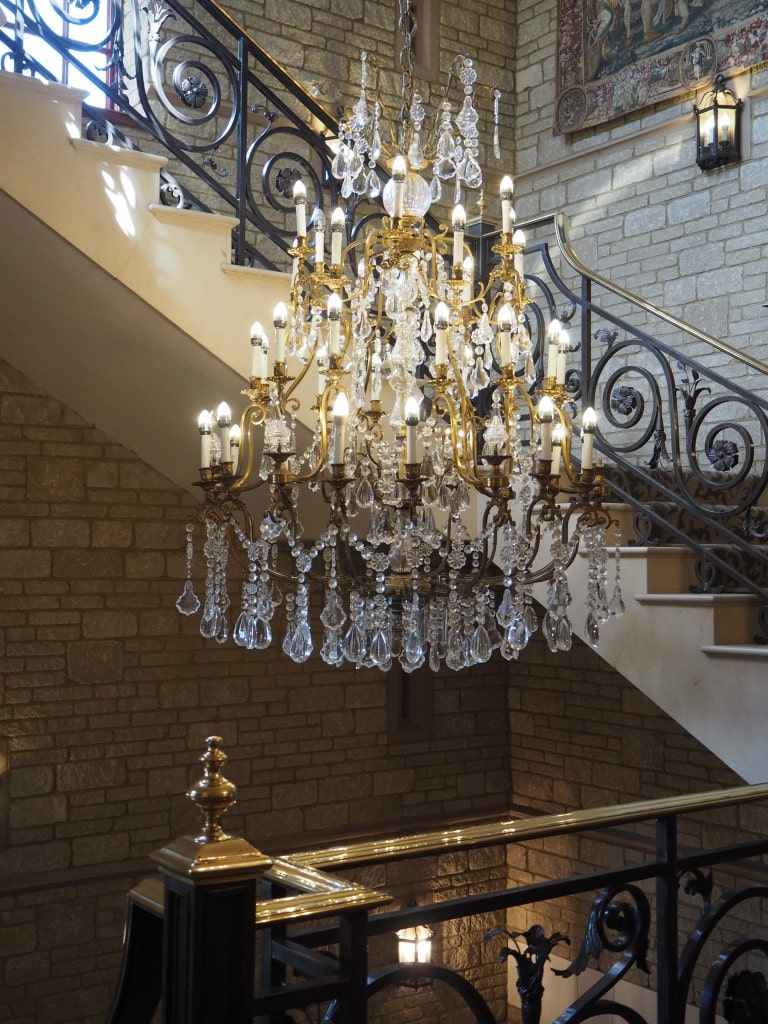 Interiors are decadent and elegant throughout, with regal colour schemes, chandeliers and historic tapestries.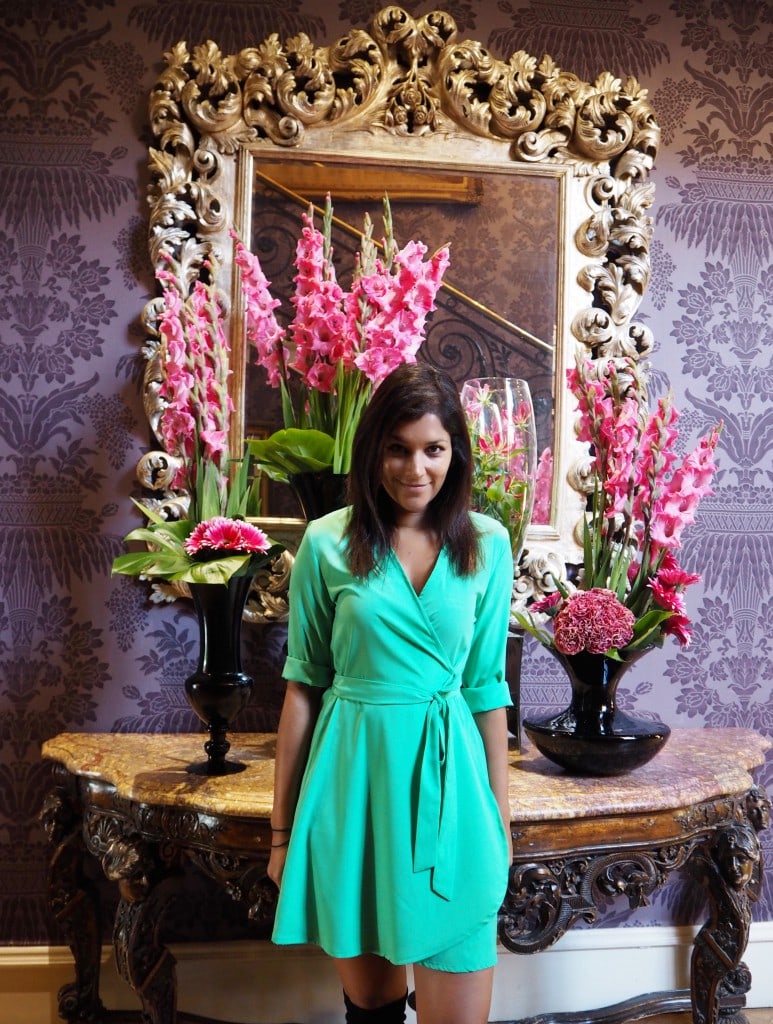 Bonnie wears green wrap dress by Silk Fred.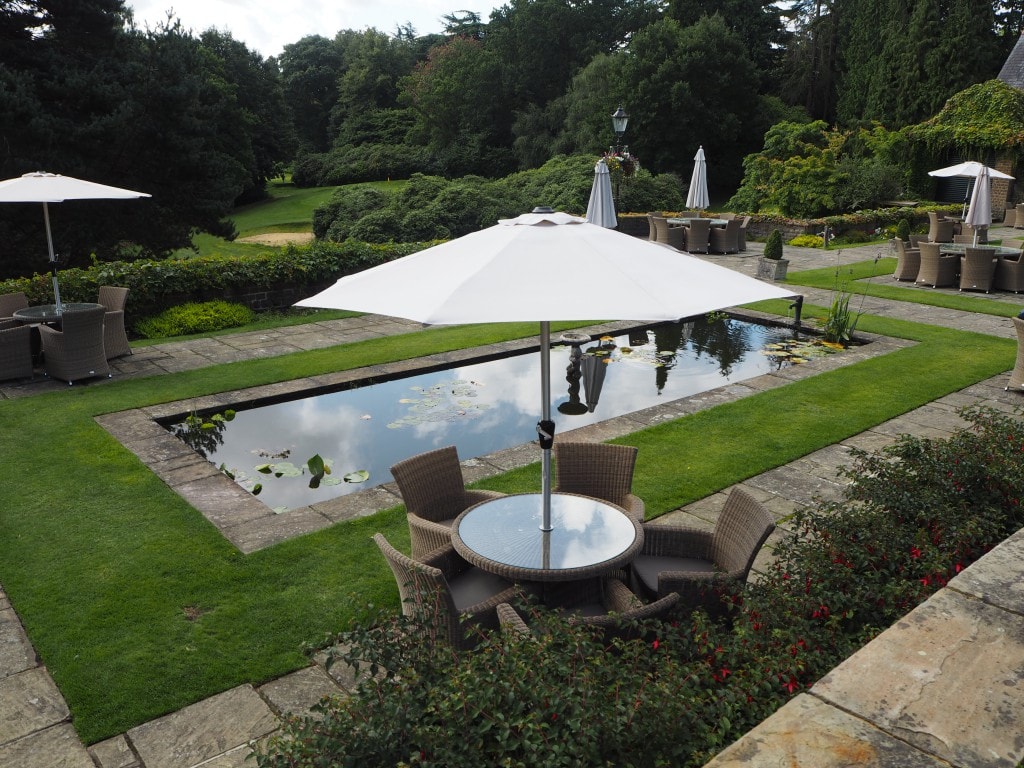 The pond and outdoor terraces.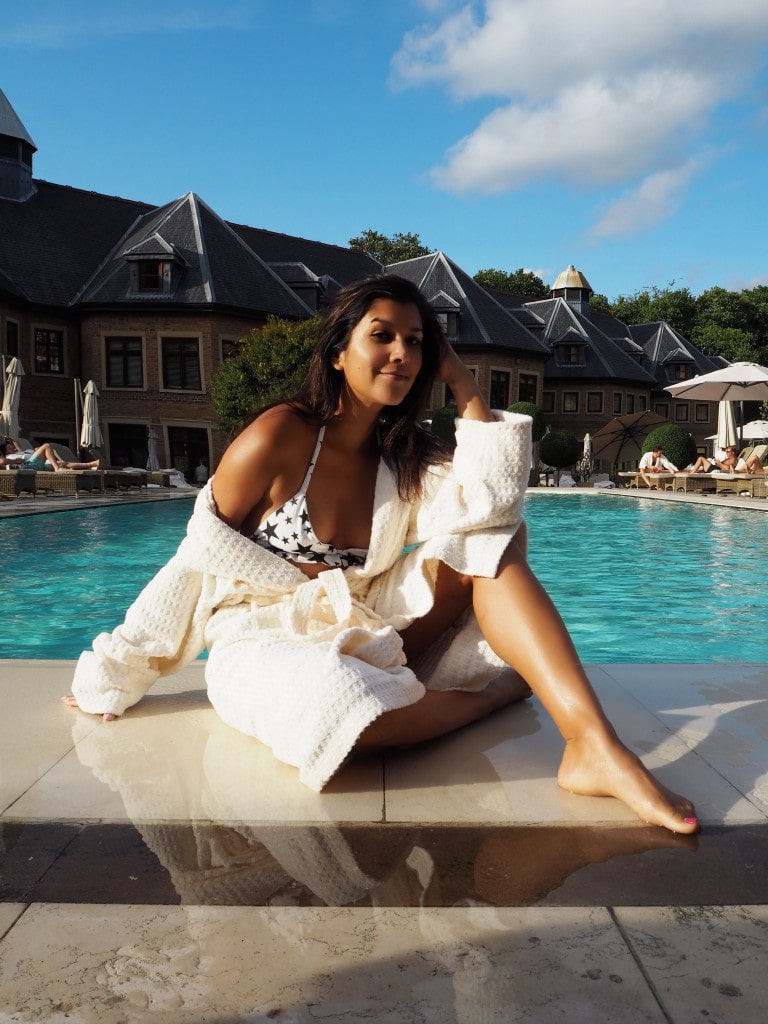 Bonnie enjoys a glass of champagne by the outdoor pool and hot tub, post a relaxing signature massage. Which was totally dreamy by the way!!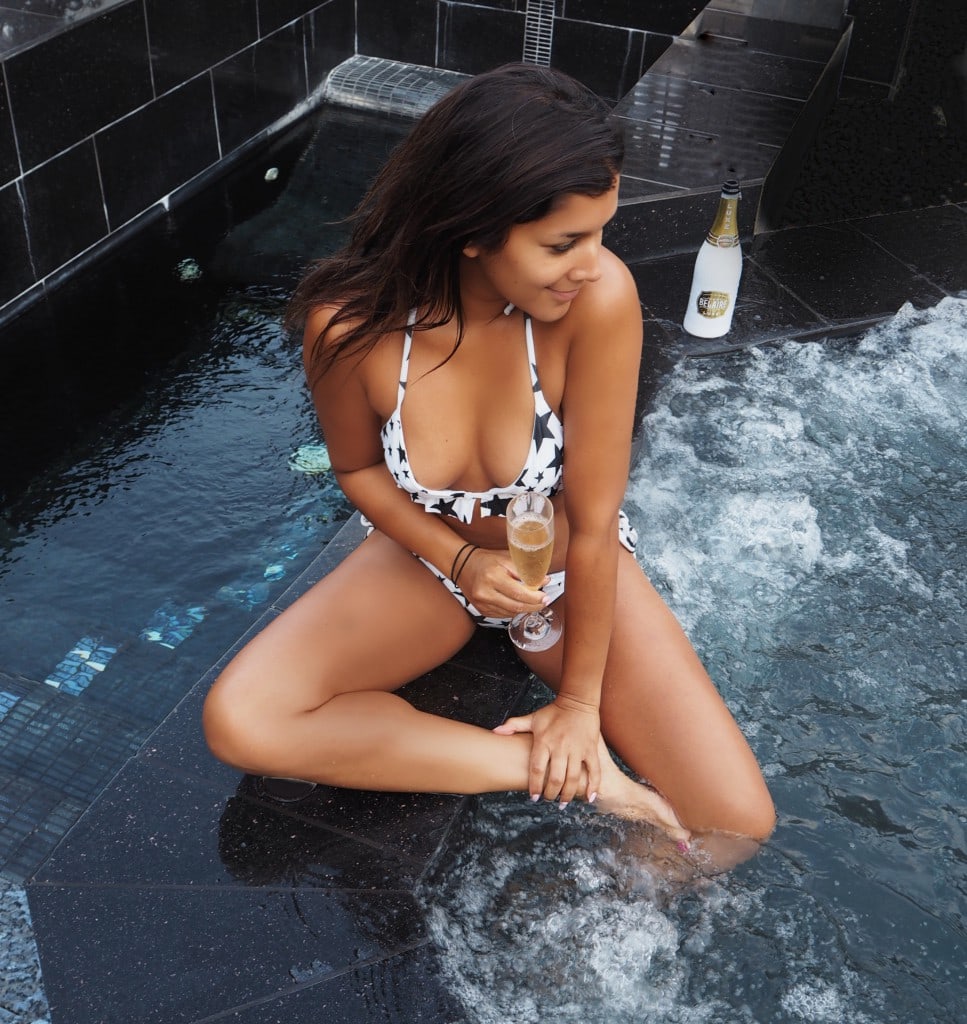 Bonnie wears ElCy star print bikini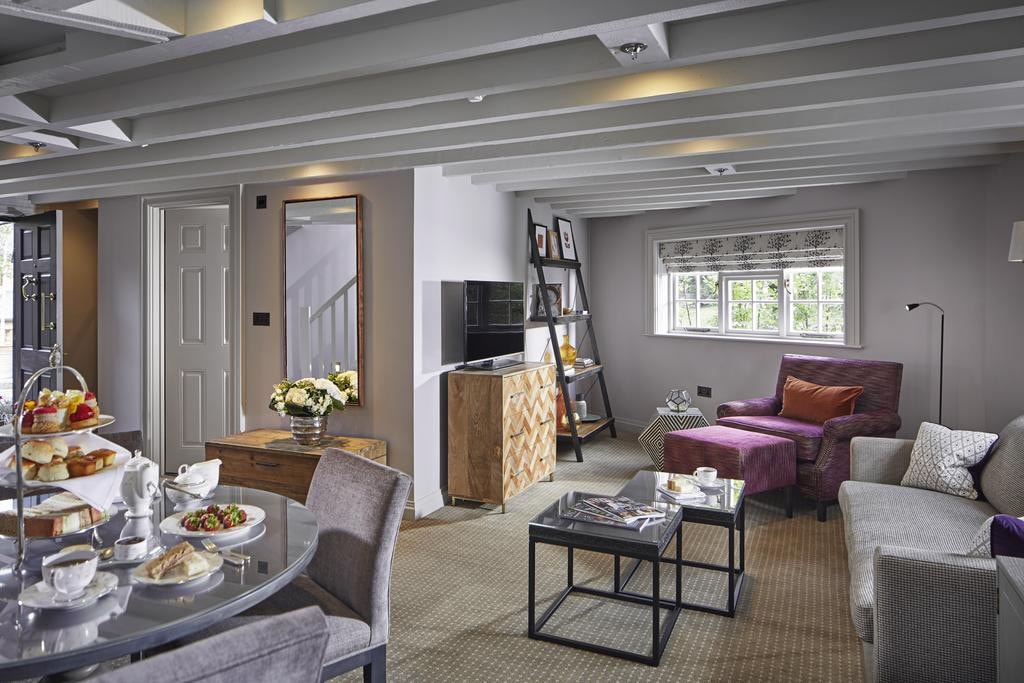 Then back to the bedroom to get ready for dinner at Latymers Restaurant. Each of the 17 bedrooms is individually designed with decor from various eras of the hotels history. All are luxuriously furnished and feature rain and spa wall showers.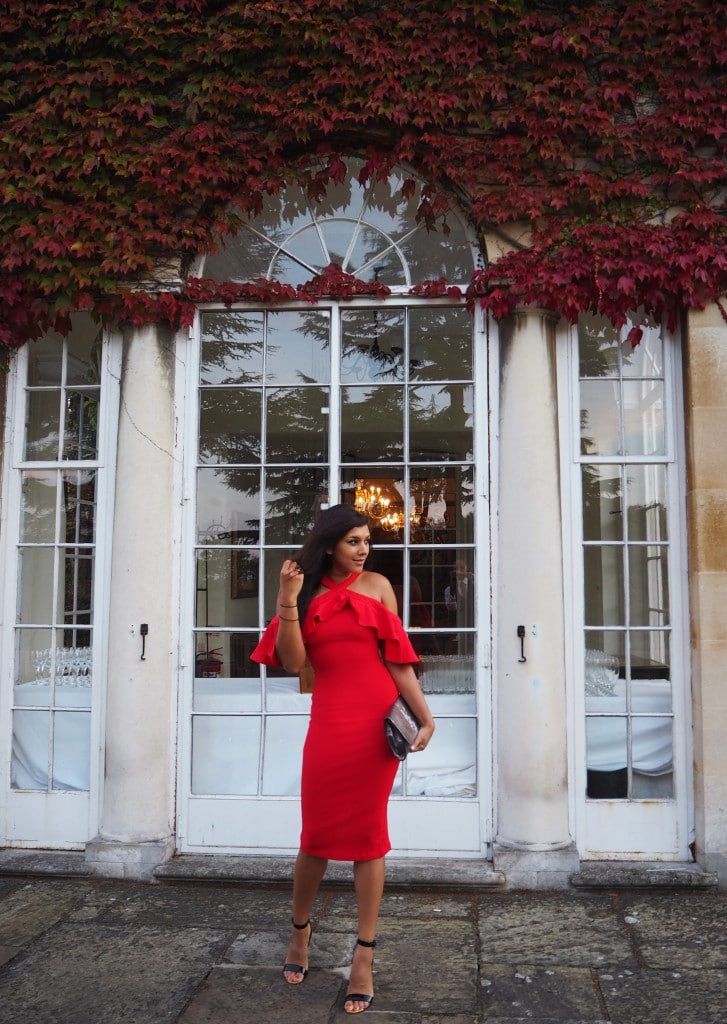 Bonnie wears Silk Fred flame red dress for dinner.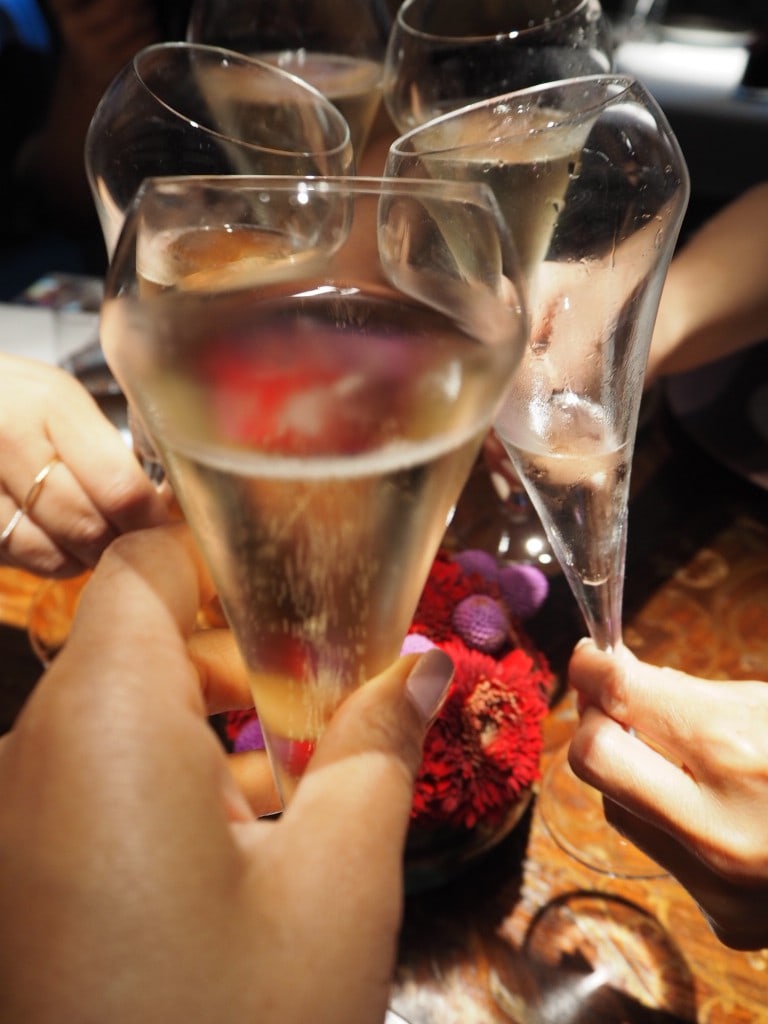 Matt Worswick at The Latymer Restaurant
"Taking the best ingredients through complicated processes" is how celebrity TV chef Matt Worswick describes the delectable menu at his award winning restaurant The Latymer. Safe in the knowledge that each plate would be expertly prepared by his team of chefs, we settled in for an 8 course tasting menu with wine pairings, of course! Keep scrolling to see what we ate!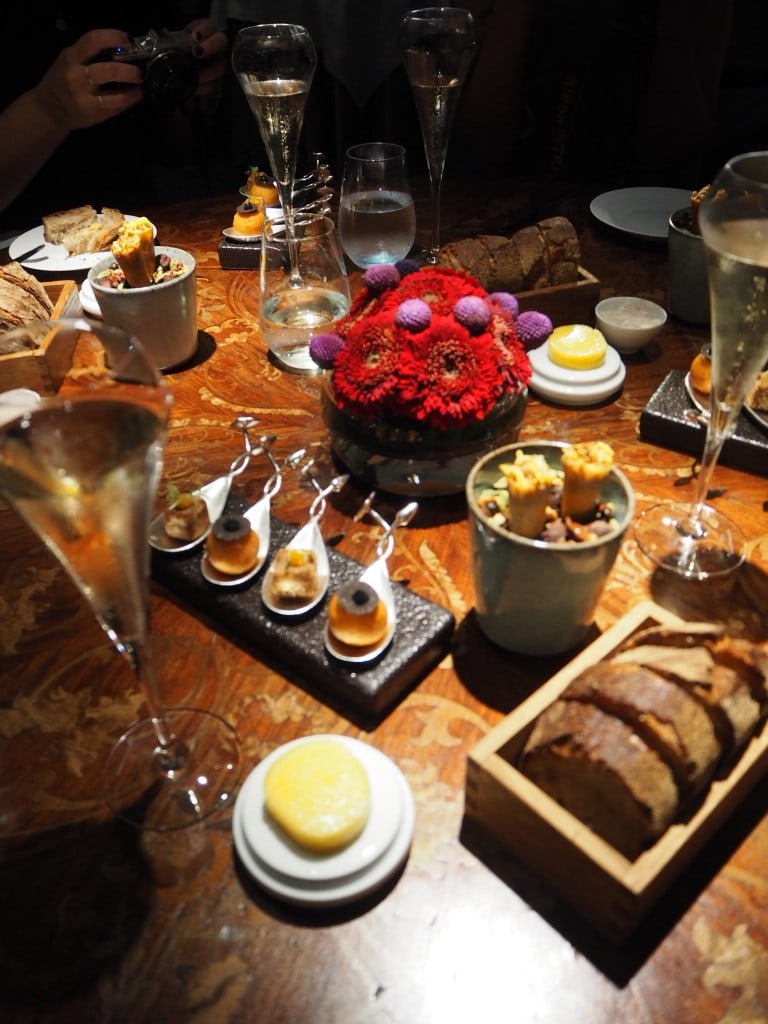 The pre dinner 'amuse bouche' which was quite an affair in its own right.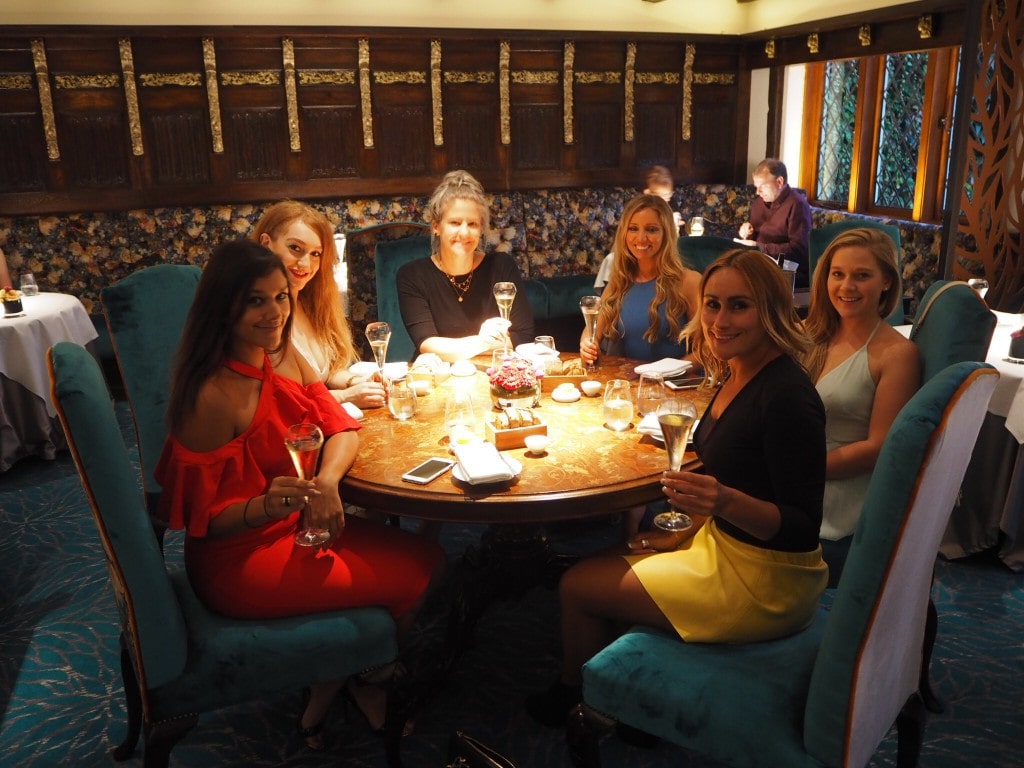 The girls and I enjoying a champagne aperitif at the table.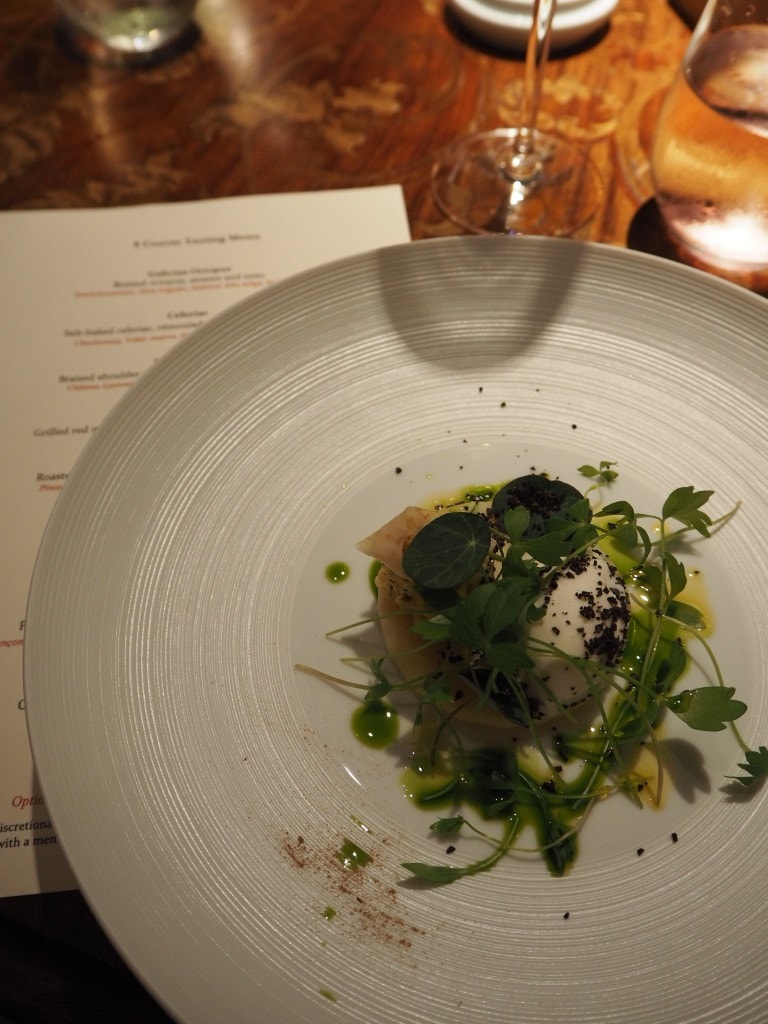 Starter of Salt-baked celeriac, rémoulade and Australian truffle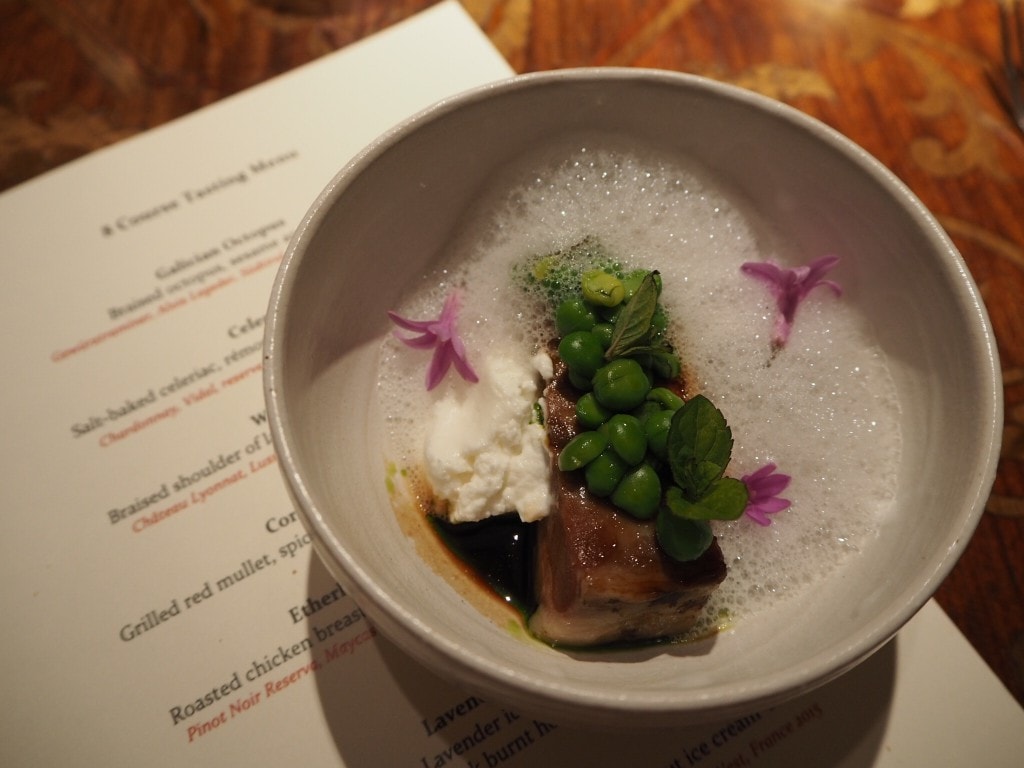 Braised shoulder of mutton, buttermilk, broad beans and garlic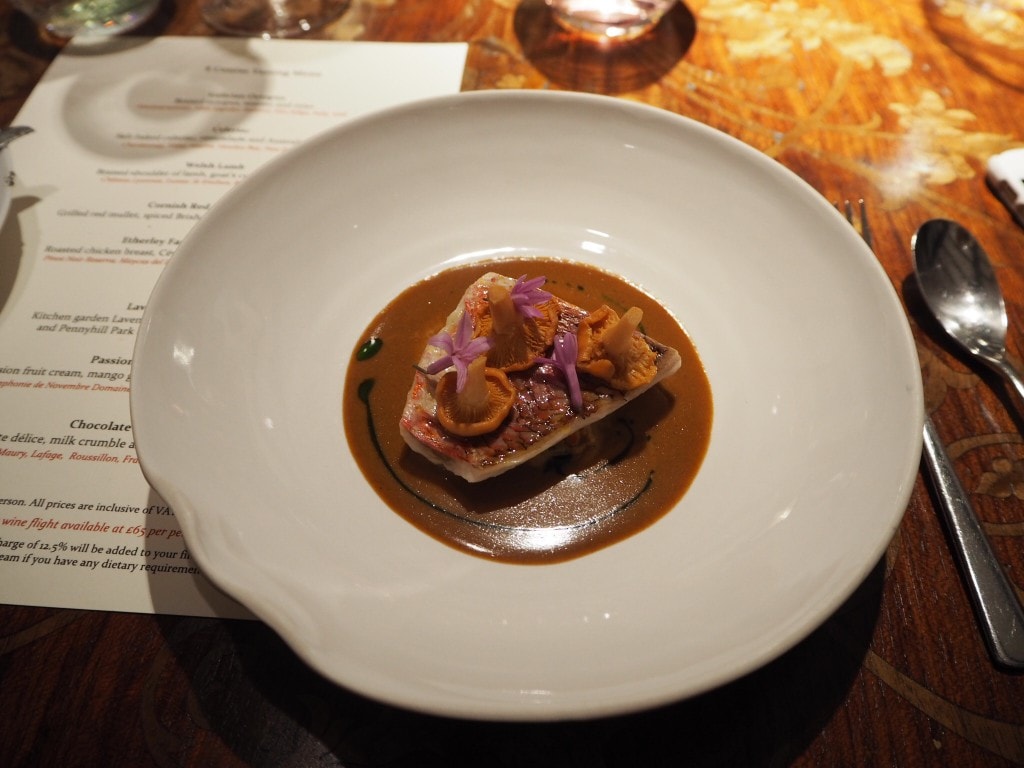 Red mullet fish course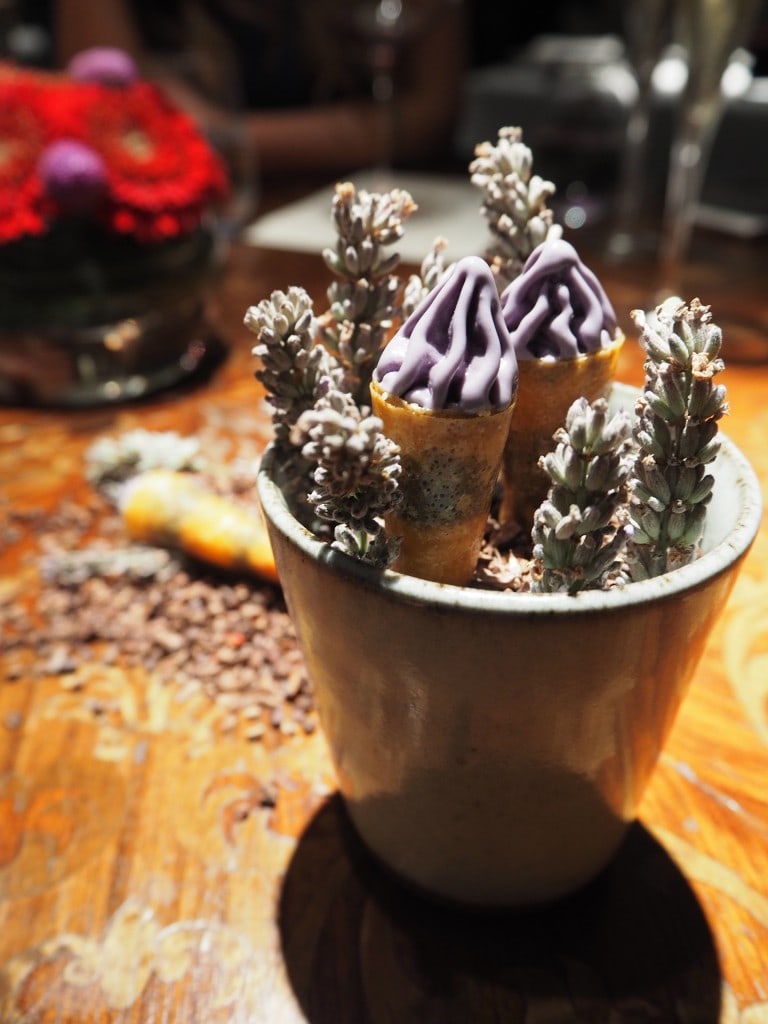 Kitchen garden lavender ice cream, violet gel and Pennyhill Park burnt honey crémeux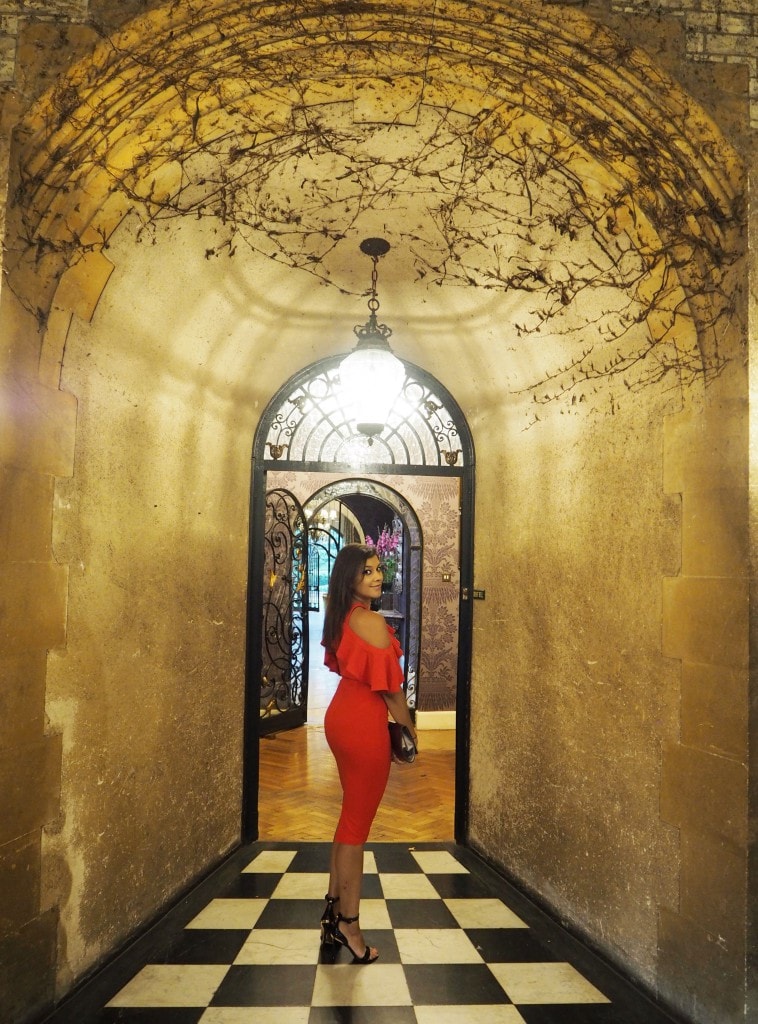 Well that was an incredible meal, I'm off to bed!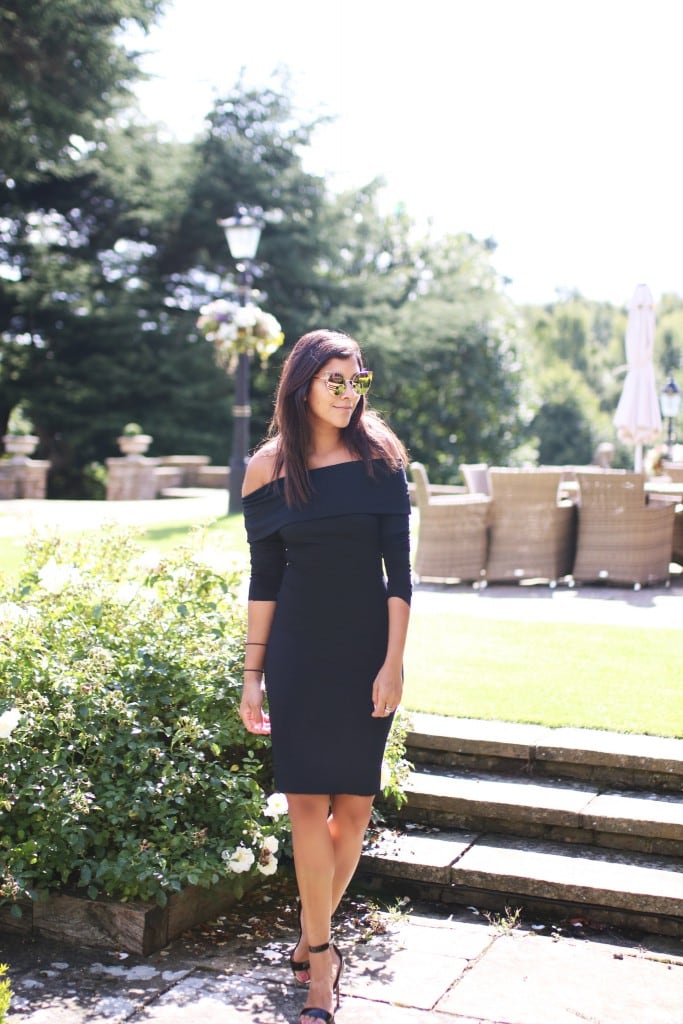 Morning stroll around the gardens wearing Black Silk Fred off the shoulder dress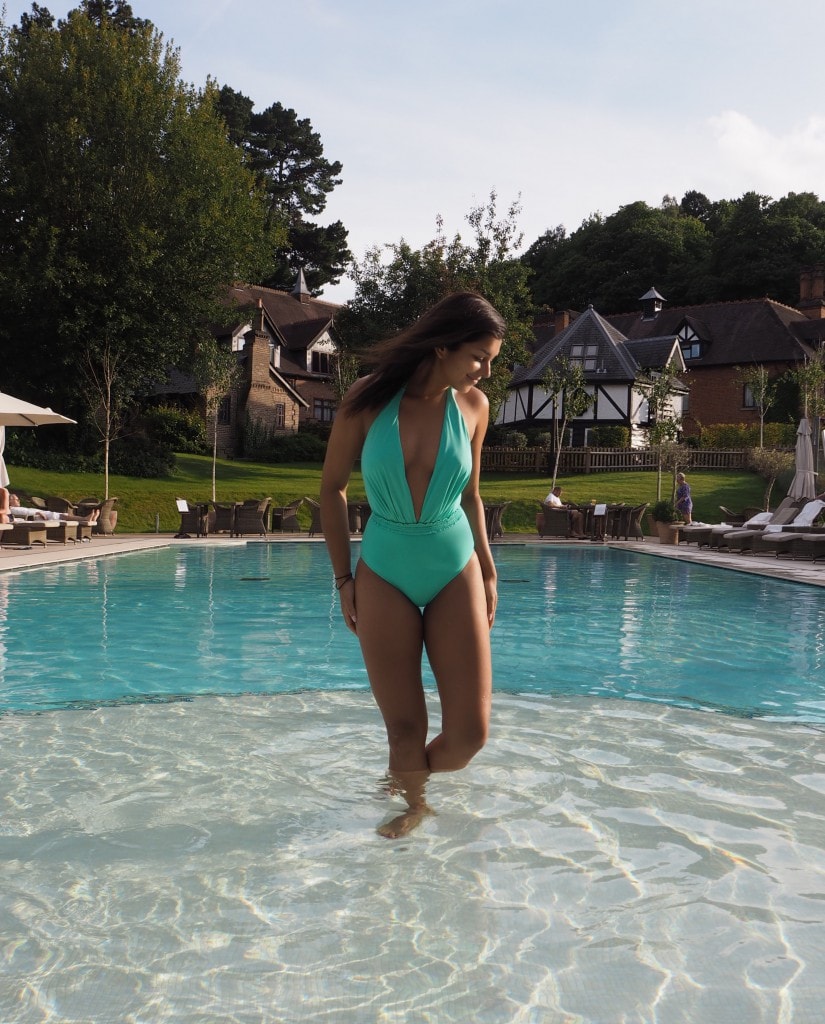 Time for a quick dip before it's time to head back to London. Above: Bonnie wears Lazul swimsuit
Below: Bonnie wears green Silk Fred wrap dress
Good bye from me and the girls at Penny Hill Park, thank you for such an amazingly indulgent stay!
Bon Voyage xx