Shinta Mani – The Most Stylish Luxury Hotel in Cambodia

Shinta Mani – The Most Stylish Luxury Hotel in Cambodia
Where?  Cambodia.
Exactly? Shinta Mani Hotel, Siem Reap, about a 15 minute Tuk Tuk ride from the famous Angkor Wat Unesco World Heritage Site.
When? December 2017
Best time to go? November to March is peak season with the most temperate weather, but if you'd prefer it to be a bit quieter, then May to early October is the best time for you.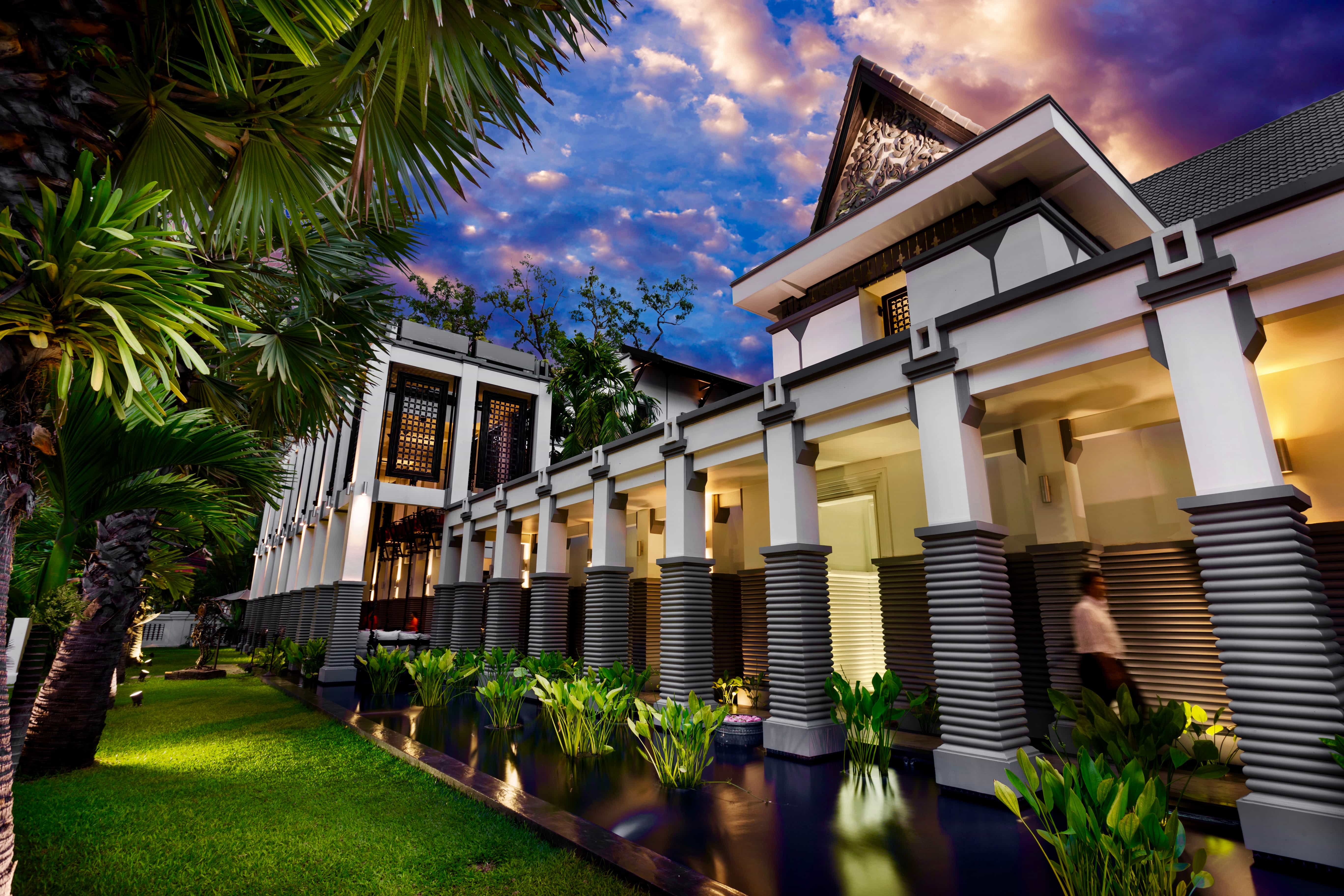 After a hectic year of travel I decided to see in the New Year by ticking off one of my bucket list destinations. I've always been in awe of the magnificent Angkor Wat Temple in Cambodia. So when the stunning, luxury design hotel Shinta Mani in Siem Reap invited me to stay I couldn't believe my luck.
The Shinta Mani group consists of three hotels, the luxury hotel Shinta Mani Angkor, boutique property Shinta Mani Shack and the brand new, spectacular private pool villas at Shinta Mani Angkor-Bensley Collection, complete with your own Bensley Butler.
The hotel was originally built in 2003 and underwent a huge renovation in 2012 by world renowned creative director and architect Bill Bensley. With the new addition of the private pool villas, Shinta Mani is now one of Cambodias premier hotel destinations inviting elite guests from all over the globe.
Situated just a 15 minute tuk tuk ride from Ankgor Wat, the Shinta Mani Hotel includes two excellent restaurants serving international and Cambodian dishes, two swimming pools and a divine spa.
Top image Bonnie wears blue stripe dress by Tularosa at Revolve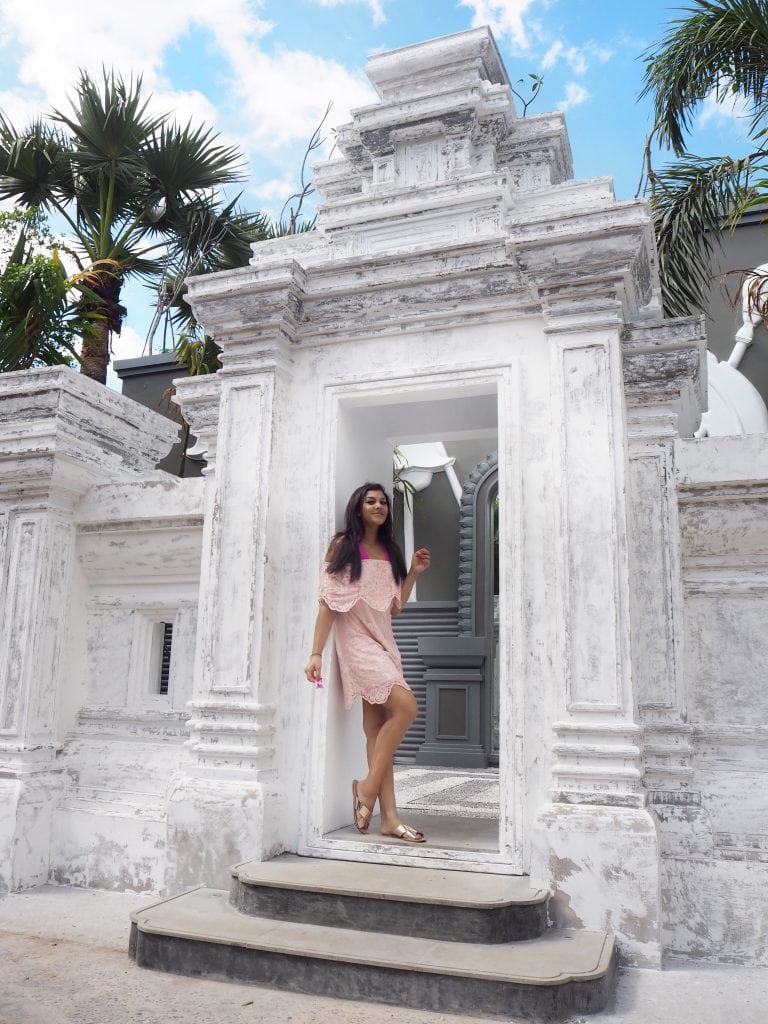 Every inch of Shinta Mani is an instagram dream. From the Cambodian-meets-modern architecture, the whitewashed entrances inspired by the local historical site, spacious outdoor communal and reception areas with marble floors, Lombok style furnishings and serene water features, the hotel's feng shui is completely aligned to make you feel 100% at ease, so you can relax into your holiday effortlessly.
Above Bonnie wears pink lace dress from Tobi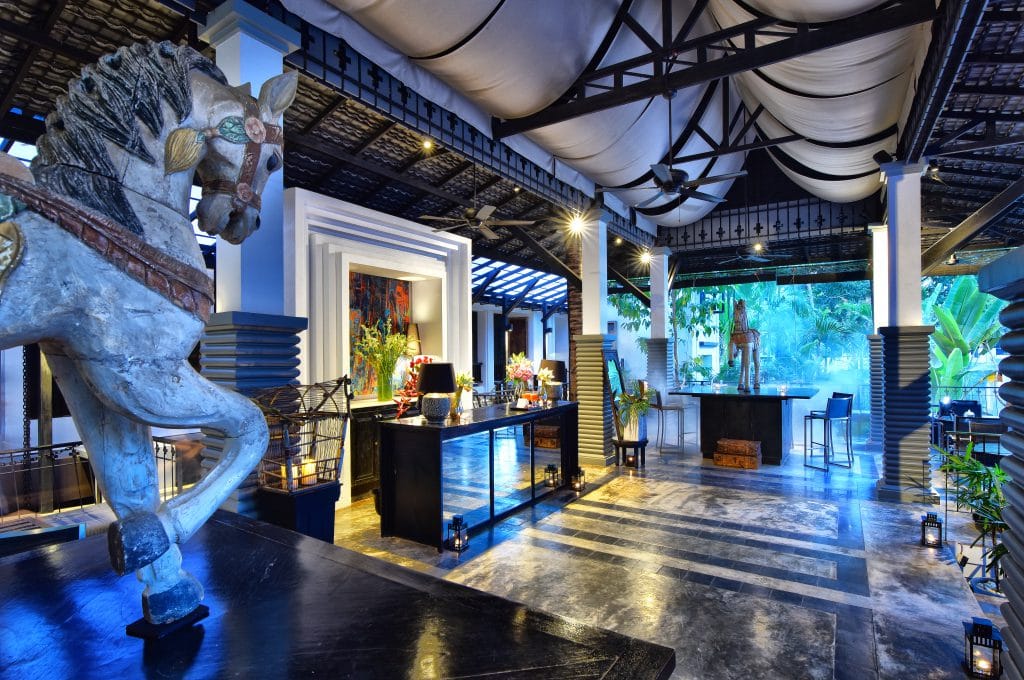 The majestic reception rooms are filled with eclectic and ornate statues and artwork. Each space makes you want to stop and take in the beauty, which is probably why there are so many seating areas.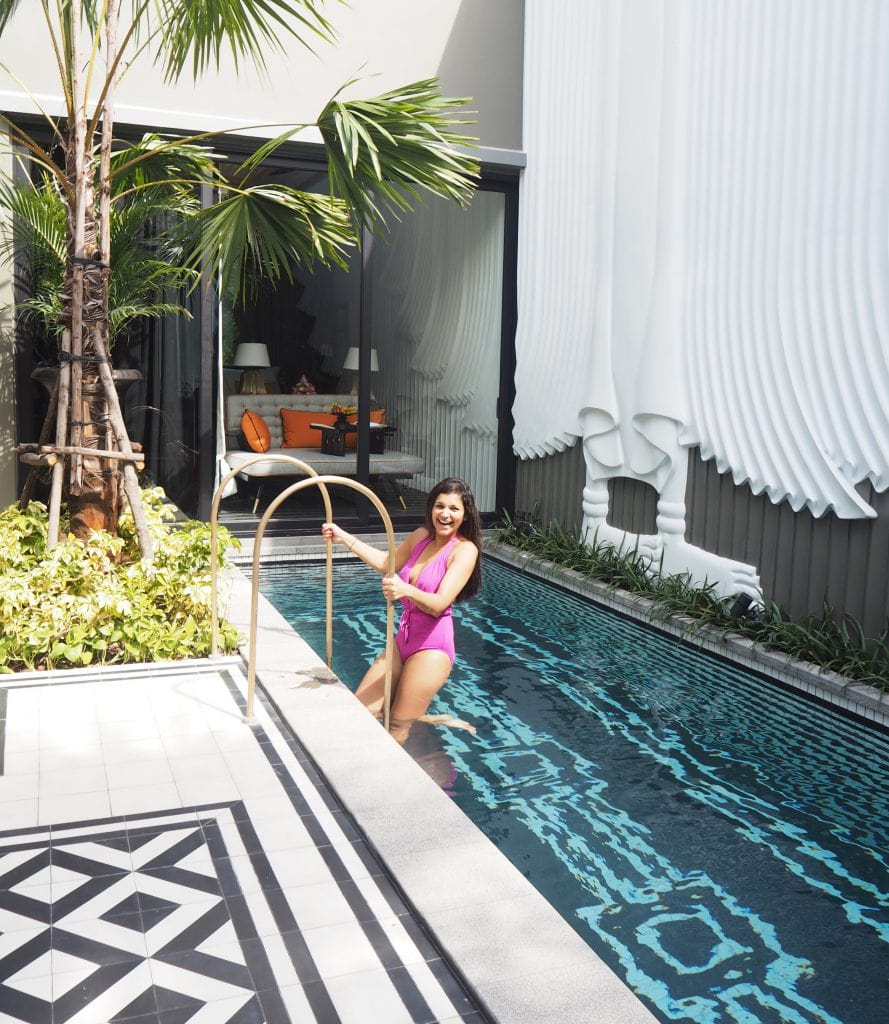 The Rooms
There are several different catergories of room but all are spacious, elegantly decorated and super stylish. So lets skip straight to the highest category shall we? The Angkor-Bensley collection is a group of 10 private pool villas each with there own sky garden sun deck, private entry courtyard where the private pool is located, leading on to a spectacularly designed bedroom, walk-in-wardrobe, kitchenette and bathroom with wet room, including an al fresco bathtub in the back garden. They are utterly fabulous!
Above Bonnie wears Lazul swimsuit in the private pool villa and below the lovely house keepers laid a lotus petal heart on the bed.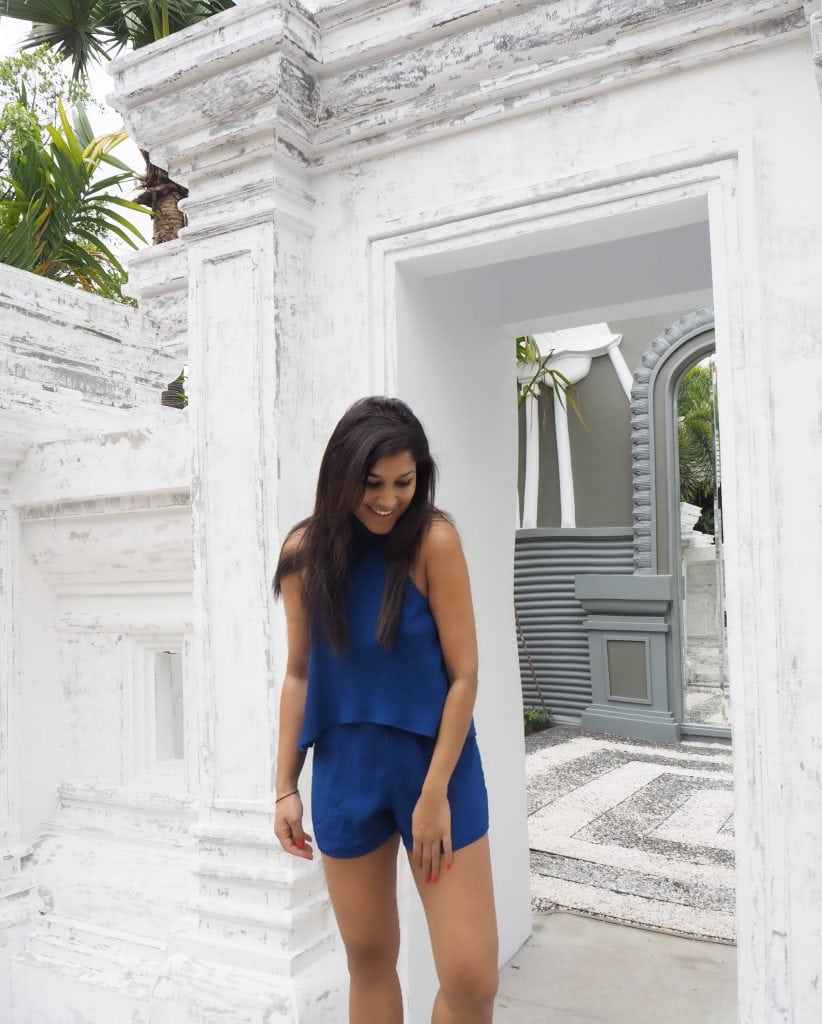 Above Bonnie hanging out in the splendid hotel grounds wearing Silk Fred playsuit and below the largest communal swimming pool located in Shinta Mani Shack gardens.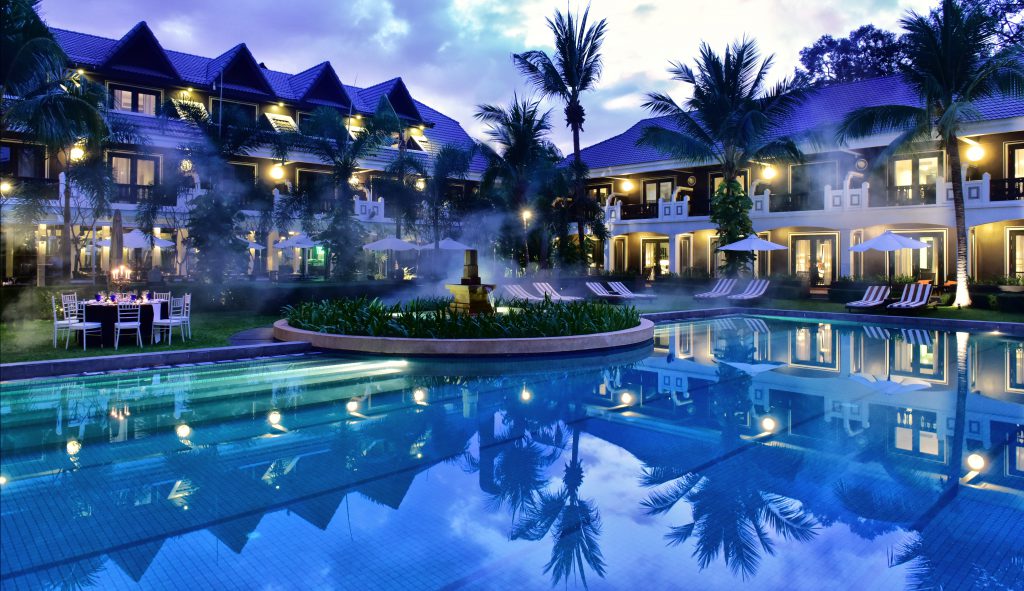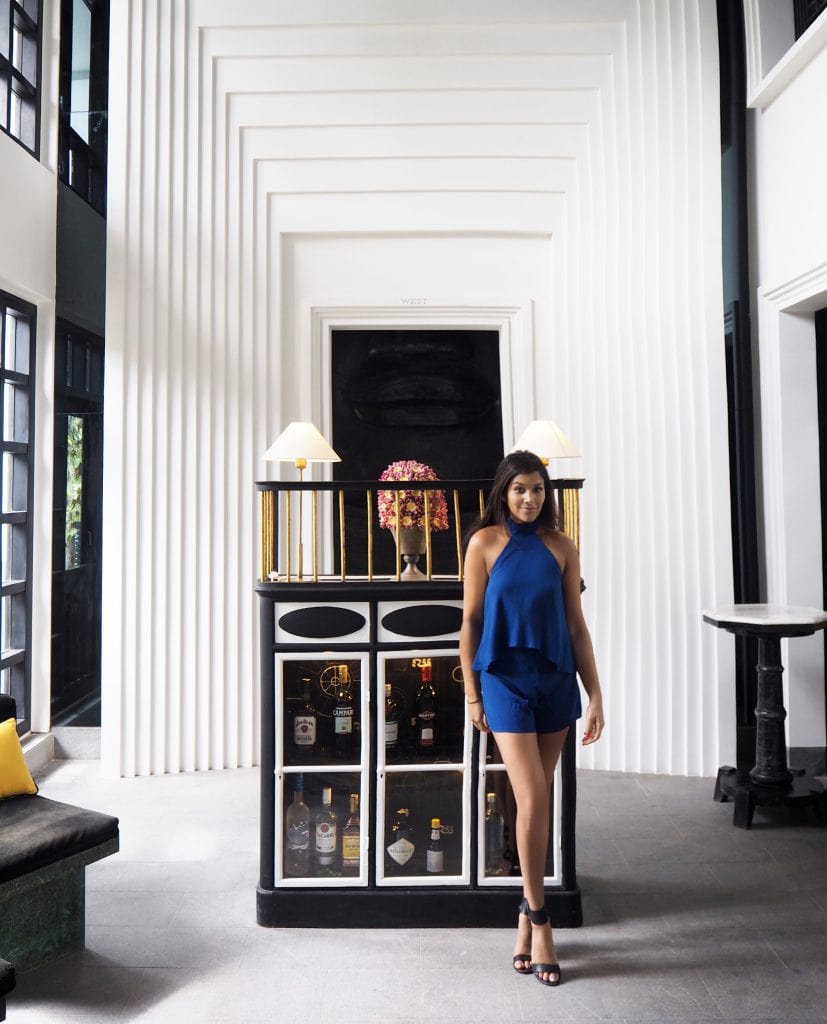 Above: Bonnie wears Silk Fred playsuit in the modern maximal interiors of the Shack bar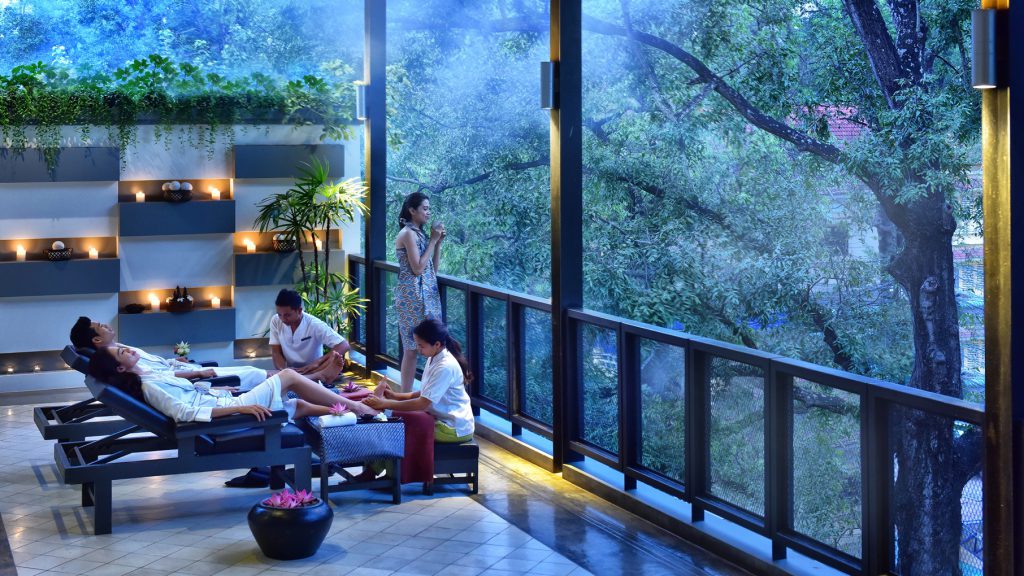 The spa at Shinta Mani is sublime. We indulged in the couples massage which was such a lovely and romantic experience.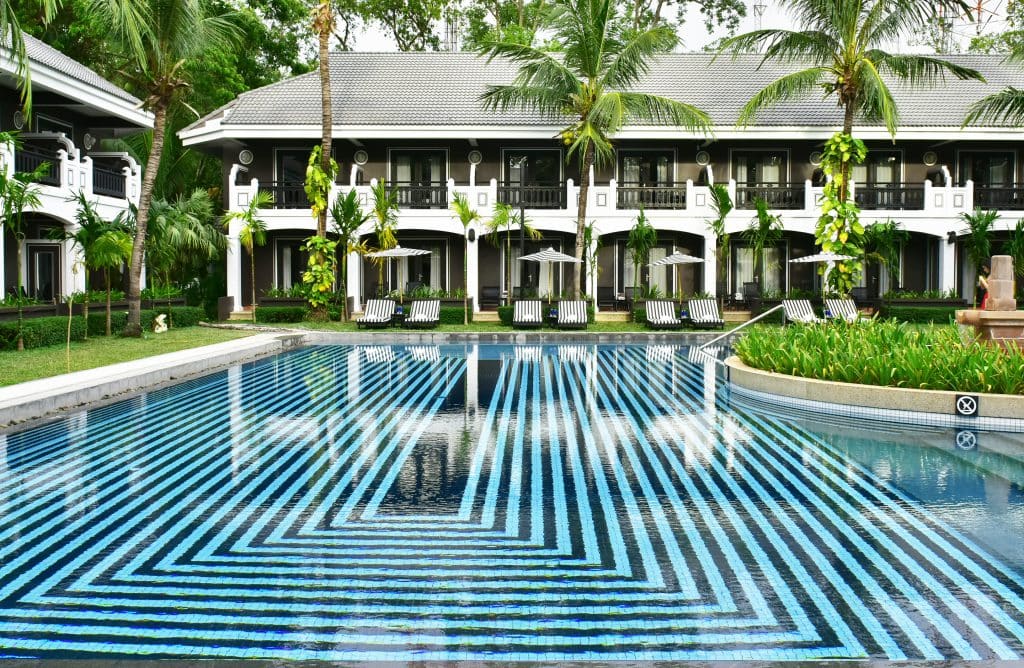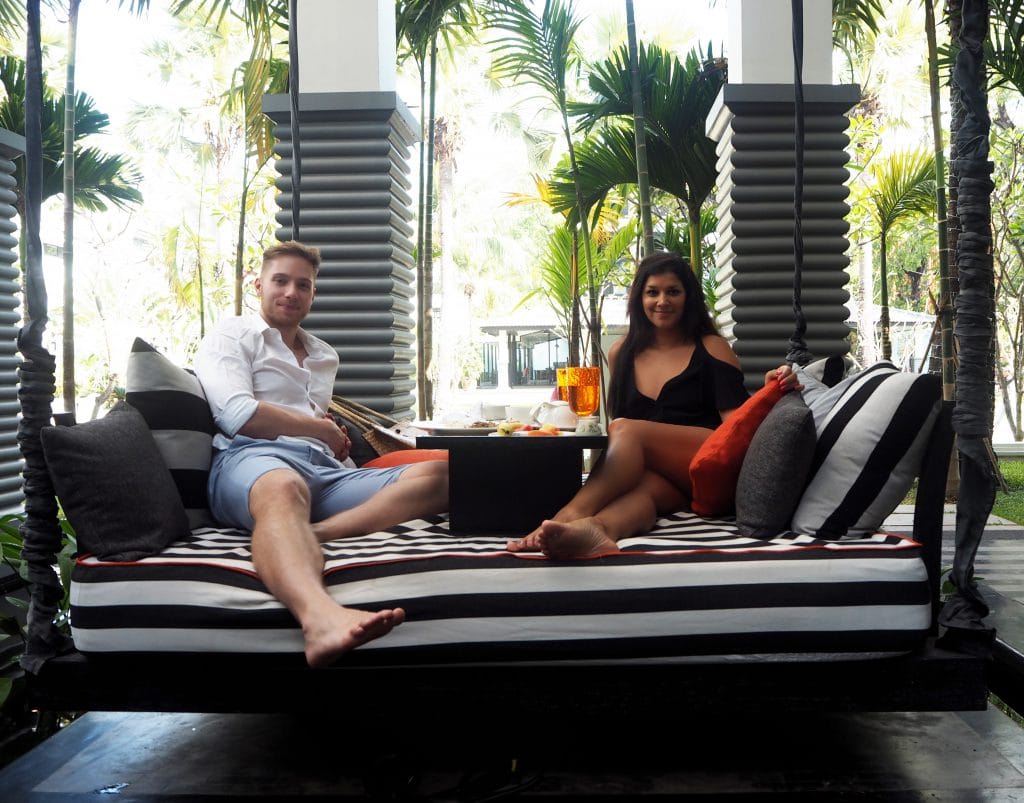 Charlie and I enjoy breakfast at Kroya Restaurant on the hotels hanging day beds, surrounded by a lovely moat swimming with golden koi fish and floating lotus flowers.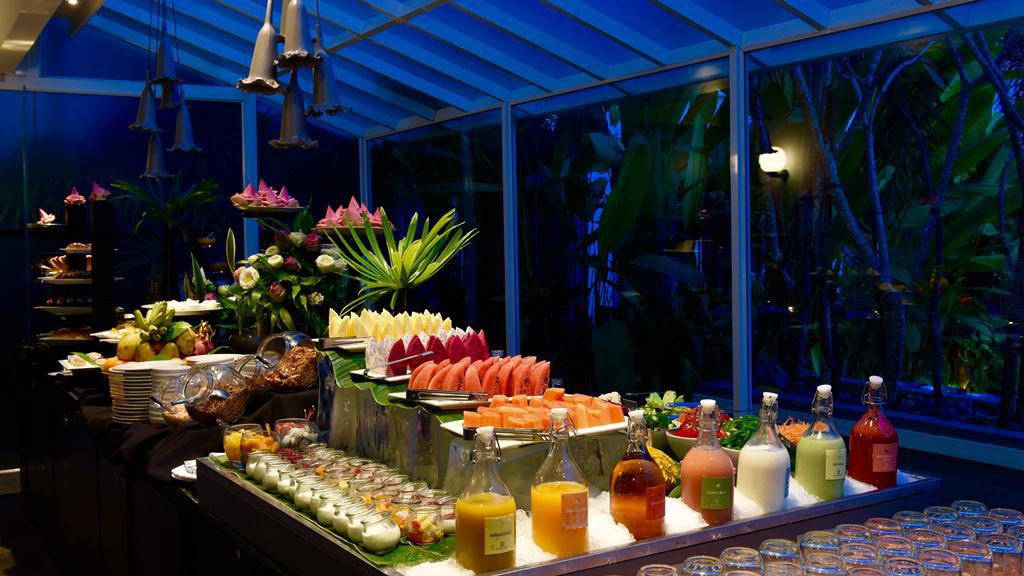 Food and Drink
The food offering in Siem Reap in general is excellent. You can head into town in a hotel tuk tuk and explore the Old Market area which is filled with shops, bars and restaurants. The hotel owns a bar/restaurant in town called Soul Kitchen which is super chilled and offers yummy comfort food.
Back the hotel you can pick from two different restaurants Kroya and The Elephant Polo Club or head to the lovely Bensley Bar for a Mai Thai with a rooftop view.
My favourite place for breakfast was the buffet at Kroya, with fruit and juice station pictured above. In the evening Kroys transforms into one of Siem Reaps best and most prestigious restaurants.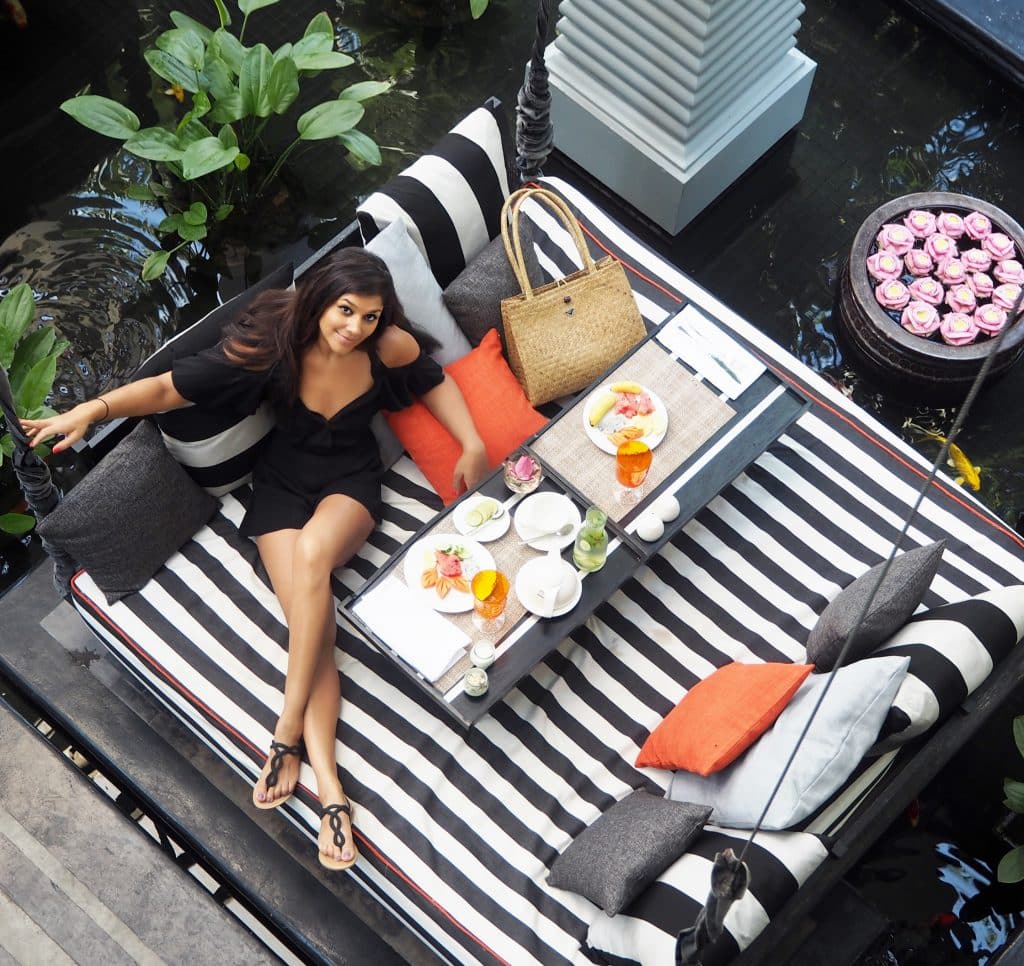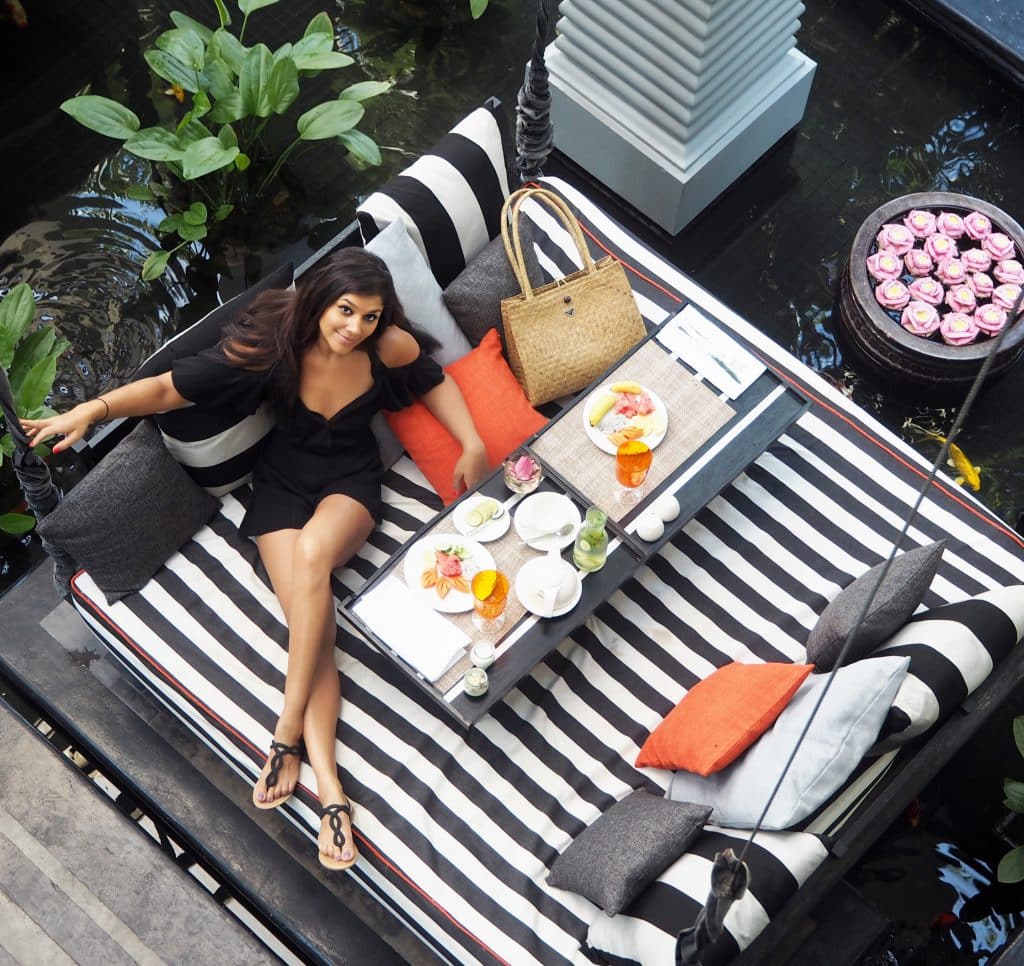 Bonnie wears black playsuit by Revolve and shoes by Accessorize.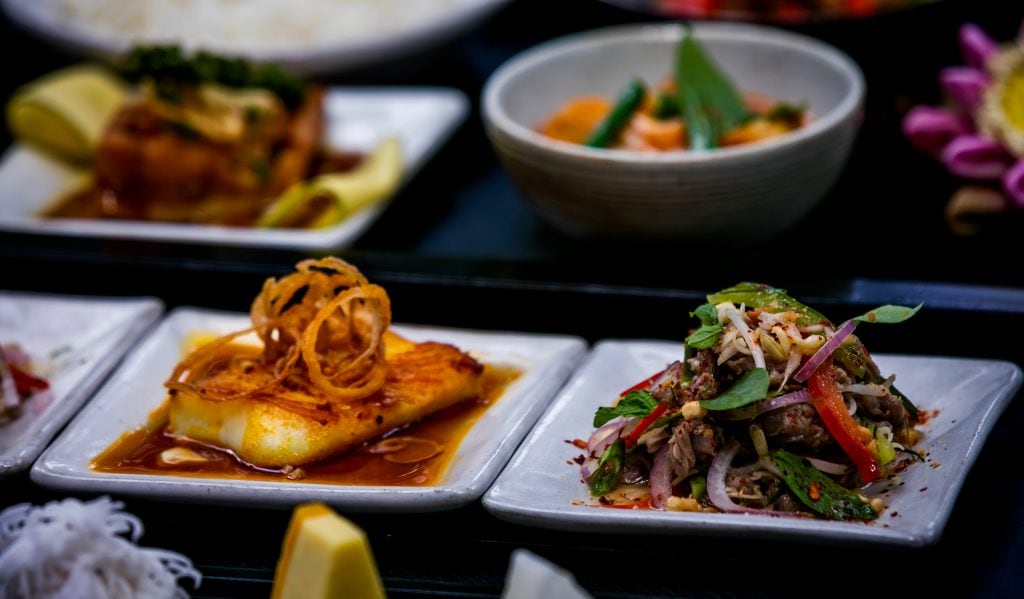 A Taste Explosion
We sampled the five course tasting menu at Kroya (for research purposes only of course!) and it was a fabulous culinary journey through Cambodia with a modern twist. The experimental (and delicious) dishes are designed by the celebrated Kroya chefs.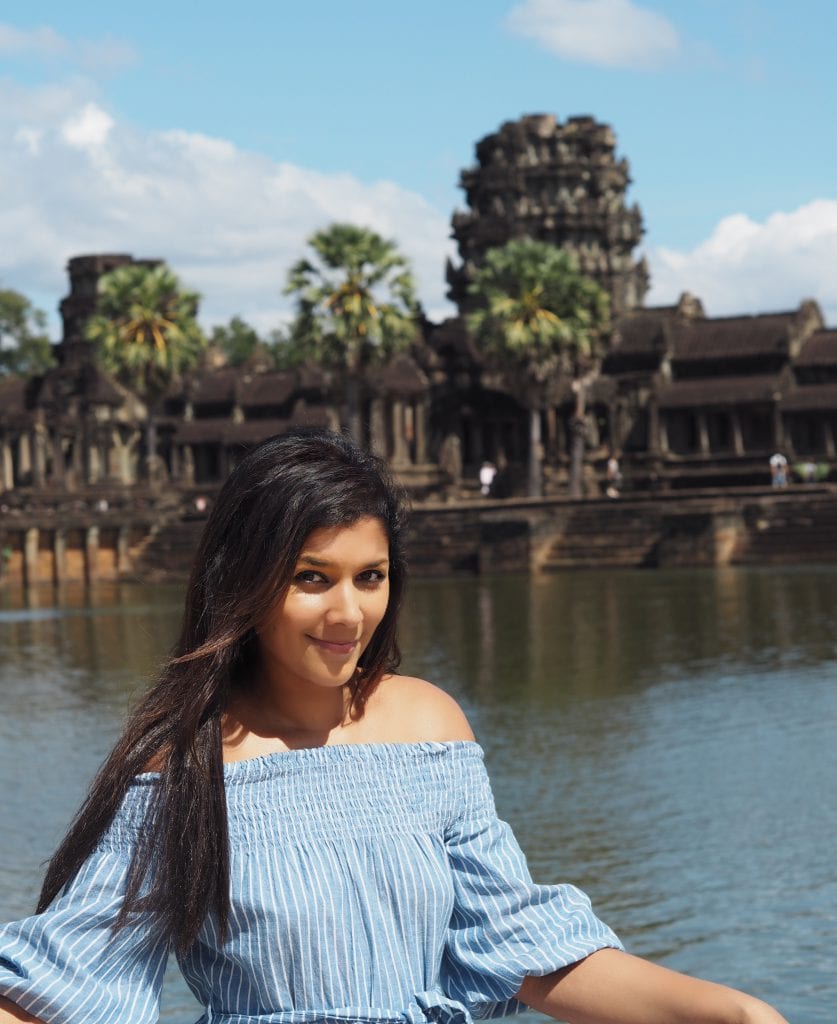 What to do in the day 
Angkor Wat of course. A short 15 minute tuk tuk ride from the hotel is the worlds largest religious monument, 1.6 million square metres of land filled with ancient intricately carved Hindu / Buddhist temples creating a magical temple city surrounded by a moat.
The two main temples to visit are Angkor Wat and Angkor Thom if you're short on time. But you can buy a 3 or 5 day pass and discover new areas, temples and stunning views at a languid pace. The temple of Ta Prohm was also made famous because scenes from Lara Croft: Tomb Raider, the movie featuring Angelie Jolie were shot here.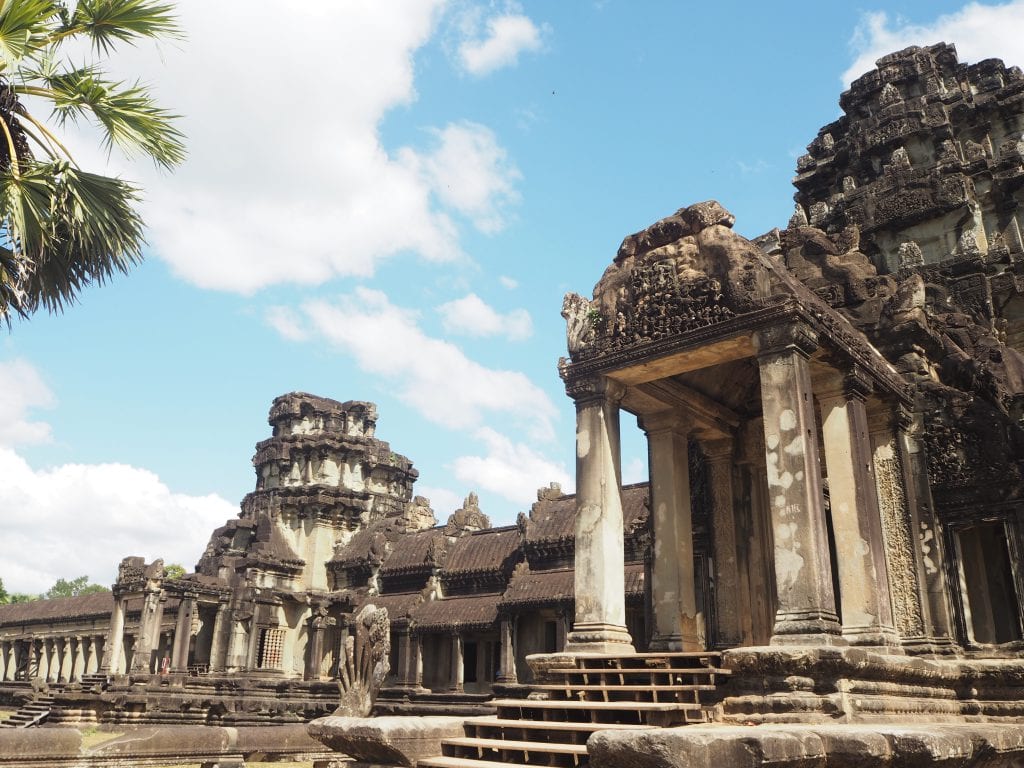 Above walking into Angkor Wat and below Bonnie at Angkor Thom.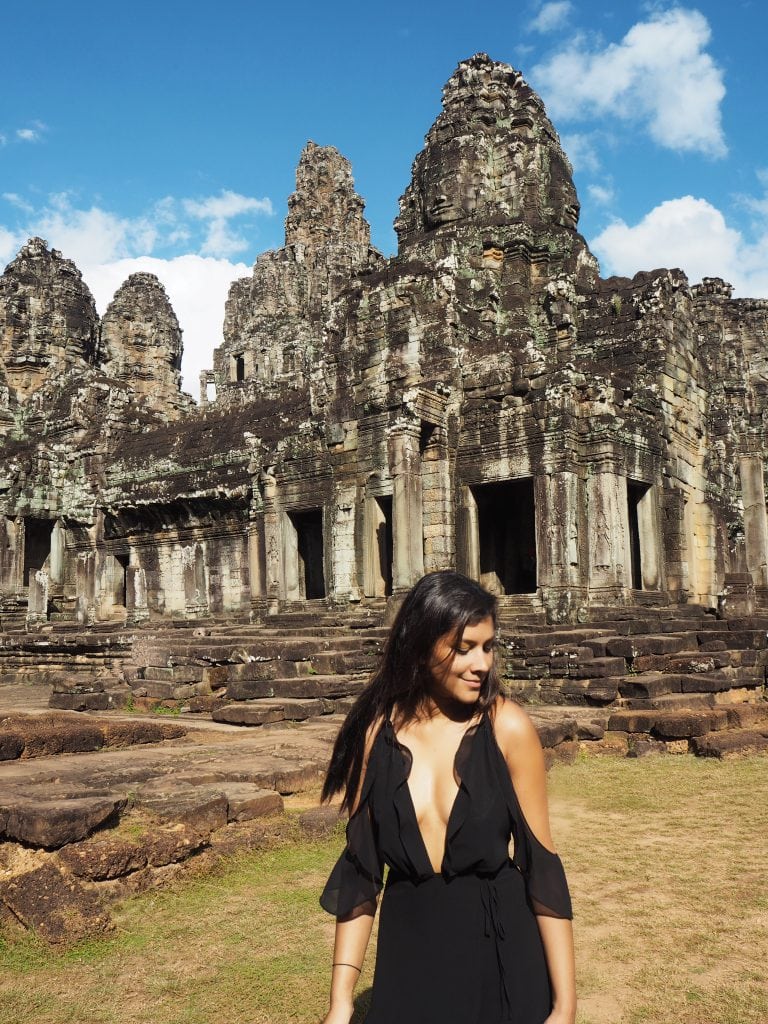 Bonnie wears floating maxi dress by Tobi.
Please note you are supposed to wear clothing which covers shoulders/ knees and mid riff. I was allowed to wear this outfit for shooting purposes, but in general, admittance is only granted when wearing conservative attire. So ladies make sure you take a sarong in case you need to cover up.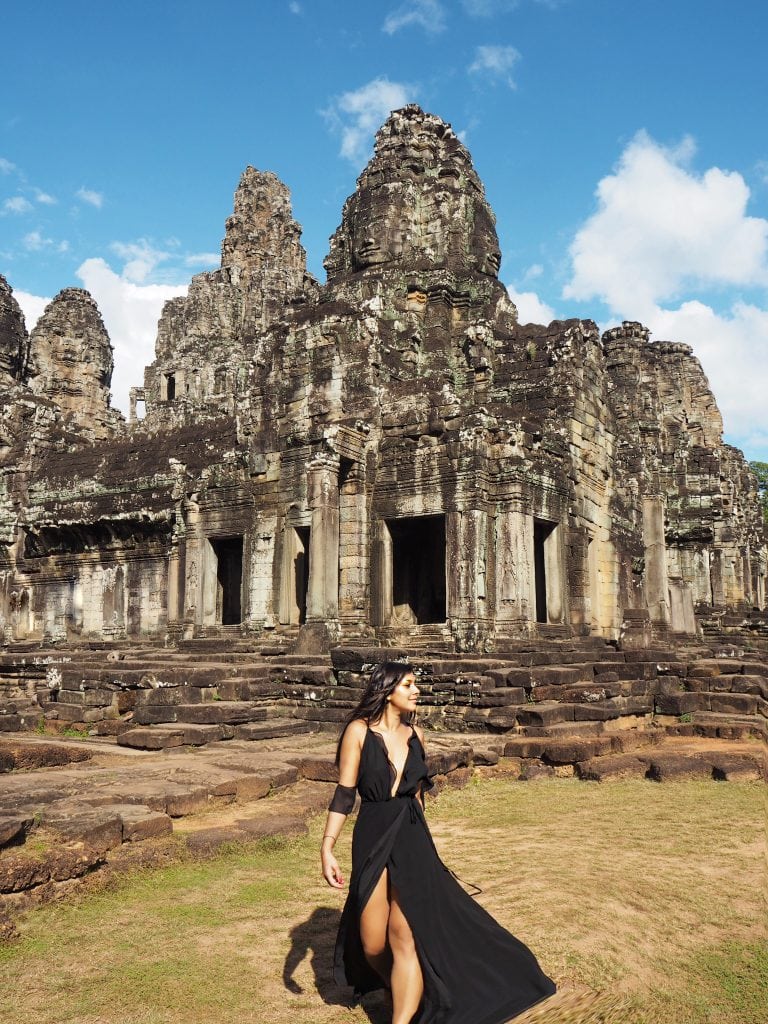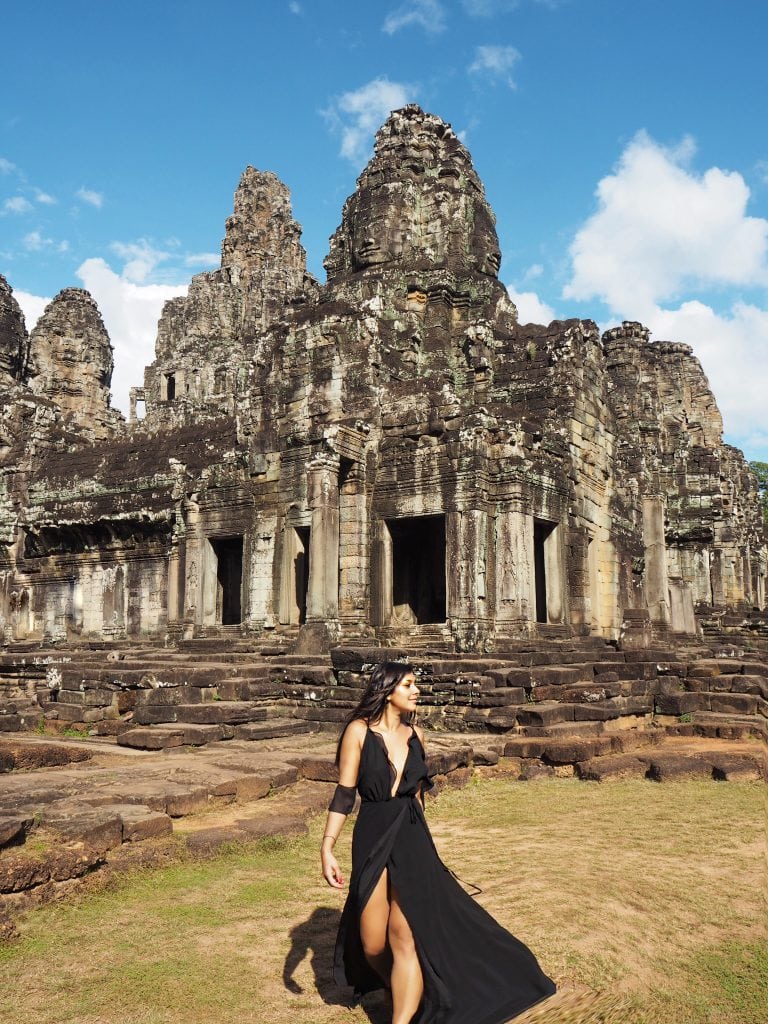 Below: one of the lovely trainee Buddhist Monks at the temple stops for a photo.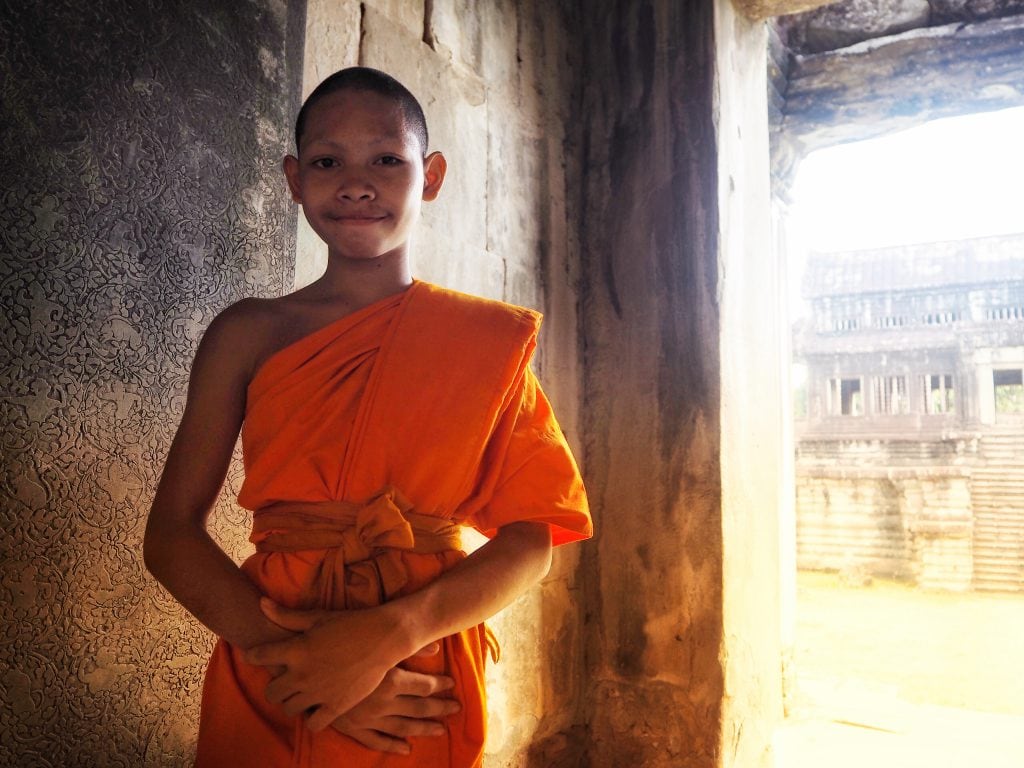 Huge thank you to the spectacular Shinta Mani Hotel in Siem Reap. I had the most amazing experience especially my visit to the ancient temples of Angkor Wat and The Shinta Mani Foundation. More on that next time!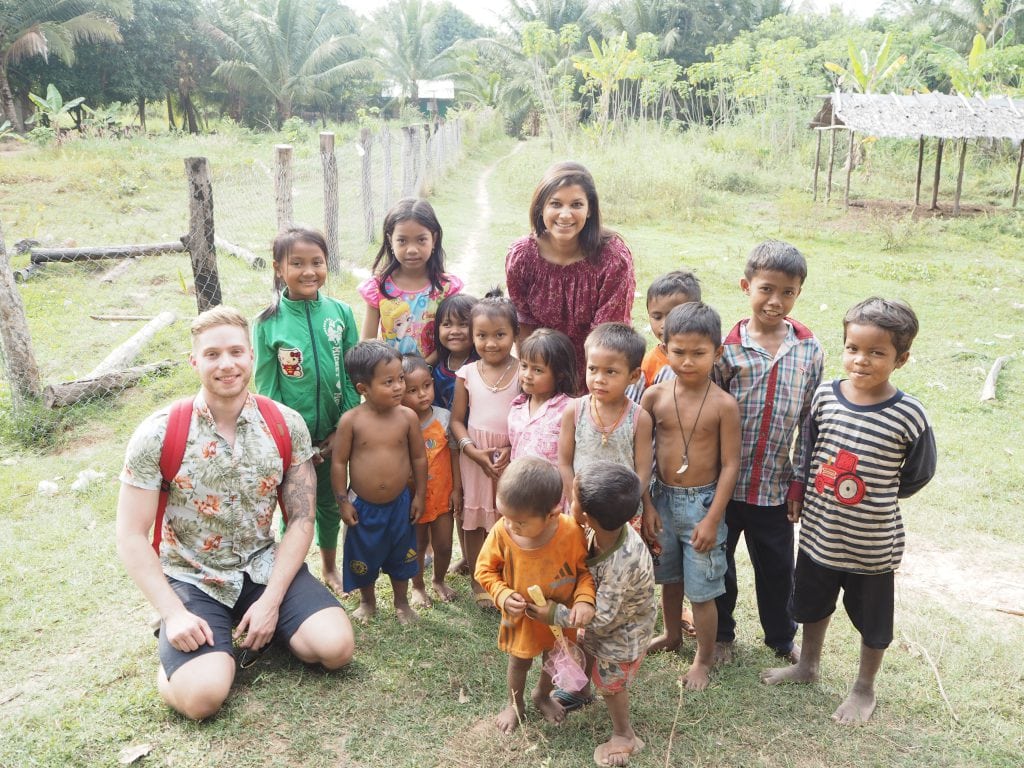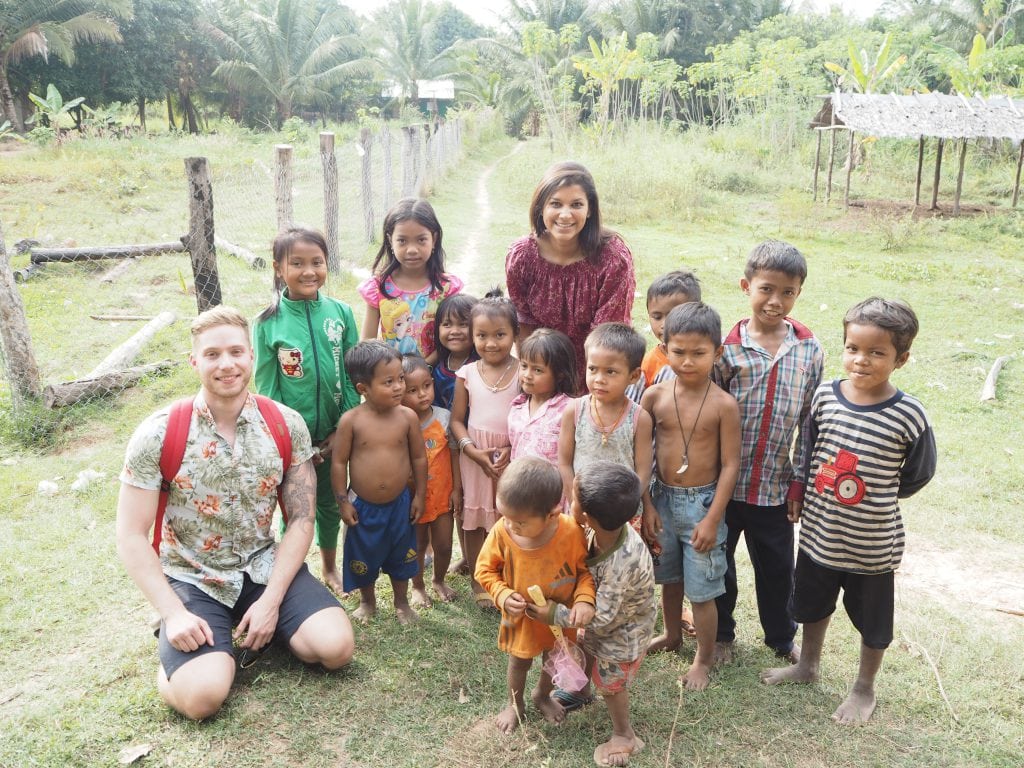 Bye for now. Tune in next week to find out more about the Shinta Mani Foundation and how the hotel charity is helping local people living in poverty, train and hone their skills in order to create a better future for themselves.
Until next time. Bon Voyage xx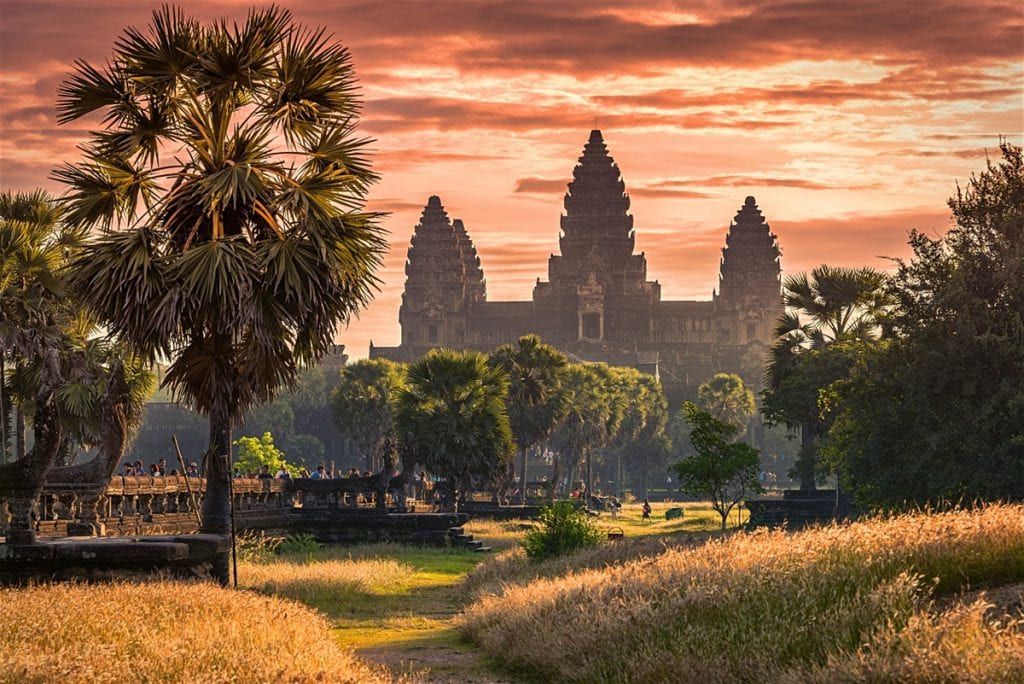 Angkor Wat final photo credit thanks to Lonely Planet