The Alternative Fashionistas Shopping Guide to Dubai

The Alternative Fashionistas Shopping Guide to Dubai
Where? Dubai
Exactly? We stayed at the uber stylish Bulgari Resort and Spa and the gorgeous Nikki Beach Resort
When? November 2018. Dubai is hot all year round so it's the perfect winter sun destination
Why? As part of a super fun collaboration with BestAtTravel I was invited to Dubai to try out their new 'Alternative Fashionistas Guide' to the city.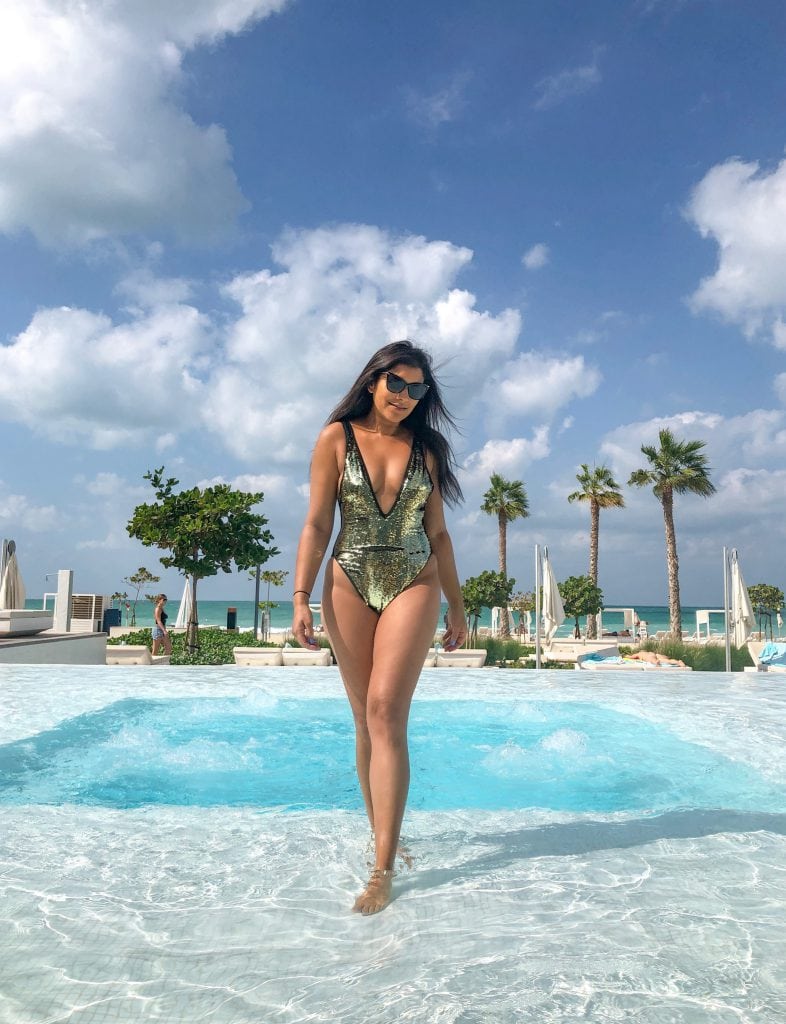 The premise being that most people think Dubai is all about vast malls and super-high-end designer stores, but now there is a new emergence of cool, independent boutiques and concepts stores popping up throughout the city.
Over the four day trip we stayed at two of Dubai's newest design hotels and got to eat and drink at the trendiest new bars and restaurants. Here's my run down and photo diary all about my trip.
This is a sponsored post.

The hotel exterior looks like an architectural work of art. With incredibly ornate, decorative-detailing on a super sleek and sculptural framework, you'll be wowed by this hotel before you've even entered the unbelievably chic, book-matched marble interiors.
The Bulgari resort is part of a new and stylish generation of fashion hotels in the city. The hotel epitomises the understated elegance of its Parisian designer jewellery brand namesake.

Every inch of this opulent hotel is instagram worthy. The view from my bedroom of the entire Dubai sky line, looks more like a simulation than reality. The pool, terraces, gorgeous restaurants, in-house chocolatiers, state -of-the-art gym and stunning marina with on-site yacht club, gives you more than enough reason not to leave the hotel grounds.

The wrap around balcony at dusk

Being spoilt for choice, breakfast can be taken with marina and yacht view as well as in your room. I loved both equally. I highly recommend the Arabic breakfast which consists of several courses including Shakshouka eggs in a tomato sauce, salads, halloumi and fruit platter! Yummy!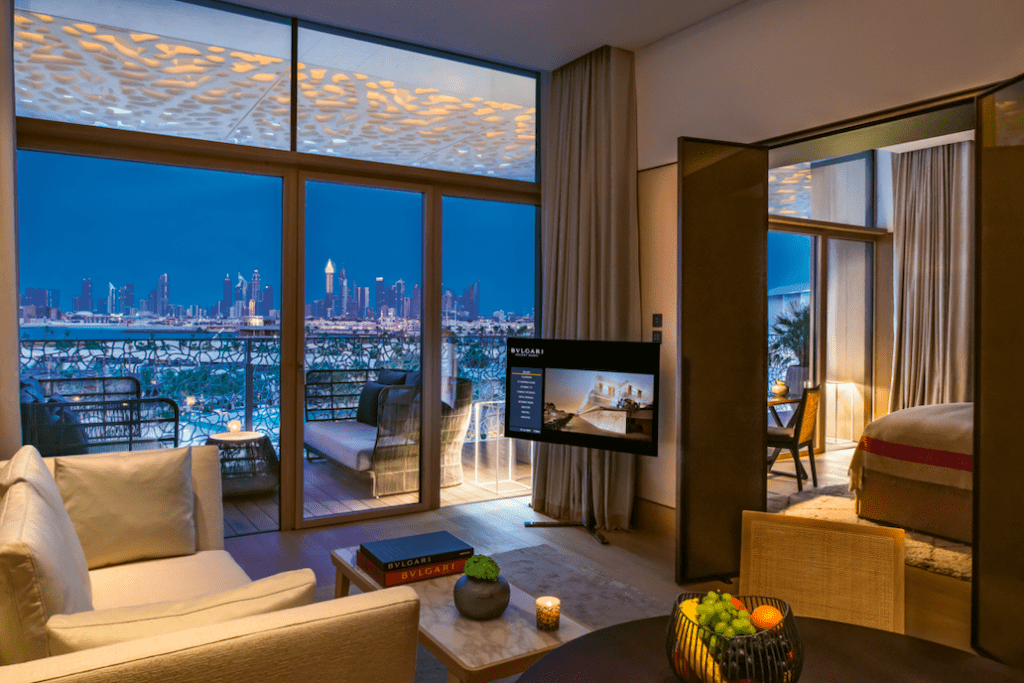 The Dubai skyline view from the bedroom is spectacular day and night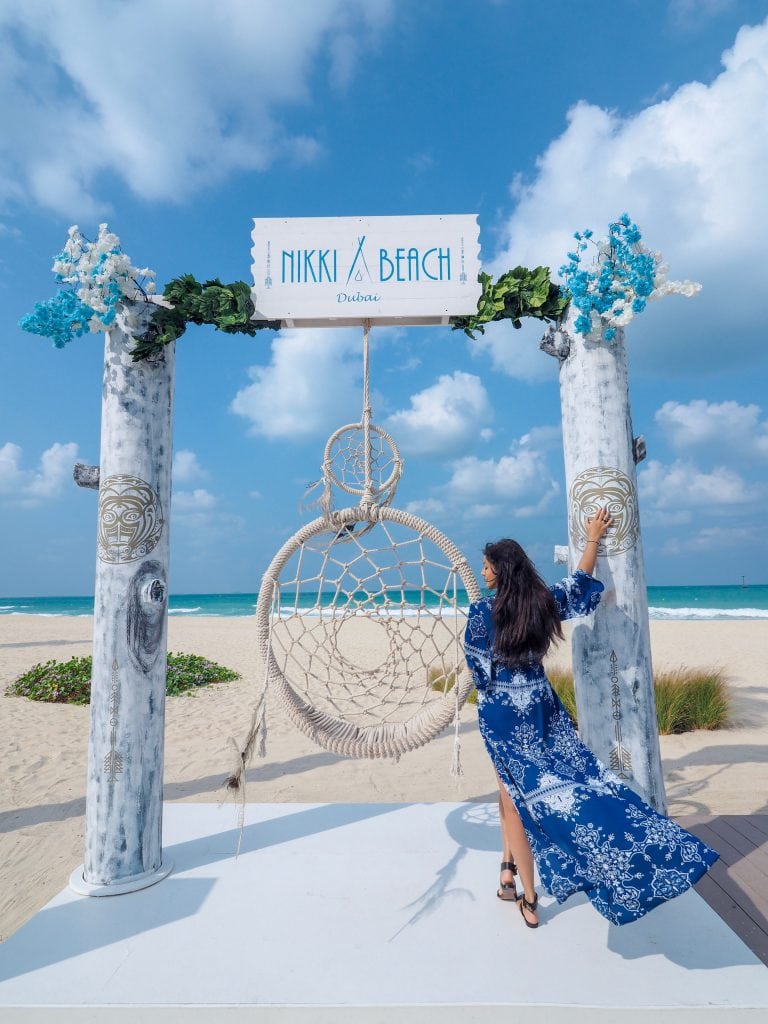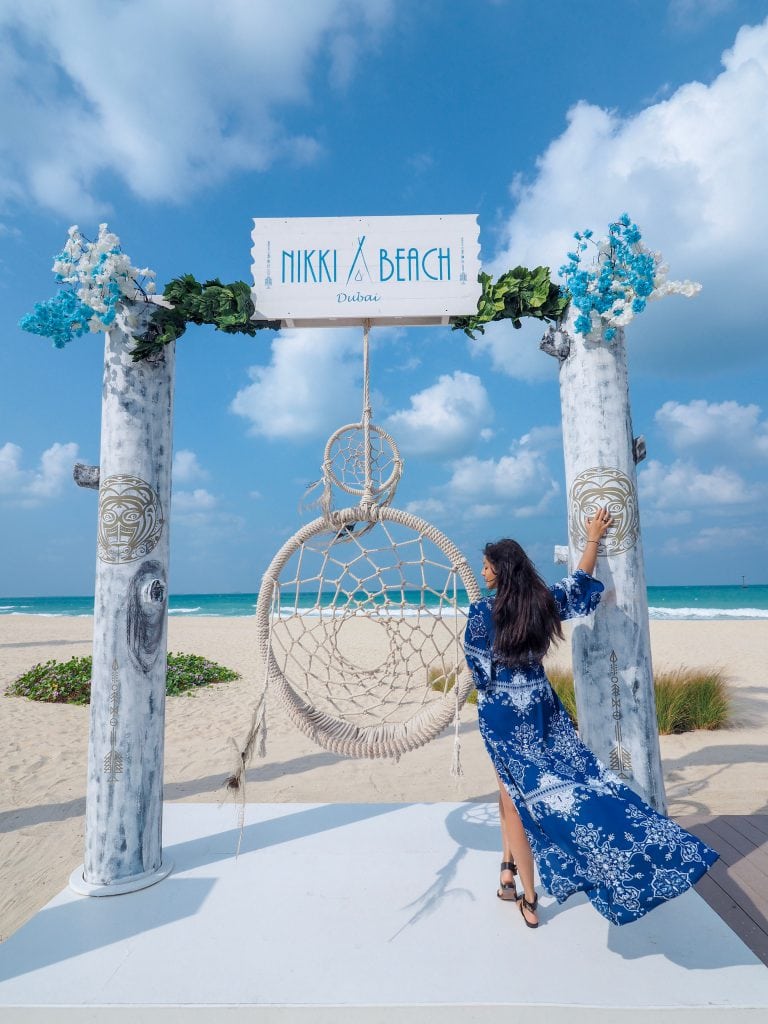 One of the latest additions to Dubai's growing trend of party beach clubs, the internationally renowned Nikki Beach Club Dubai also comes with a fabulously chic and minimally trendy hotel attached.
The white washed decor of the brand gets a shiny Dubai update with marble high ceilings, sculptures in the grounds and several instagram ready spots for it's well-heeled millennial clientele.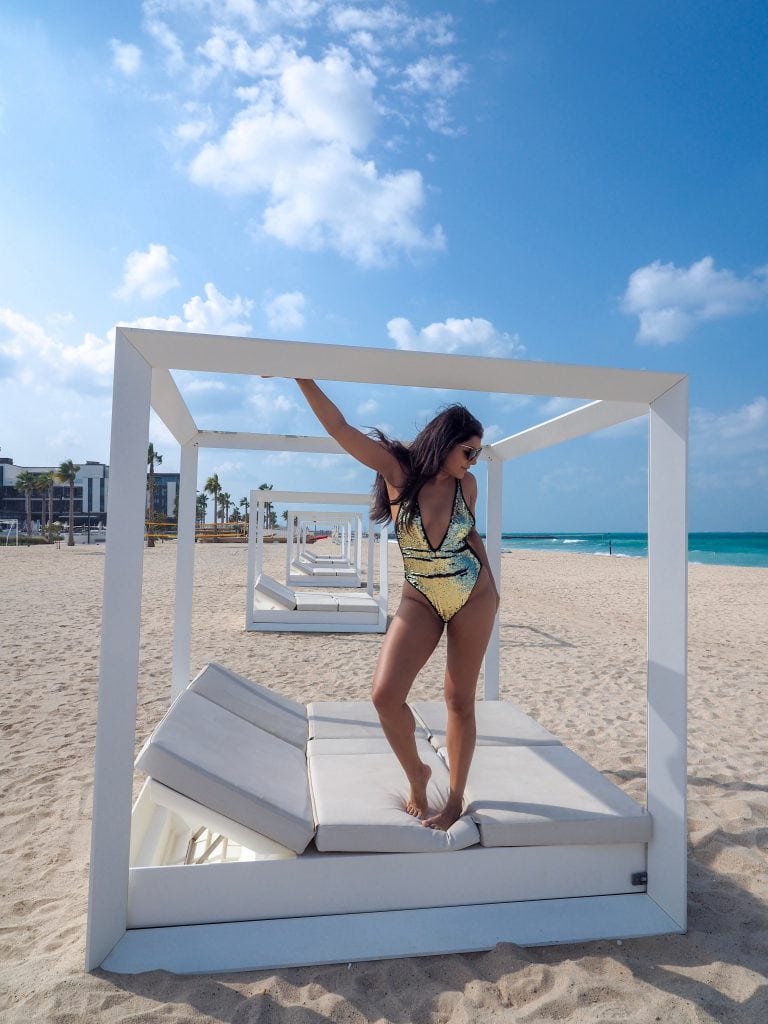 I was informed by my in-the-know friend who lives in Dubai that Nikki Beach is currently THE place in Dubai to see and be seen. She came to visit for breakfast and refused to leave until the last song played at the super fun pool party.
Make sure you bring your sequin bikini and heels (or budgie smugglers for the boys). This is the definition of a party hotel. Don't forget to try out the delicious Caribbean fare on offer at the Key West beach side restaurant too, you'll be transported to Jamaica in an instant.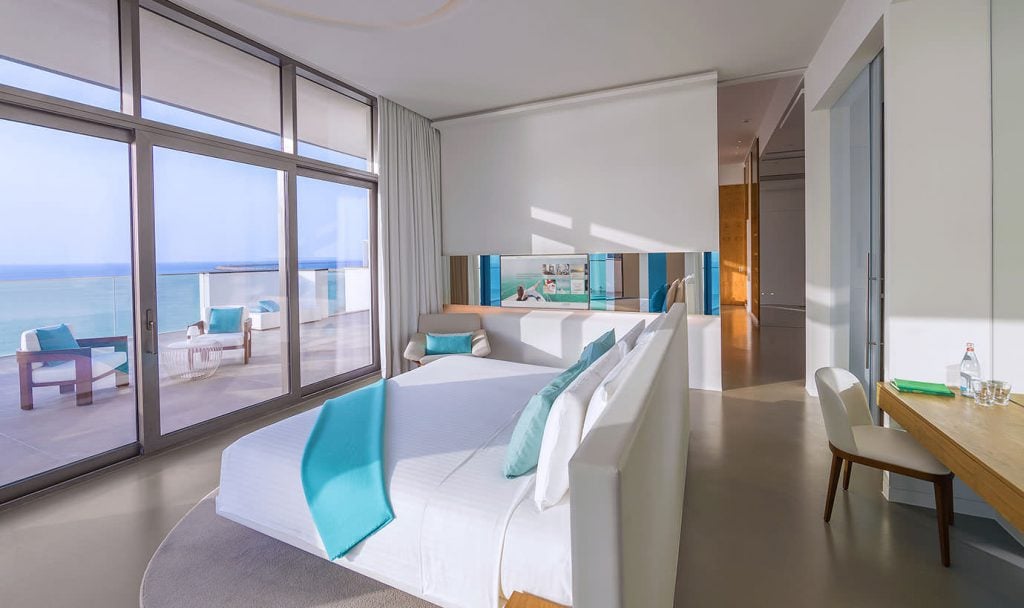 The rooms are sleek and minimal, with fantastic rain shower wet rooms, state of the art surround sound, blue tooth speakers, kitchenettes and balconies with beautiful sea views. They are stylish and modern with special attention paid to functionality, practicality as well as aesthetics.
And not forgetting the beach club which is just next door, guests at hotel get free entry and beauty of it is you can party all night, then literally roll into bed straight after.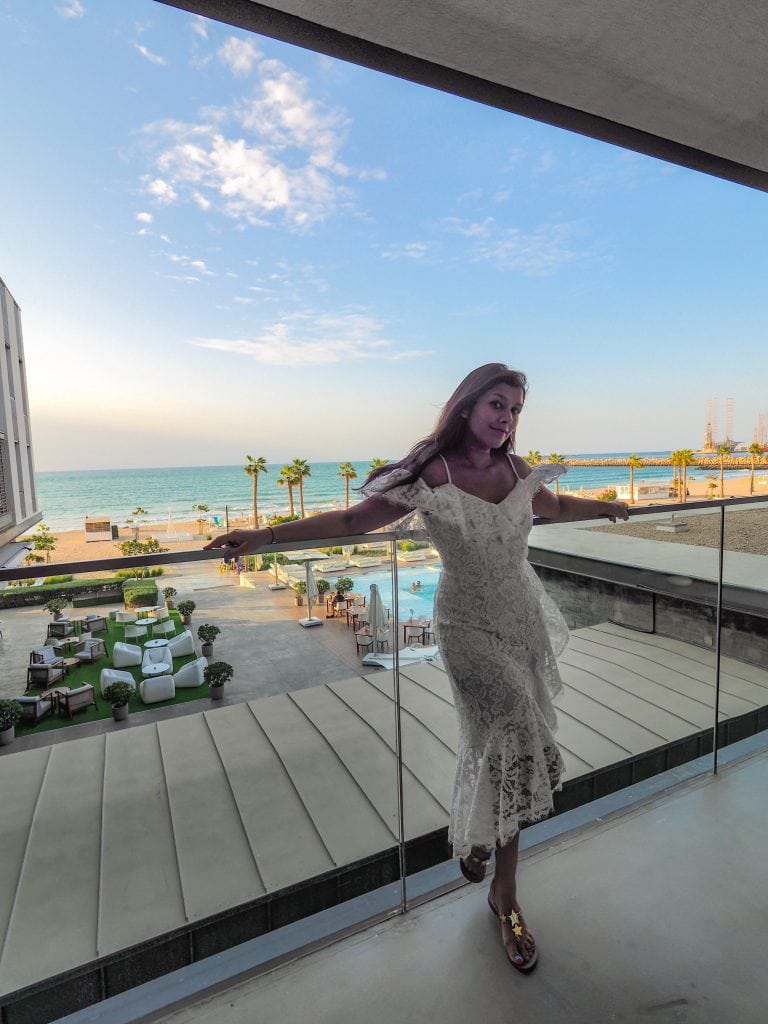 Think French owned, Parisian concept store, sourcing the coolest labels from Europe and across the globe, housed in a LA style bungalow and you have Comptoir 102. Featuring boho homewares, cult beauty products and complete outfits to set you up for your trip to Dubai, Comptoir 102 is a definition French chic.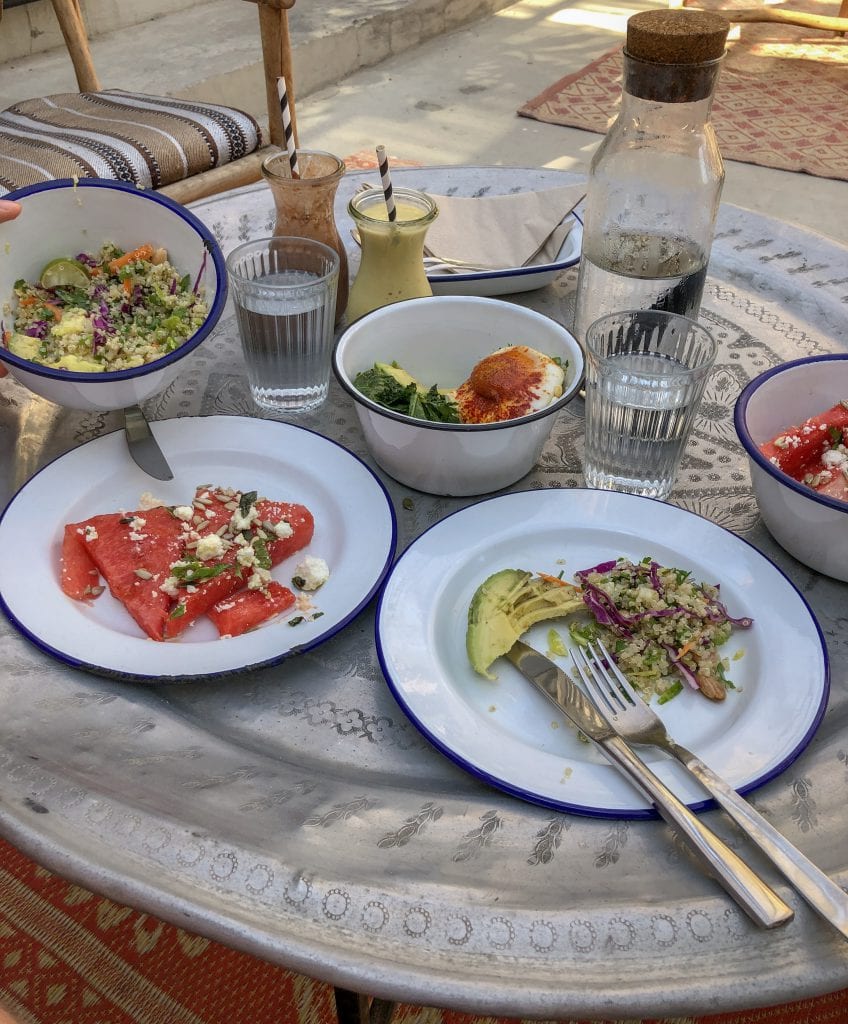 It's a destination store in its own right, with a fantastically healthy restaurant serving organic, picture perfect salads and juices. I loved the super protein green power bowl. For the Dubai 'yummy mummy' set it's de rigeuer.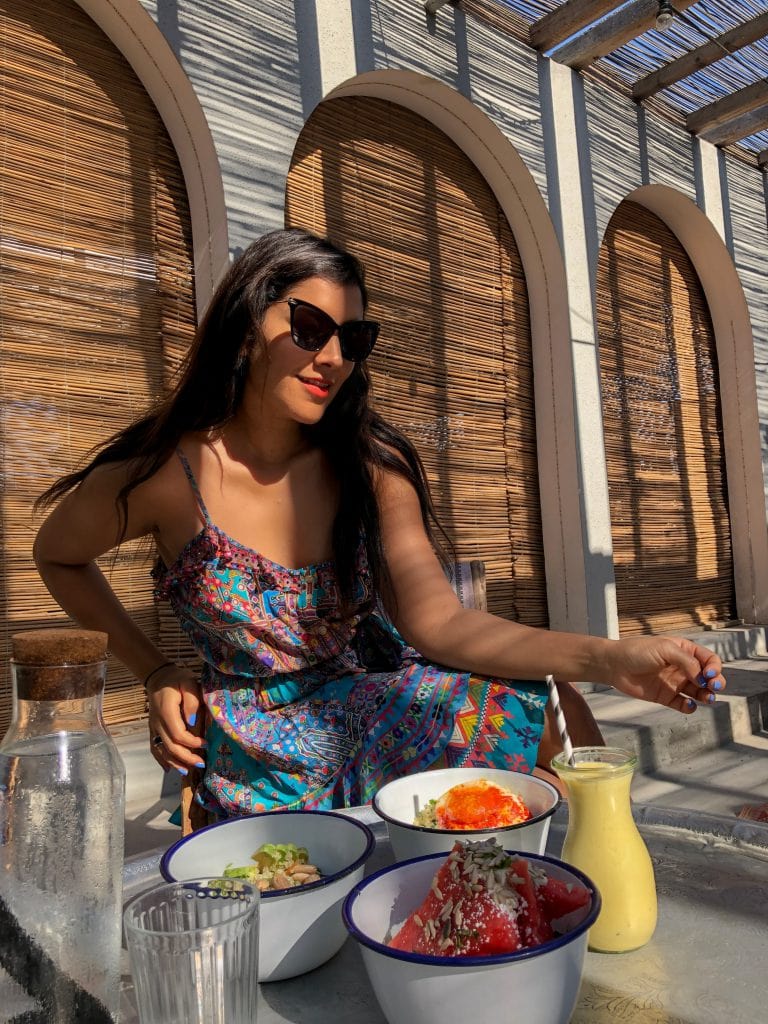 Channel your inner fairytale princess and you'll arrive at Bambah. Owned by the founders of Dubai's first high-end vintage store, this new sleek, salon style boutique is filled with their own line of new, 1950's inspired ball gowns and formal wear. With soft pastel toned gowns in meringue shapes with pretty bows, it's perfect for those who love to play dress up :)

No trip to Dubai is complete without a visit to the personal shopper. At Style me Divine you can have an hour to a full day with the personal stylists who know every bit of product, in every one of the hundreds of shops in Dubai.
Whether you're shopping for a holiday wardrobe, a new suit for work, wedding trousseau or just want to latest designer hand bag, let them sift through the fluff and take you straight to the good stuff. leaving you with more time to sunbathe on your well deserved holiday, looking super stylish of course.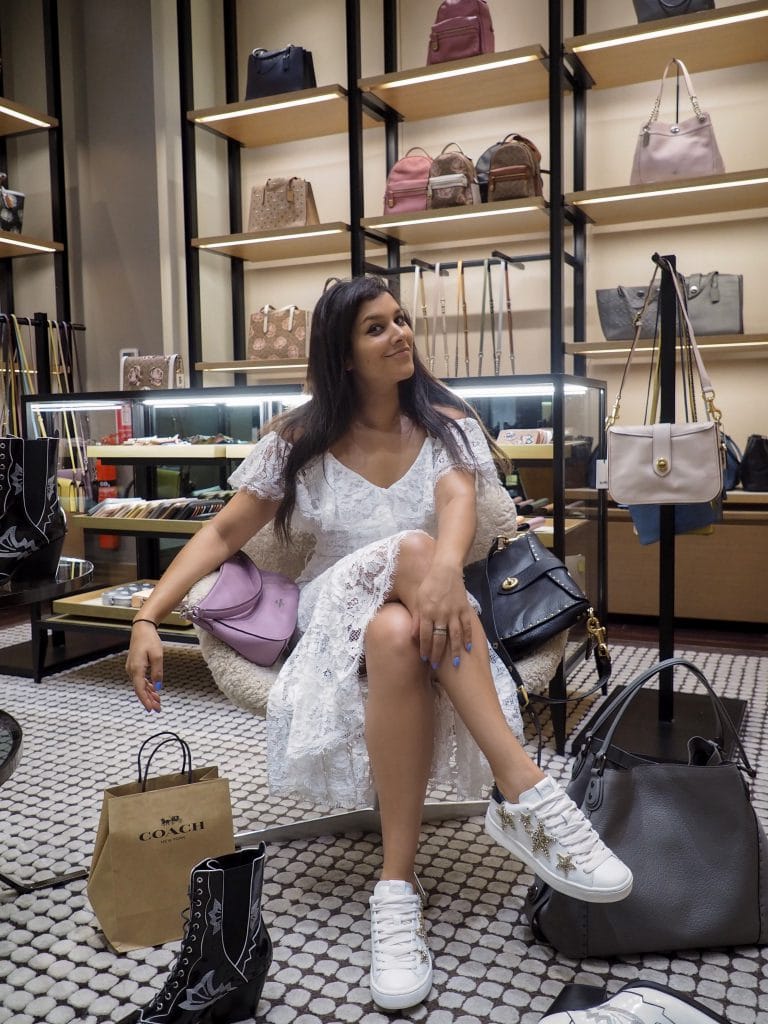 I was invited to the new Coach store in Dubai Mall as part of my styling session, clearly they knew my penchant for handbags, shoes and stars!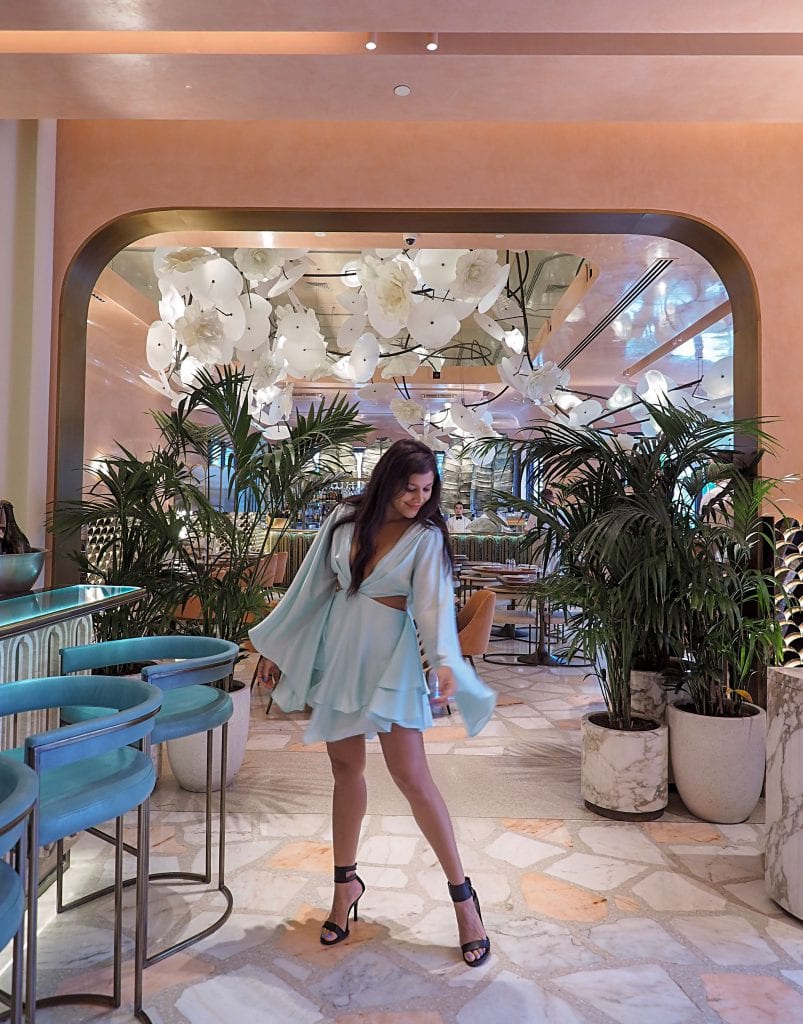 For Dubai's most instagrammable meals and fabulous interiors head to The Flamingo Rooms by Tasha. Picture a plush, pink palace with 70's inspired installation lighting. Art-deco meets mid century furnishings, mixing green velvet with salmon marble and rose gold metal edging.
Expect the most photogenic plates varying from lobster Benedict to floral adorned corn flake chicken escalopes and of course the prettiest cocktails in the middle east. This place is instagram heaven.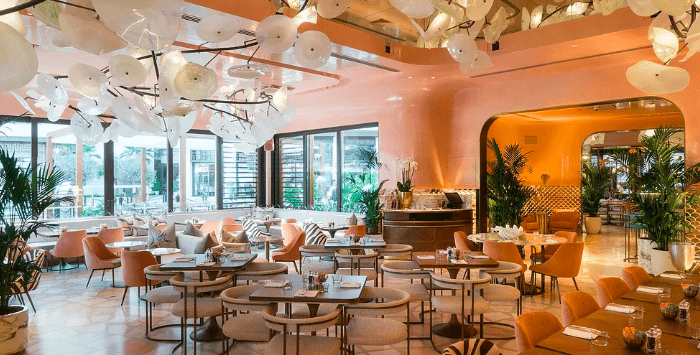 The Buddha Bar Dubai with its seductive, incense filled rooms, pulsating house music and candlelit, Balinese inspired venue, has been the number one dinner and drinks destination in Dubai for over a decade.
In order to keep things fresh, they've opened up the swanky new Siddharta Lounge, a chic shisha terrace with 360 degree views of Dubai marina. Enjoy drinks alongside Dubai's glitterati and sundowners rubbing shoulders with the local celebs. (pictured below)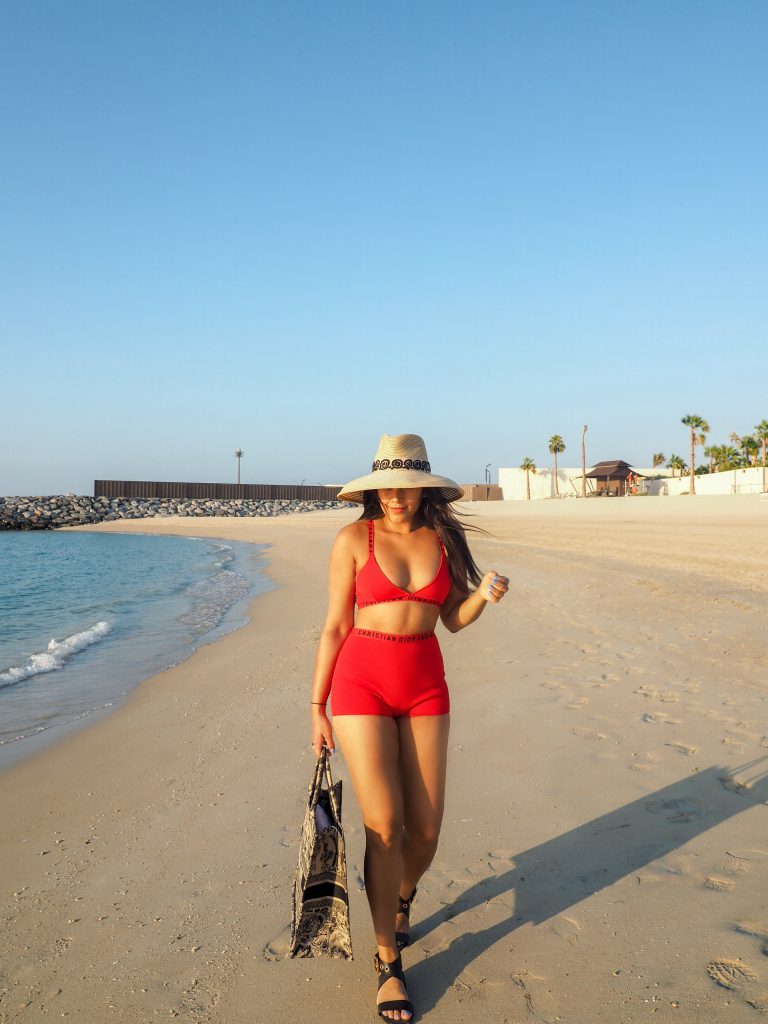 Image above: the beach at The Bulgari and below Charlie and I at Nikki Beach Club.
That was just a few of the fabulous places mentioned in the Best At Travel Fashionistas guide. I'm so lucky that I got to try them out as it's a side to Dubai that's not always obvious to tourists. To find out more about my trip and other Dubai holidays check out  Best At Travel.
Thats's all from Dubai for now.
Bon voyage xx