Vienna After Dark and Hotels
The Vienna State Opera
A night at the opera is a must for all visitors to Vienna.
Closed in July and August, opera season runs from September to June.
It normally costs between 100 – 280 euros, it's usually quite easy to book when you arrive unless your looking for really specific seats. Smart dress code applies.
Bars and Cafes
Sophisticated Viennese evening culture revolves much more around cafes and coffee houses than bars and night clubs. Those in search of a raucous night of partying may be searching for quite a while.
Some Viennese cafes of note are:
Cafe Hawelka – One of Vienna's oldest cafes, still owned by the original founding family. The crowd? Artists and creatives.
Museum Cafe – Where artists Egon Schiele and Gustav Klimt were regulars.
Frauenhuber Cafe – Was a popular destination for musicians and composers, namely Mozart and Beethoven.
Cafe Central – Once frequented by Lenin.
Landtmann Cafe – Renowned as Sigmund Frued's favourite coffee house.
Sacher Cafe – Famous for the Sacher Torte, one of Austria's most famous culinary specialities, this rich chocolate cake is only made here in Vienna and the Sacher Cafe in Salzberg.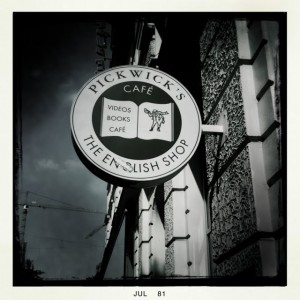 After Dark
The Dreieck area or 'Bermuda Triangle' as it's infamously known, is filled with bars and restaurants, although be warned,  part of it is rather tacky with neon lights and cheesy bars. A street called Friedmann Platz just on the edge of the 'Bermuda Triangle' is a little more chic than the central parts. Head to Pickwick's cafe and enjoy a pint of ale whilst indulging in the in-bar library, or try Kornat Restaurant for great seafood in chic modern surroundings. In the summer months the outdoor seats are the ones to reserve. Dress code: smart casual is fine. Most of this area is open till 3am.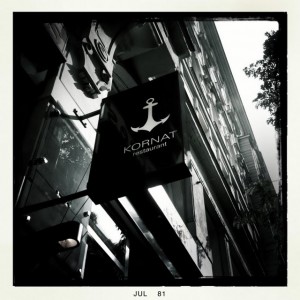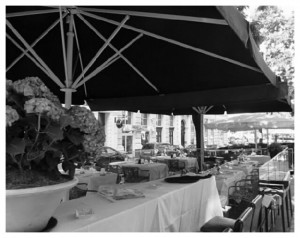 Al fresco dining at Kornat
Do&Co
Stephansplatz
1010 Wien
Do&Co Restaurant and bar is the favourite hang out of Vienna's 'it' crowd. Centrally located, it has amazing views of Stephan Platz and the cathedral. Reservations are a must for dinner, alternatively you can have drinks in the unusually decorated bar area. It's an eclectic mix of leather chesterfield sofas and deer antlers at one side of the room and Morrocan cushions and shisha pipes at the other, all housed in an ultra modern building. Dress code: smart and stylish. Prices: expensive, this is one of Vienna's premium night spots.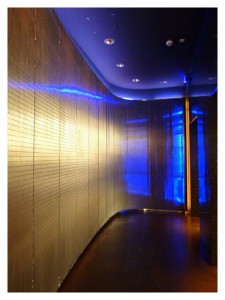 If Do&Co is fully booked you can also try the Sky Bar just 5 minutes walk from Do&Co towards the Grand Hotel Wien.
Clubbing
Ok, so Vienna wasn't the easiest place to find cool bars and clubs, but I did have one place recommended to me several times. Pratersauna and Fluc are touted as the trendiest clubs in town. Expect electro and house beats on the decks.  I'd love to hear what you think.
Pratersauna
Waldsteingartenstrasse 135
1020 Vienna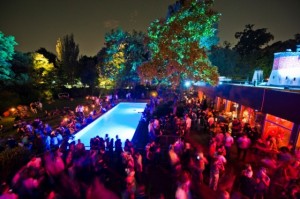 The summer pool at Pratersauna
Fluc Wanne
Praterstern 5
1020 Vienna
On the live music and clubbing front try Fluc Wanne. In the same area as Pratersauna you might be excused for thinking Fluc is infact a building site, but this is the playground of Vienna's cool kids and students. Dress code is pretty much anything goes, think more cool grunge than party girl.
Hotels – Vienna – Sleeping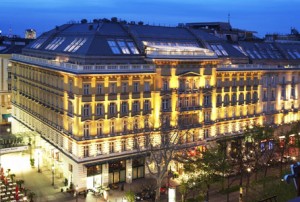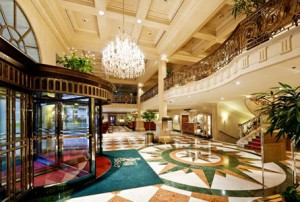 Grand Hotel Wien
Karntner Ring 9
A-1010 Wien
We stayed at the Grand Hotel Wien, it is the ultimate in old school elegance. Grand piano playing in the foyer, floors so shiny you can see your reflection in them and suitably chintzy but very ostentatious bedrooms.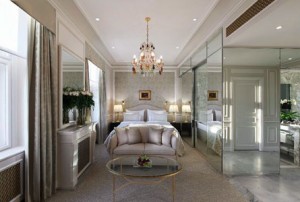 Bedroom at the Sacher Wien
Hotel Sacher Wien
4 Philharmonikerstrasse
1010 Vienna
If you can't get enough of the Sacher Torte (see Cafes) this is the place for you. So centrally located, the State Opera is on one side and Stephan Platz is on the other. The hotel is impeccably grandiose and the rooms are a beautifully renovated mix of classic Viennese style and modern functionality.