Wilderness 2017 – What to Wear to a Festival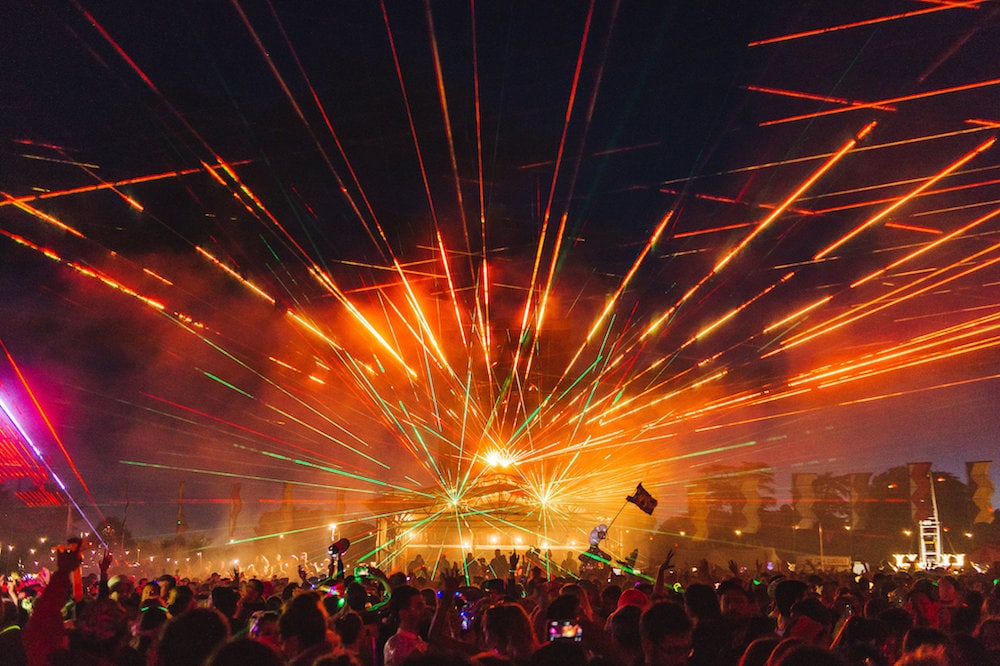 Wilderness 2017 – What to Wear to a Festival
Where? Wilderness Festival 2017.
Exactly? Cornbury Park, Oxfordshire.
Why? As you know I'm a huge lover of music festivals, so I was very excited to be invited to Wilderness Festival by Sorel Footwear last week. Festivals are such a great excuse to get dressed up in the craziest, shiniest, most bonkers outfits you can put together. So with a little help from Sorel and PrettyLittleThing.com 's festival shop I had a lot of fun creating my wardrobe for this trip!
This is a sponsored post :)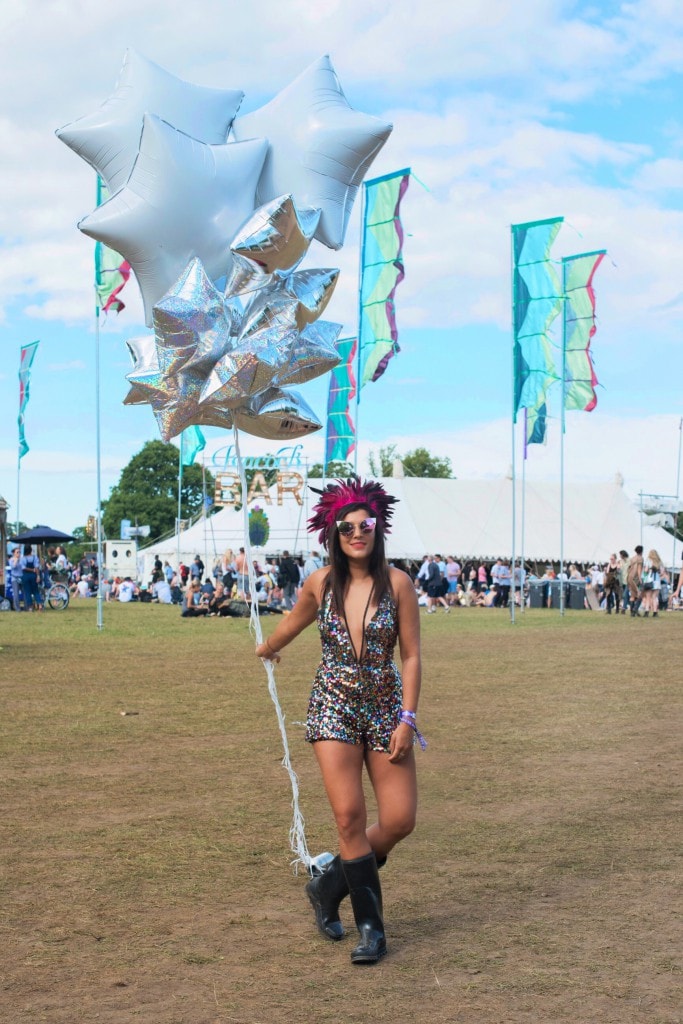 Above Bonnie wears full outfit from PrettyLittleThing.com and wellies by Sorel.
About Wilderness
It seems like every year the list of UK festivals just gets bigger and bigger. So it has become increasingly difficult to decide which one to go to.
I'm a fan of the smaller, less commercial, let's call them 'boutique' festivals. There's so much more going on at these types of events, from lectures and forums, arts, comedy clubs, dance lessons to life drawing classes, fire juggling, random yoga sessions, healing fields for massages, the list goes on and it's probably happening in a field near you.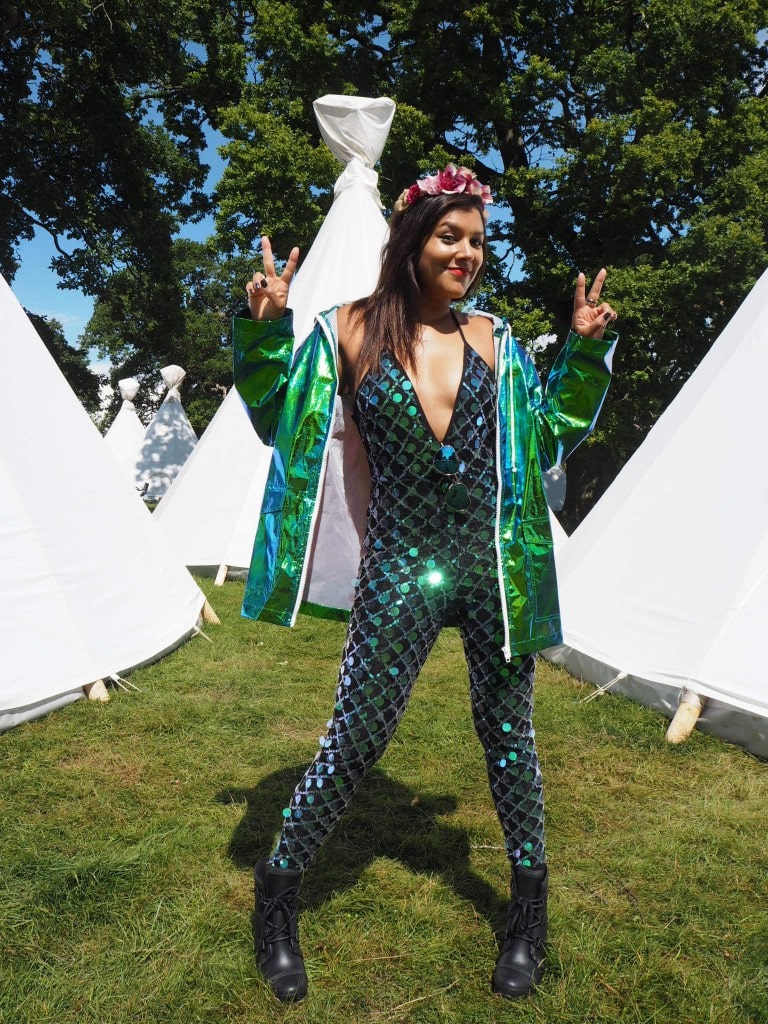 Bonnie wears green jumpsuit, metallic coat and sunglasses all from PrettyLittleThing Festival shop & boots by Sorel.
I've been to Wilderness a couple of years running now and it is definitely one of my favourites. Basically the smaller the festival the nicer the crowd, the more people are smiling and wearing silly (but very cool) outfits and the mood is generally a lot happier than at other huge commercial festivals I've been to in the past, which can be so vast, inconspicuous, dirty and tiring to get around.
At Wilderness there are kids playing in the fields, people sharing dinner together at posh banqueting tables and the most important factor… the toilets are really clean!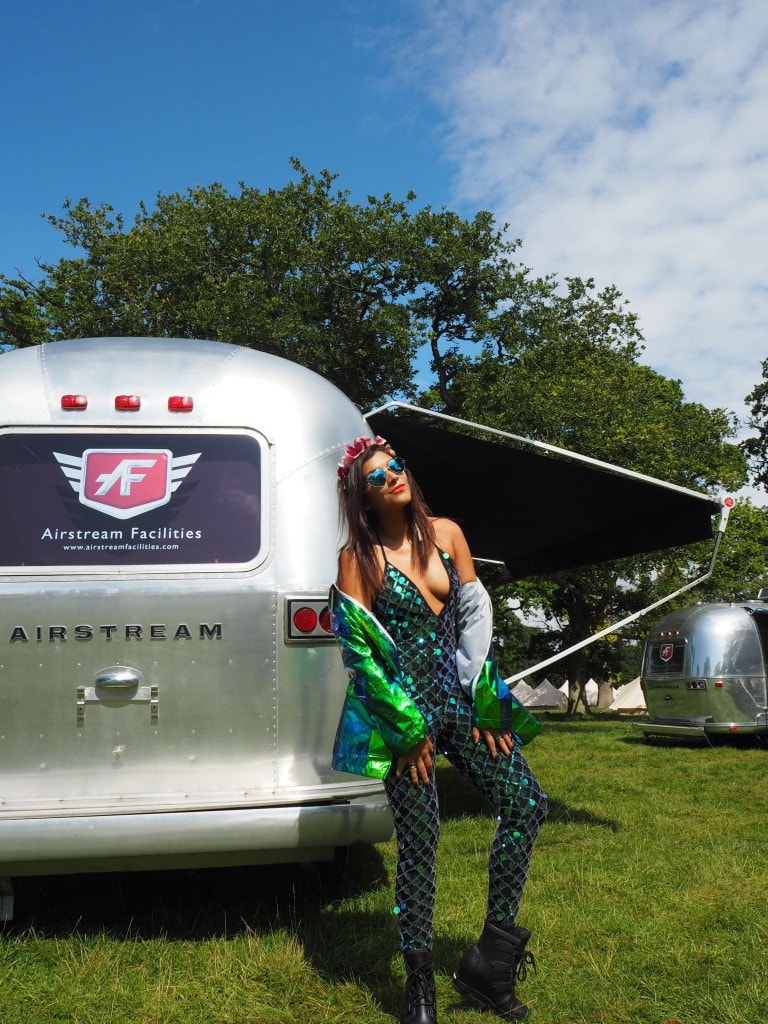 What to wear to a festival
Each year the rules of festival dressing just get crazier and crazier, for years it has been about generic fancy dress but in the past couple of seasons, as the festival goer has up'd their game, so has the high street, with stores and online retailers introducing whole new ranges of clothing specifically for the festival season. As festival-ing becomes more of a commercial and popular pass time, so do its sartorial rules.
The key essential items tend to be shorts, swimsuits, playsuits, jumpsuits, macs and anoraks. And the same pieces apply for boys too it seems! at least it does by day 2 of the festival once people have got into the swing of things. Bright bold colours are key and texture and pattern are all encompassing. As long as the pieces are metallic, sequinned, reflective, spangly and vibrant you're on trend.
This year I spotted a lot of circus/animal themed outfits, woodland elfs and nymphs, angelic characters and lots of people with battery-pack-powered fairy lights attached to their bodies! If it would look fine on the set of Game of Thrones, you'll fit in on this field in Oxfordshire. Make sure you take plenty of crazy accessories too from wacky sunglasses, feather and flower headdresses, scarves and glittery face make up. The rules are, to hell with the rules. Go wild in the wild!!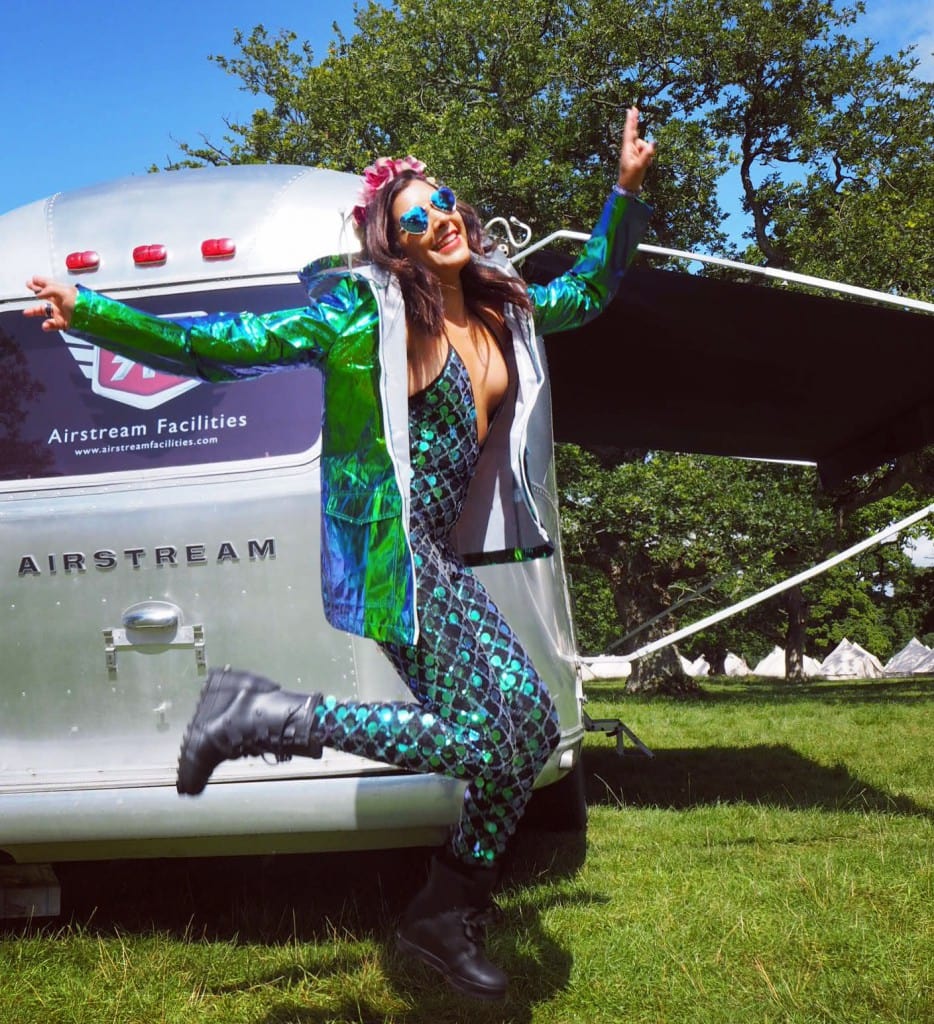 Bonnie wears green jumpsuit, metallic coat and sunglasses all from PrettyLittleThing Festival shop & boots by Sorel.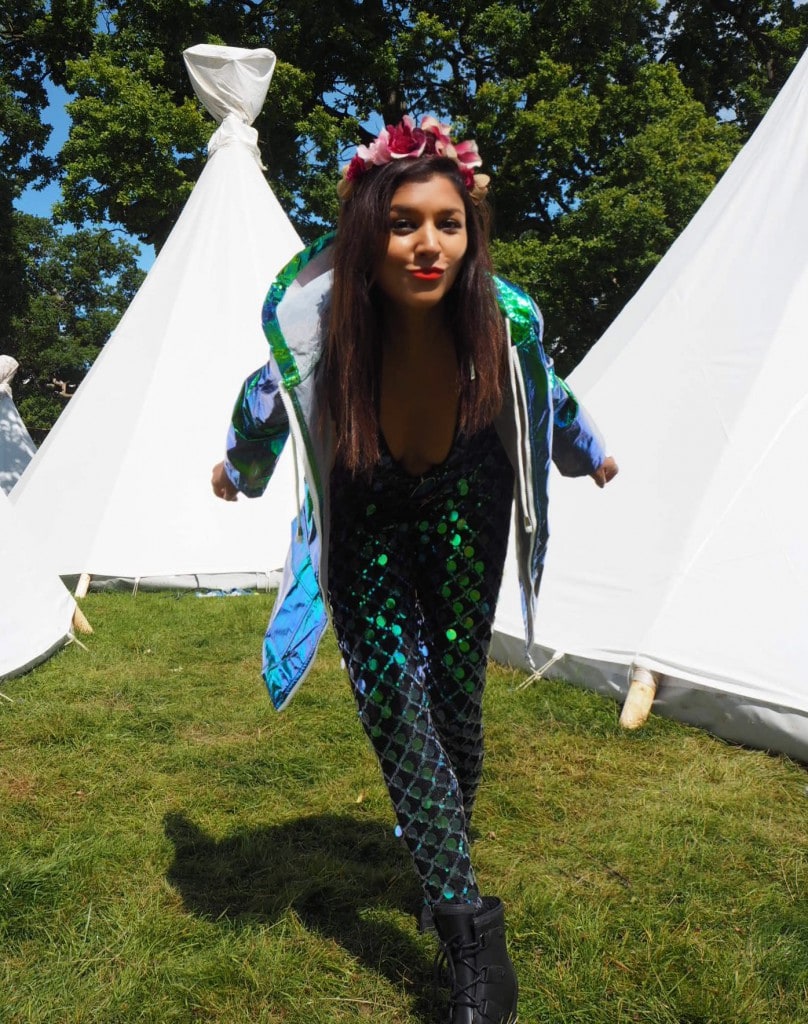 Where to Stay
We stayed in boutique camping, which I highly recommend if you're not a fan of roughing it. It gets booked up super quickly so it's worth booking your accommodation at the same time as your ticket. Boutique glamping comes in a variety of house types and styles, from luxury tipis and yurts, to gypsy caravans and airstreams and more.
This season we opted for a luxury woodland yurt, pictured below, which comes with a locked wooden front door, beds with mattresses and duvets, plug point and in room lights, dressing tables, towels and a festival essentials kit including snacks, torches and tooth brushes! It's a world away from old school festival camping.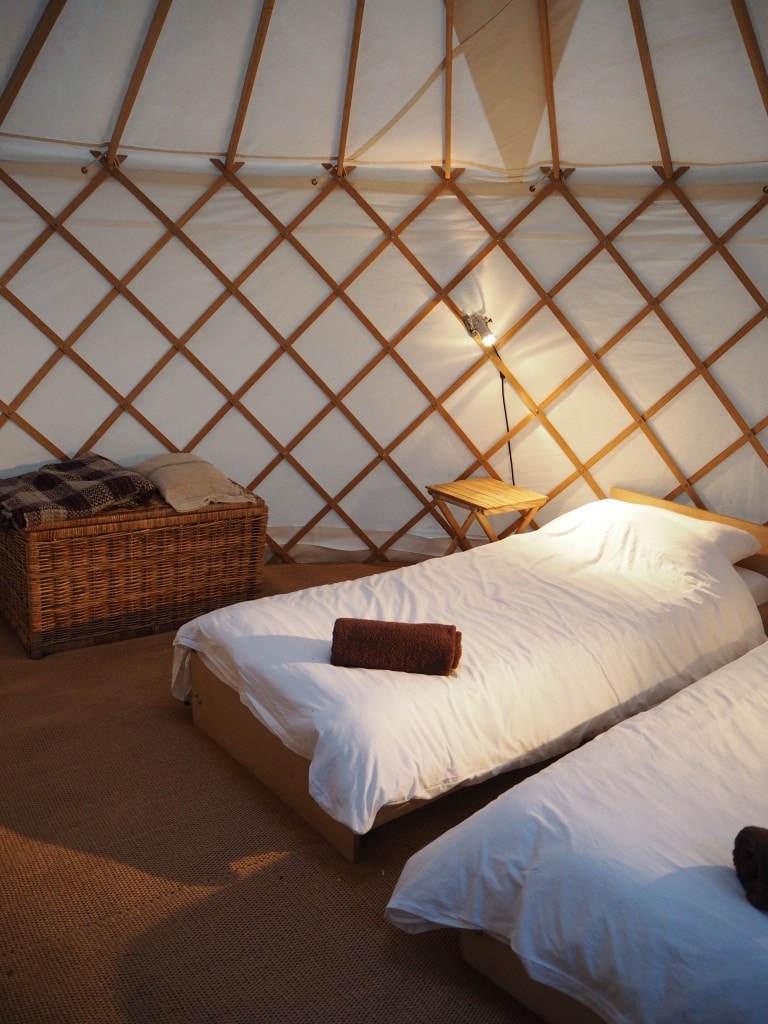 My wardrobe area neatly packed in daily outfit order. It didn't look so neat by the end of the trip!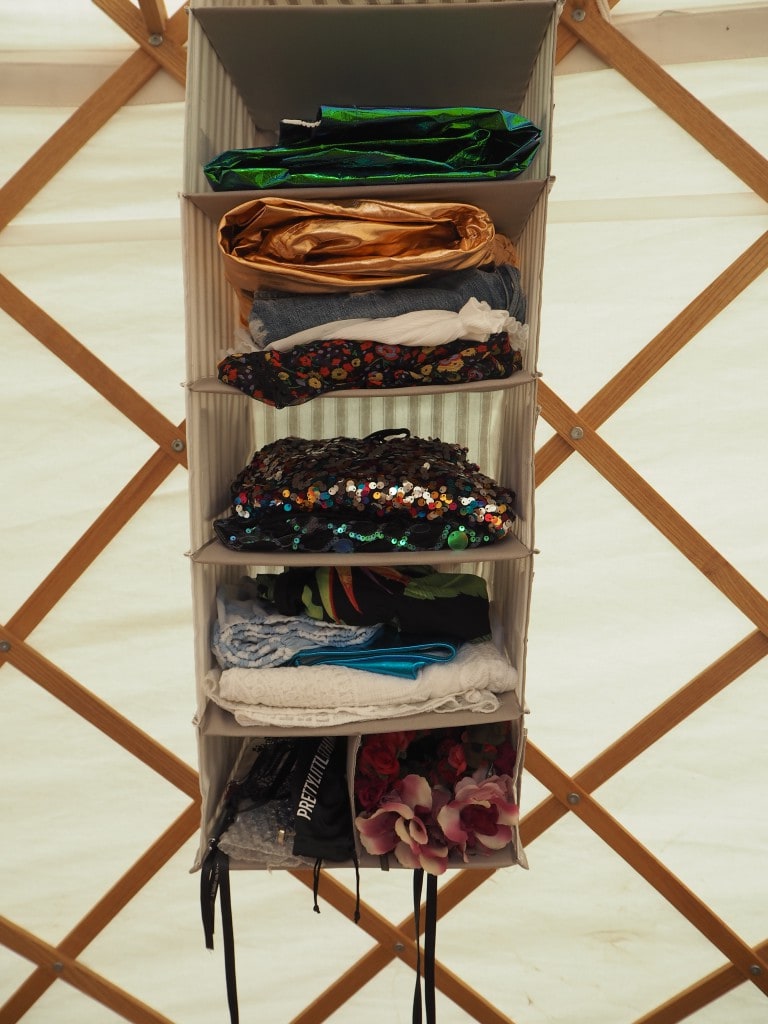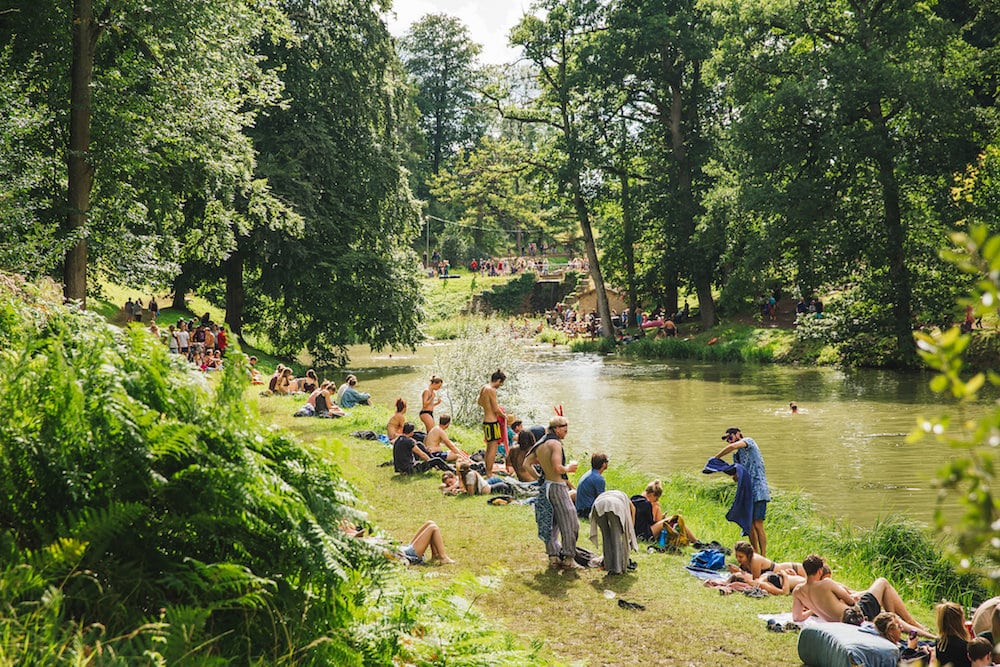 Festival goers chilling out on the banks of the lake in the glorious Oxfordshire sunshine.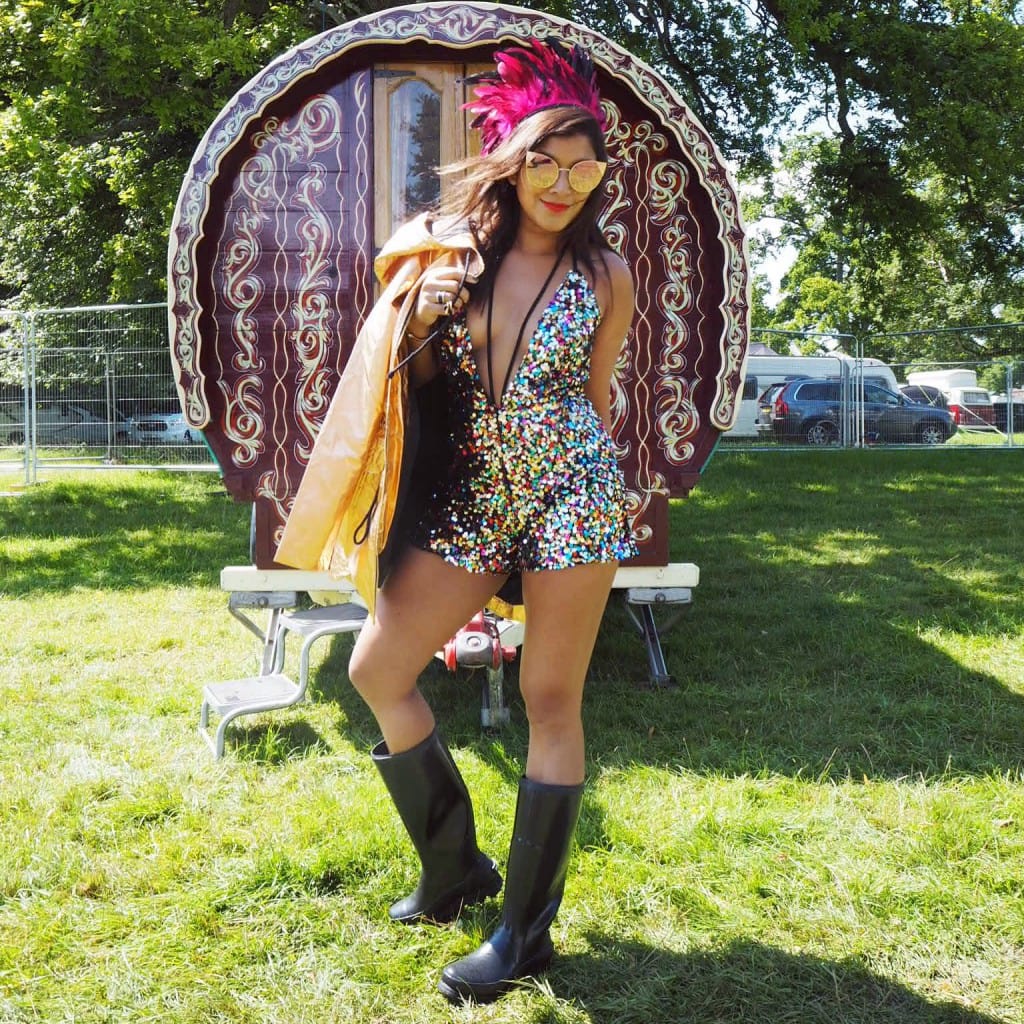 Bonnie wears sequin playsuit, metallic coat and sunglasses all from Pretty Little Thing Festival shop and boots by Sorel.
Saturday afternoon activities include a quick stop off at the Veuve Clicquot tent for a bottle or two of champers! :)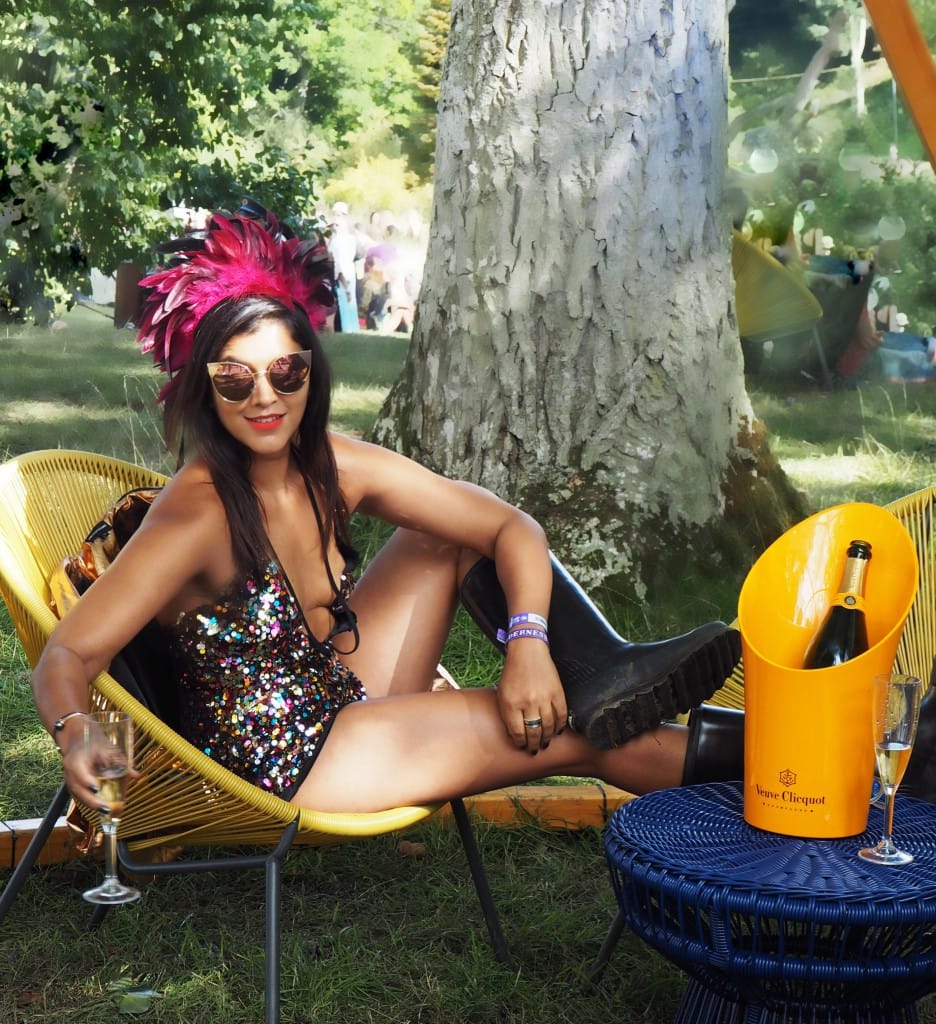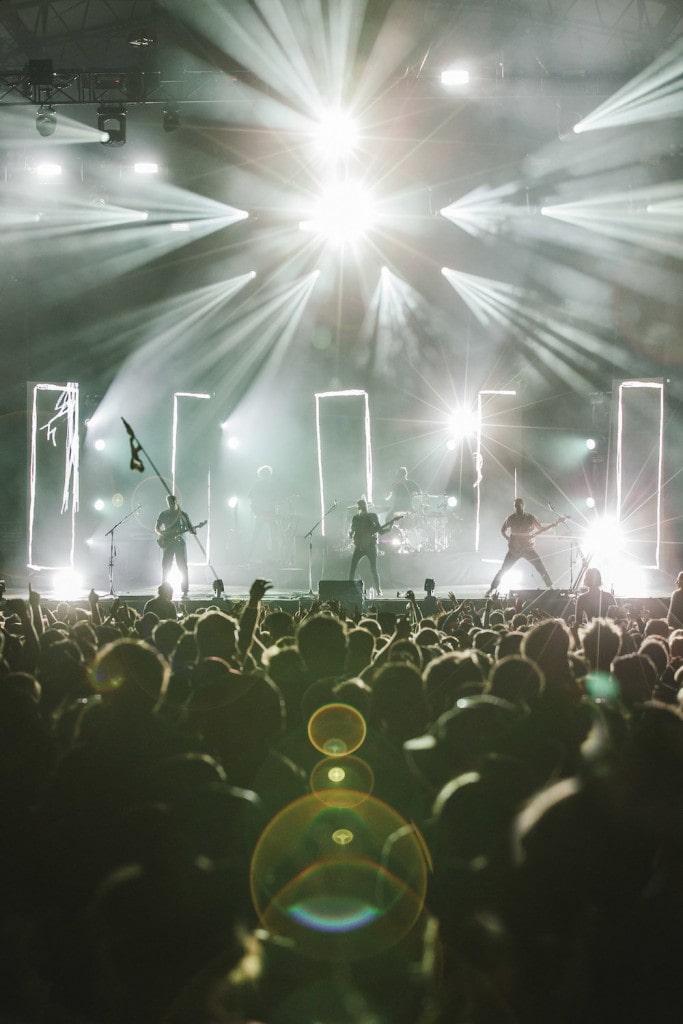 Two Door Cinema Club performing on the main stage of Wilderness.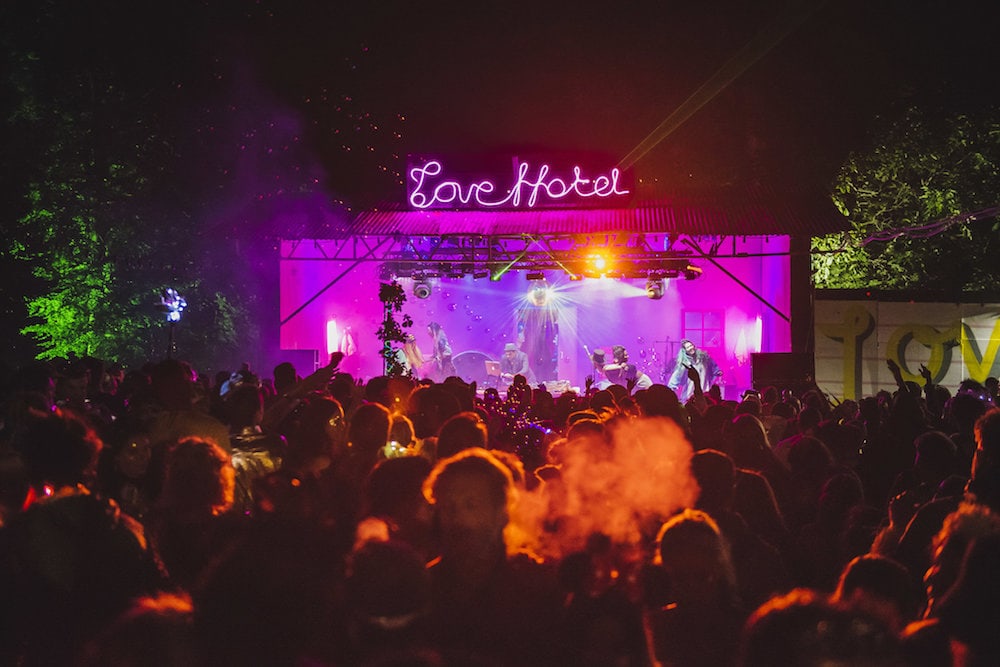 Followed by naughty antics and great eclectic tunes at the Love Hotel sounds stage.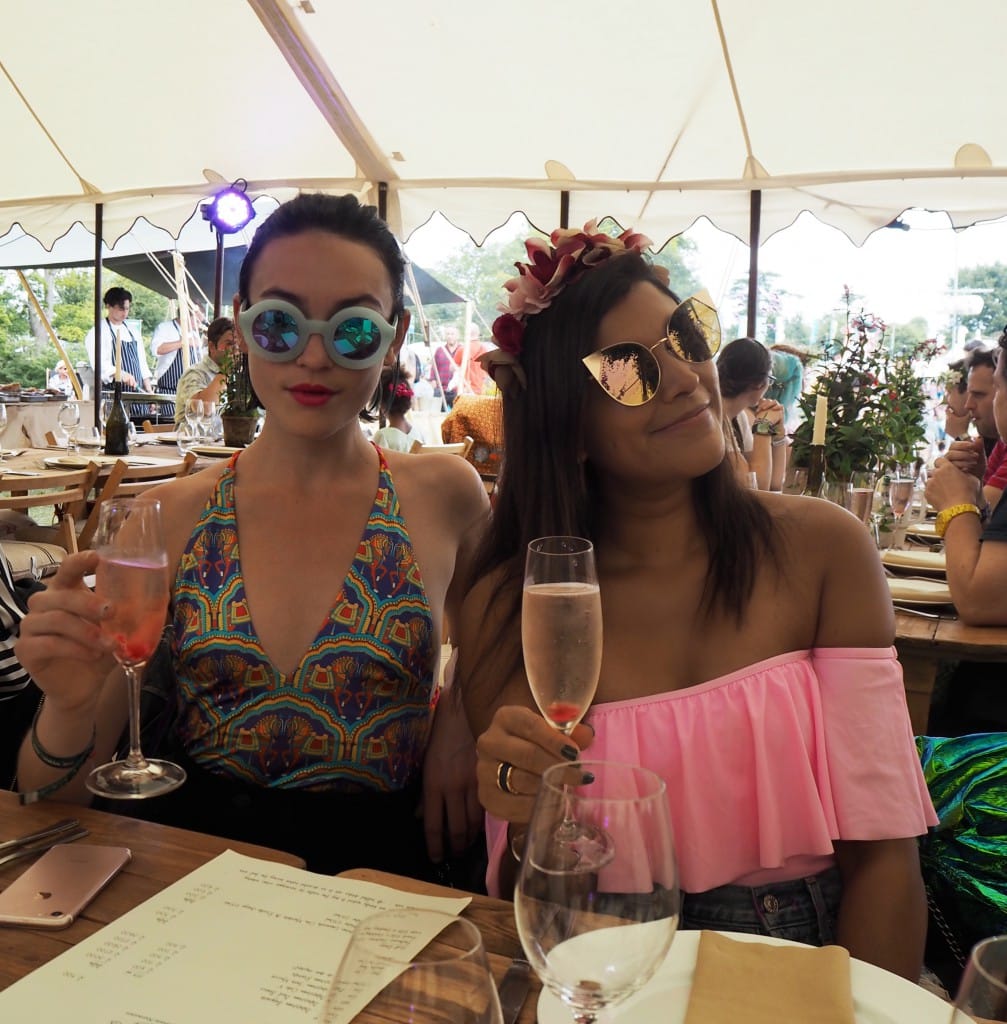 Food and Drink
I have to say that the food and drink offering at Wilderness is exceptional. On Saturday and Sunday we were booked in to the banqueting table lunches. Saturday with chef Nuno Mendes cooking up some spectacular meat dishes and on Sunday we were hosted by the lovely Petersham Nurseries. Above me and fellow blogger and friend Ella Catliff enjoy a pre lunch tipple!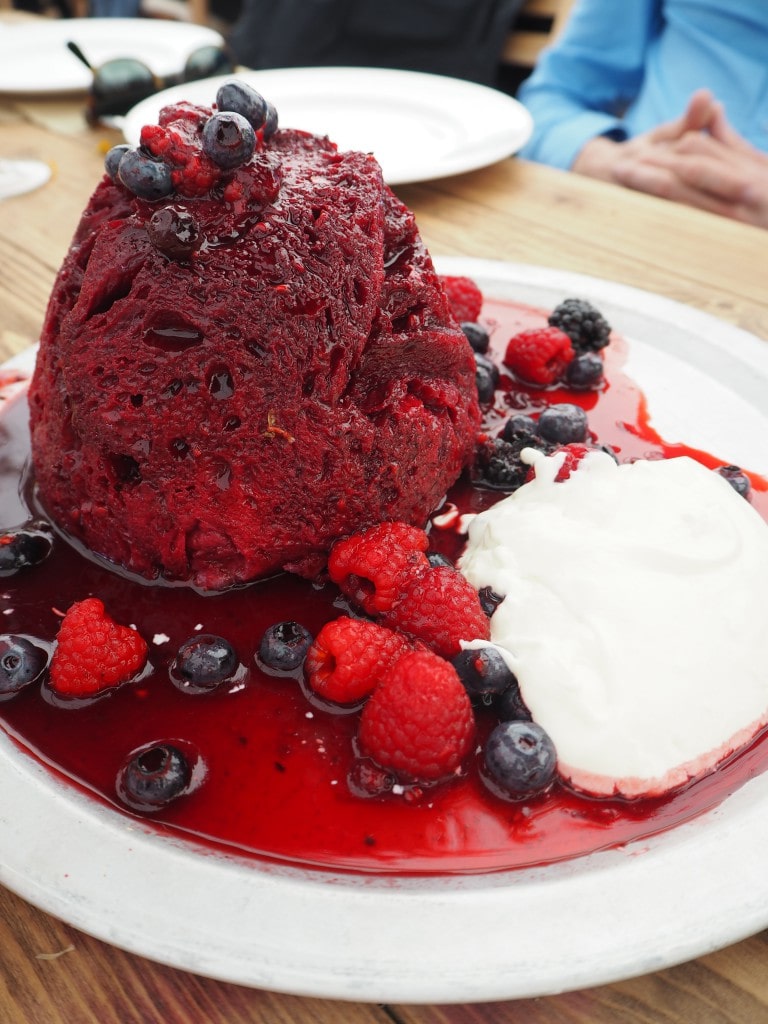 Above: Summer fruit dessert to share
Below: Charlie and I waiting to tuck into the mini crab donut canapes at Nuno Mendes' feast.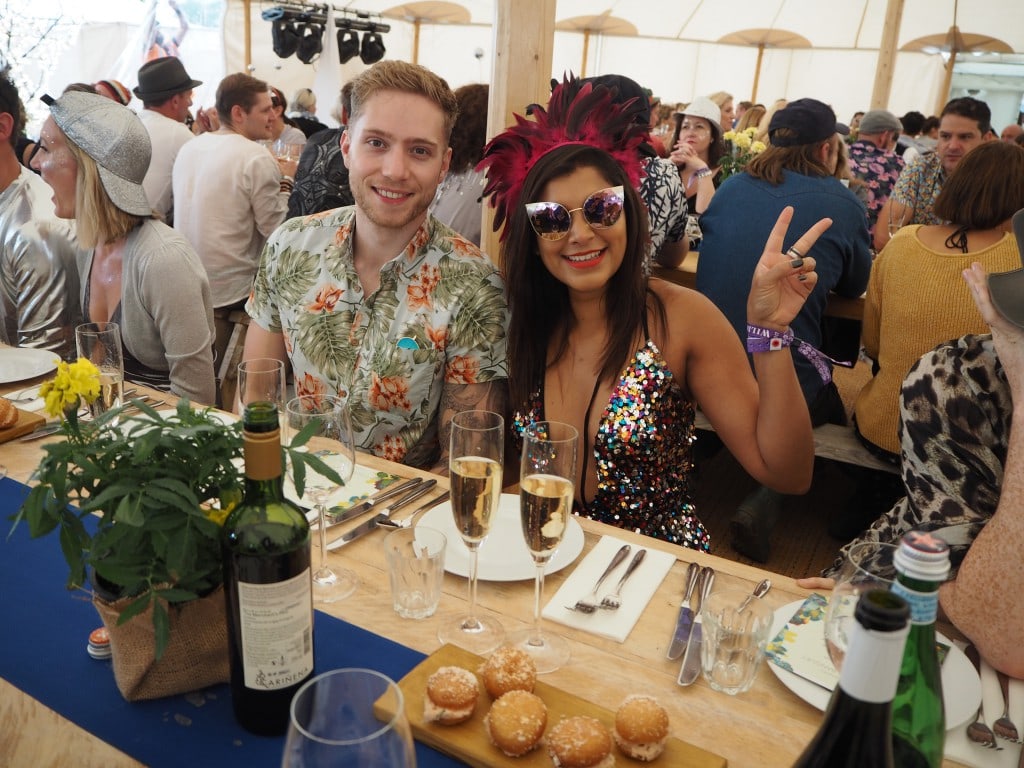 The beautifully transcribed menu at Petersham Nursery.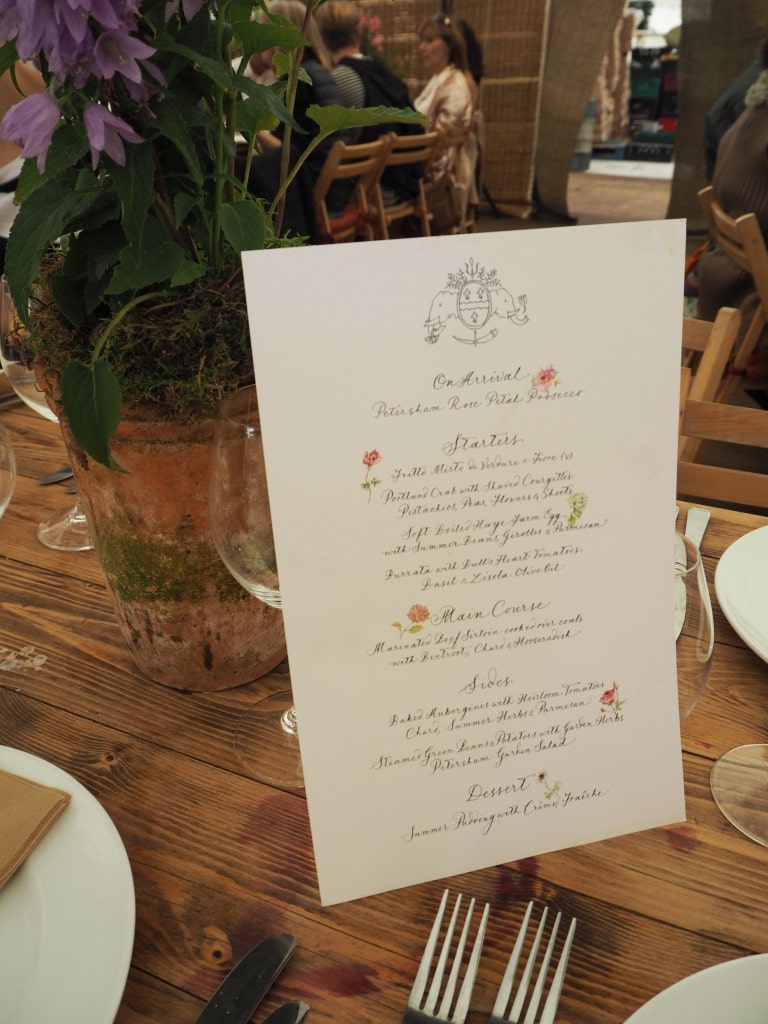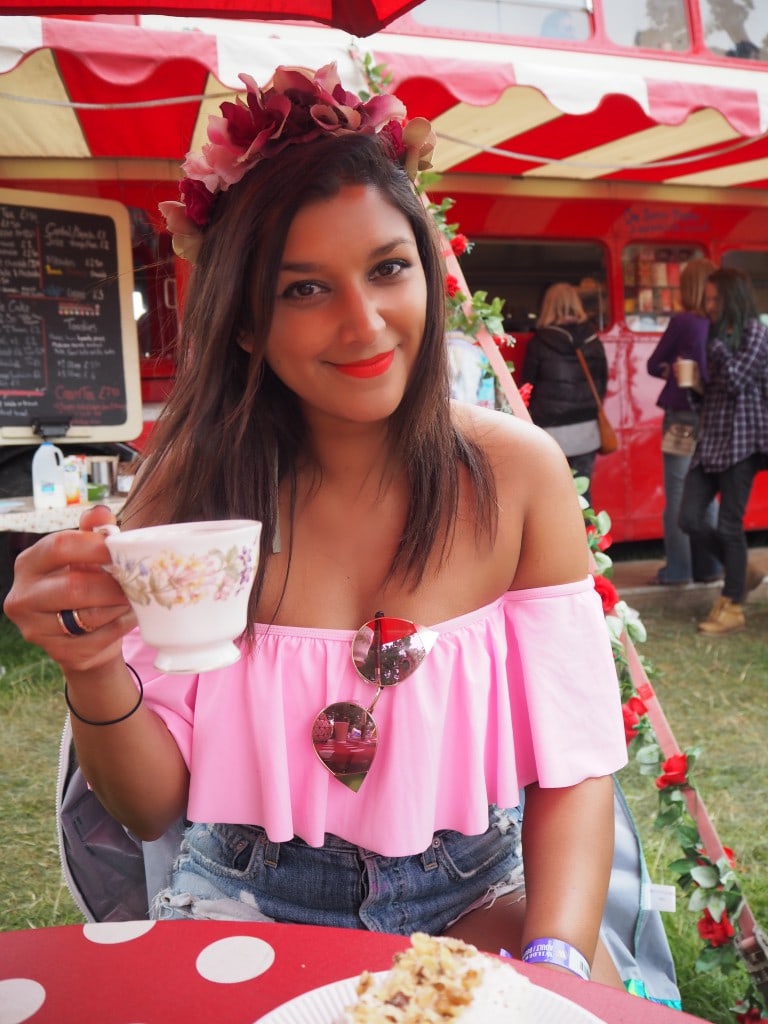 Fancy a cuppa? The brew bus serves all manor of world and herbal teas, with homemade cakes and treats of course! Much needed come Sunday.
Bonnie wear Pink ruffle swimsuit, metallic coat and sunglasses all from Pretty Little Thing Festival Shop, shorts by Levis and boots by Sorel.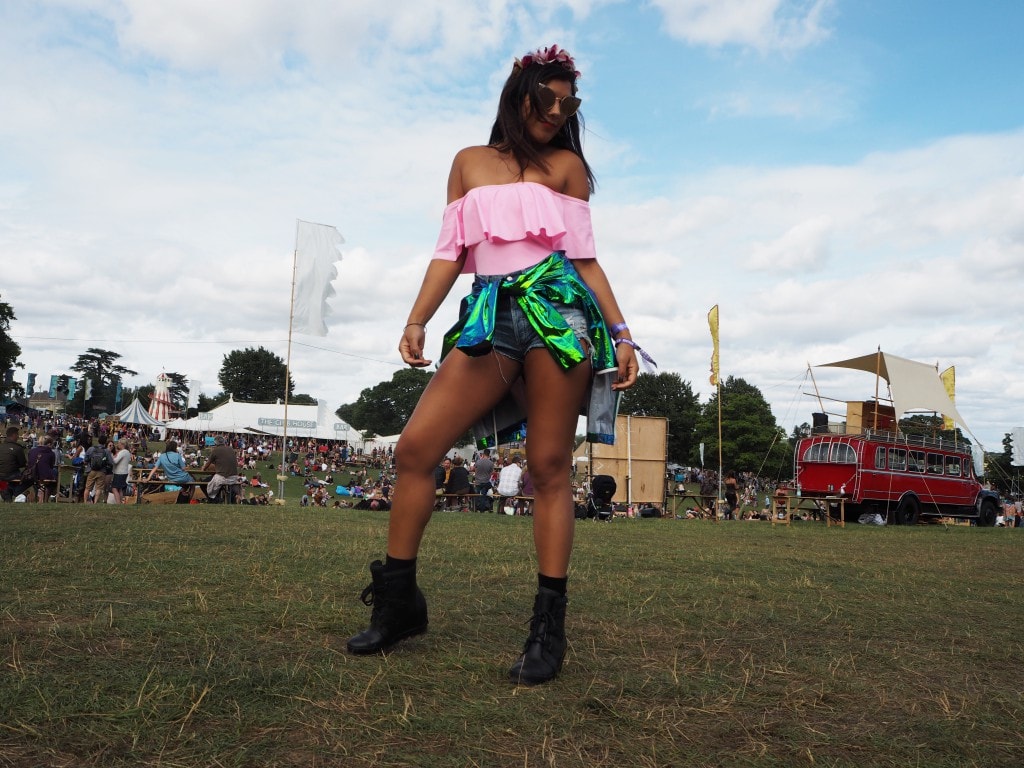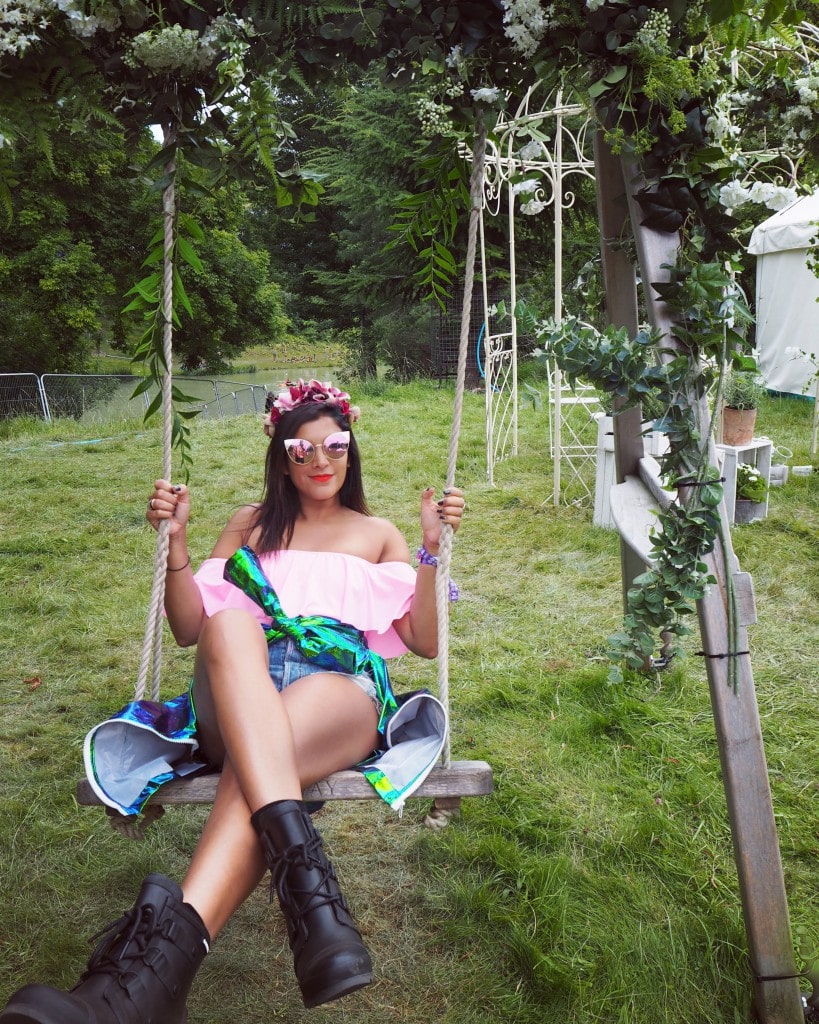 Going for a swing in the healing fields.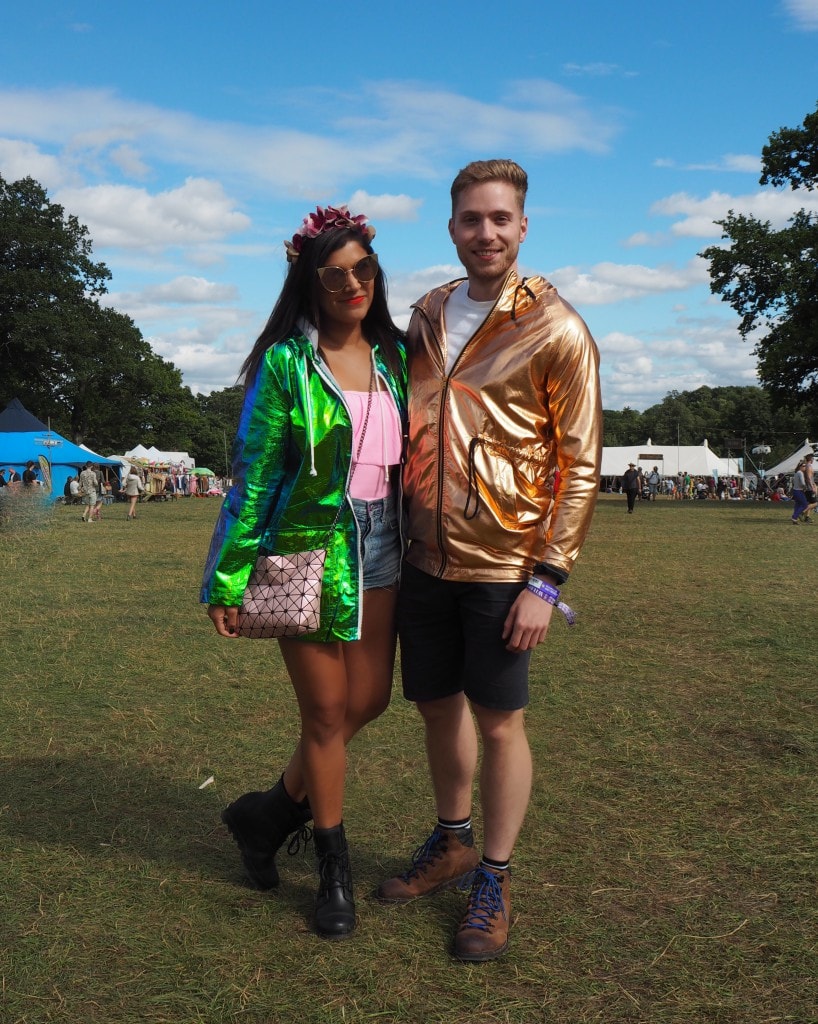 By day two Charlie and I are sharing wardrobes! (I still haven't got my orange coat back!!)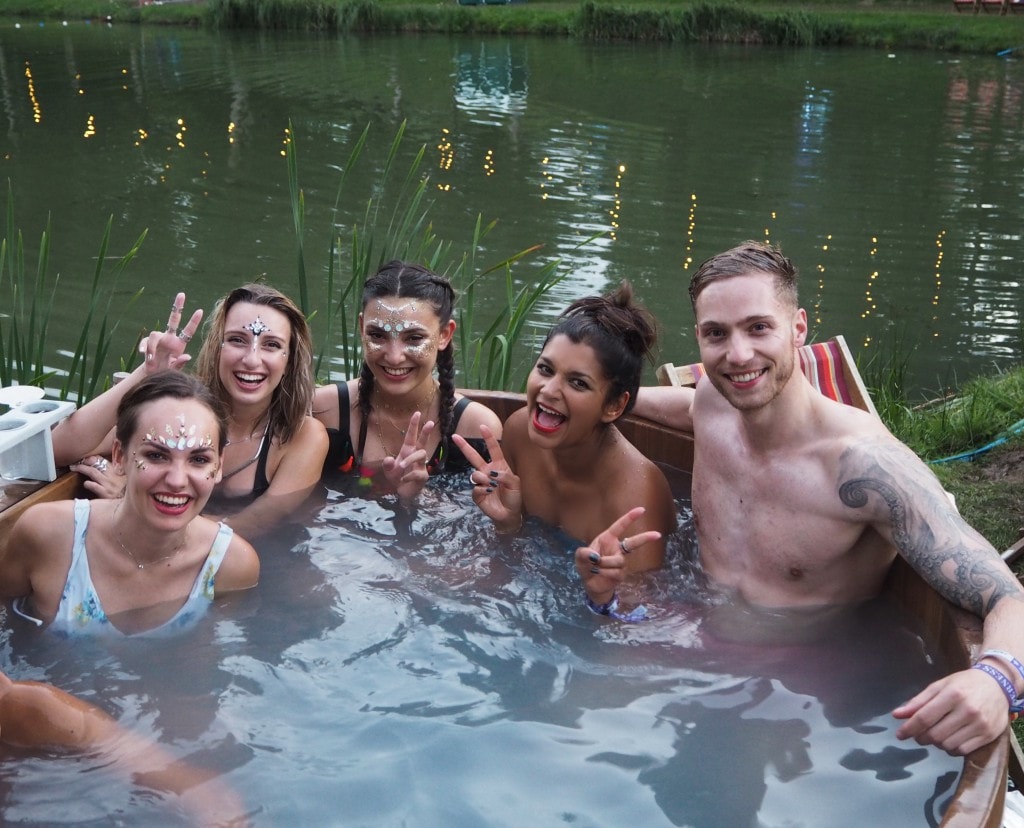 Time for some hot tub action by the lakes.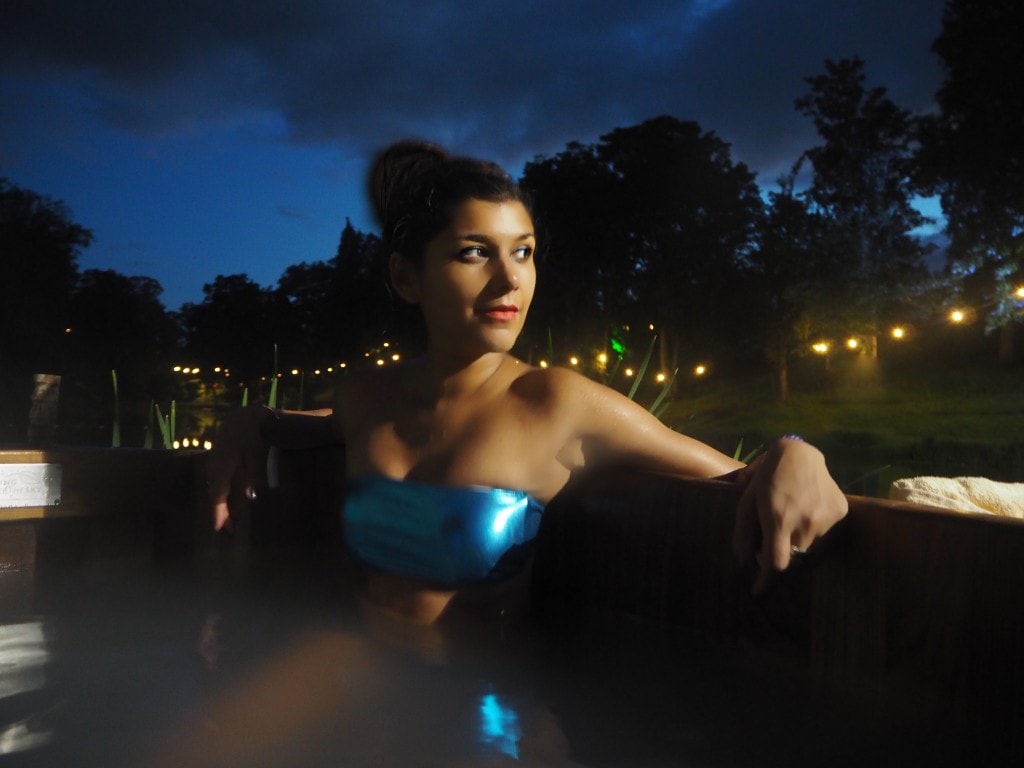 Below: the legendary Grace Jones closes the festival with her mesmerising set on Sunday night.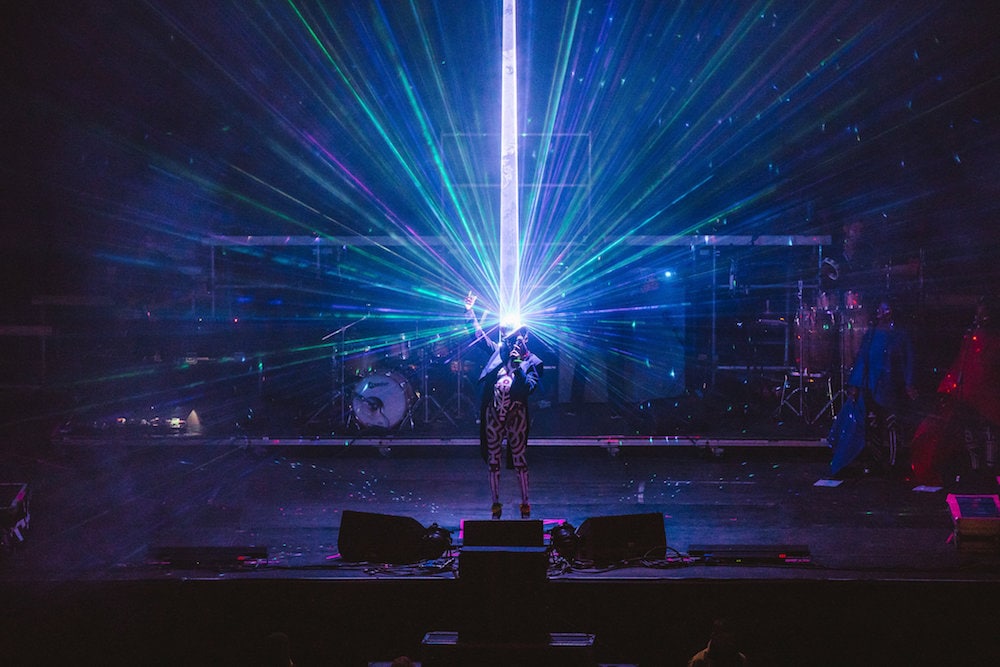 Bye Bye from Wilderness, thanks so much to Sorel and Pretty Little Thing for making me feel perfectly outfitted for the trip.
Bon Voyage xx